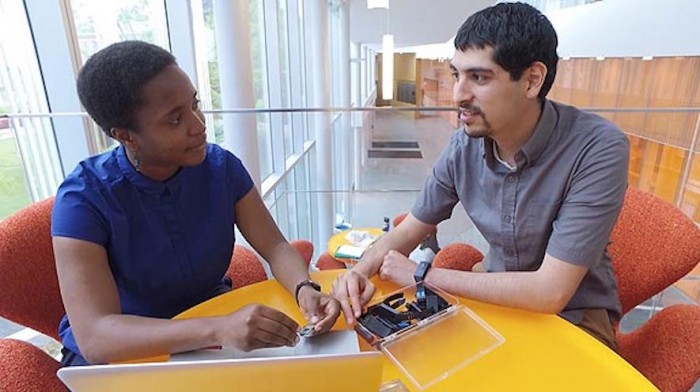 Alfredo Muniz and Sade Oba
A person diagnosed with Parkinson's Disease always receives a physical therapy programme adapted to his or her individual case. To develop an effective treatment plan, a therapist will run an extensive evaluation of the patient's condition and then monitor any progress or regress over time. The difficulty of the therapy is obtaining accurate feedback from the patients about their tremor patterns. Xeed wearable uses sensor technology to improve this process by continuously tracking a patient's tremors.
Developed by University of Pennsylvania engineering seniors Alfredo Muniz and Sade Oba, Xeed is a wearable band worn on a patient's ankle or wrist. The band is built with multiple sensors that monitor Parkinson's-related shaking and record the data on a companion app. This data is extremely helpful for therapists who aren't able to constantly monitor their patient's condition and response to treatment.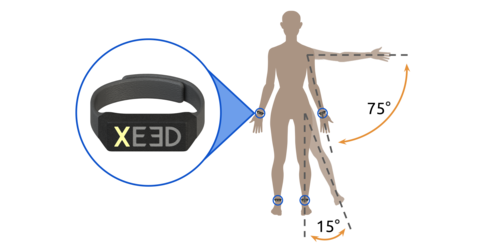 In their research, the developers found that there is a lot of guesswork and subjectivity that goes into monitoring Parkinson's patients. Cases vary but most patients have follow-up sessions with their therapists every couple of months, leading to inconsistent progress reports. Xeed is there when a professional can't be, acting as a personal 24/7 physical therapist.
Muniz and Oba designed the smart device to improve the treatment of individuals diagnosed with Parkinson's but their main goal is to help tackle the degenerative disease by providing detailed analytic insights into the condition. With Xeed, therapists and organisations can collect data to identify tremor patterns and make key observations in order to refine or better treatment methods.