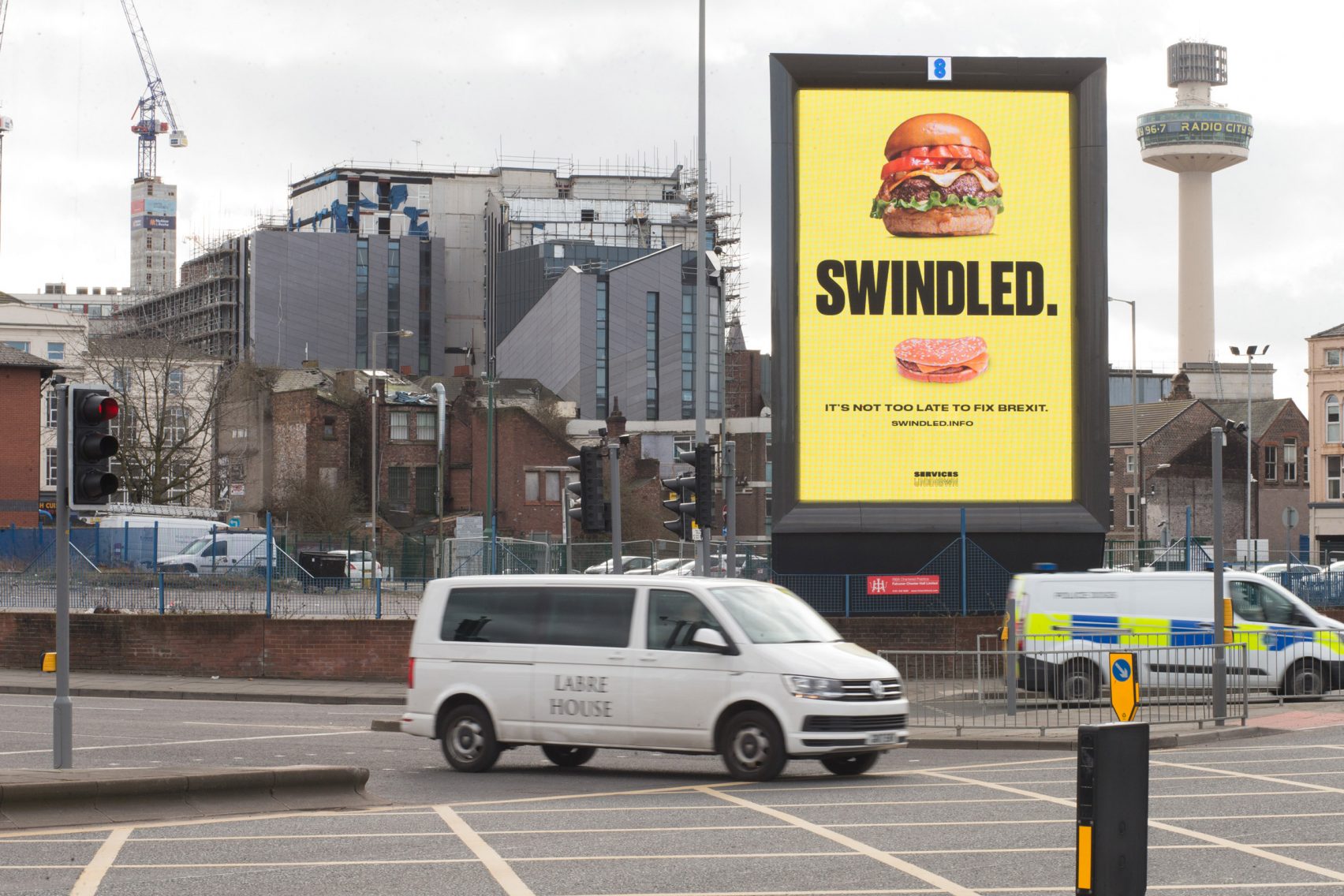 On the heels of Britain and the European Union's agreement to a transition period that would see Britain essentially remain a non-voting EU member for 21 months until the end of 2020, creative agency Superimpose Studio has launched a series of anti-Brexit billboards across the UK. Called 'Swindled', the campaign compares the results of the 2016 referendum to a disappointing burger.
The studio was originally contacted by Best for Britain - an anti-Brexit campaign group founded by British-Guyanese business owner, Gina Miller - to come up with ideas for a campaign that rallied against Brexit. When nothing came of it, the studio made the decision to take matters into their own hands and began work on 'Swindled'.
"I was in a room with the country's most critical and creative minds, discussing a campaign to galvanise the British public to take action," Superimpose Studio's co-founder and creative director Ollie Olanipekun tells Dezeen. "Even Leave voters feel as if they've been cheated and promised things that will never materialise. The idea of ordering a burger and not receiving what was expected is a feeling that everyone can relate to."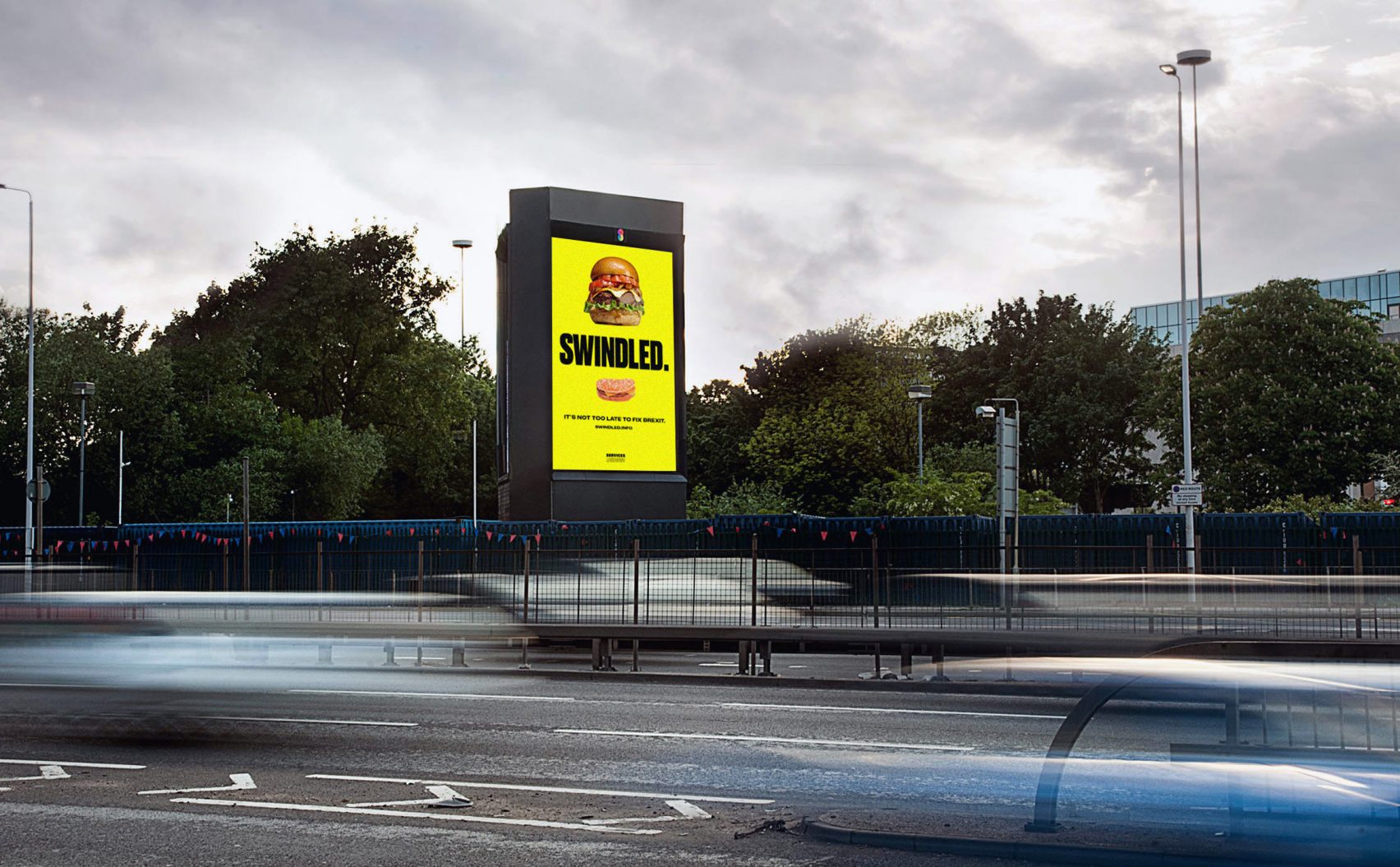 This is certainly not the first time artists have been compelled to use their talent to draw the public's attention to important issues. Famed graphic designer, Edel Rodriguez, is internationally recognised for his multiple illustrated covers of Time Magazine that irreverently depict US President Donald Trump and he has encouraged people across the United States to make use of them when speaking out about the Trump administration's policy.
Other examples include New York designer Nikolas Bentel, whose collection of unique mirrored protest signs were used in the Dakota Access Pipeline (DAPL) protests, and French photographer and street artist, Philippe Echaroux, whose photographic projection project drew the public's attention to the rapid deforestation of the Amazon rainforest. Closer to home, 2016 saw members of the Rhodes Must Fall movement erect a public art structure that resembled a corrugated iron shack to demonstrate the reality faced by students overlooked by the University of Cape Town's housing policy.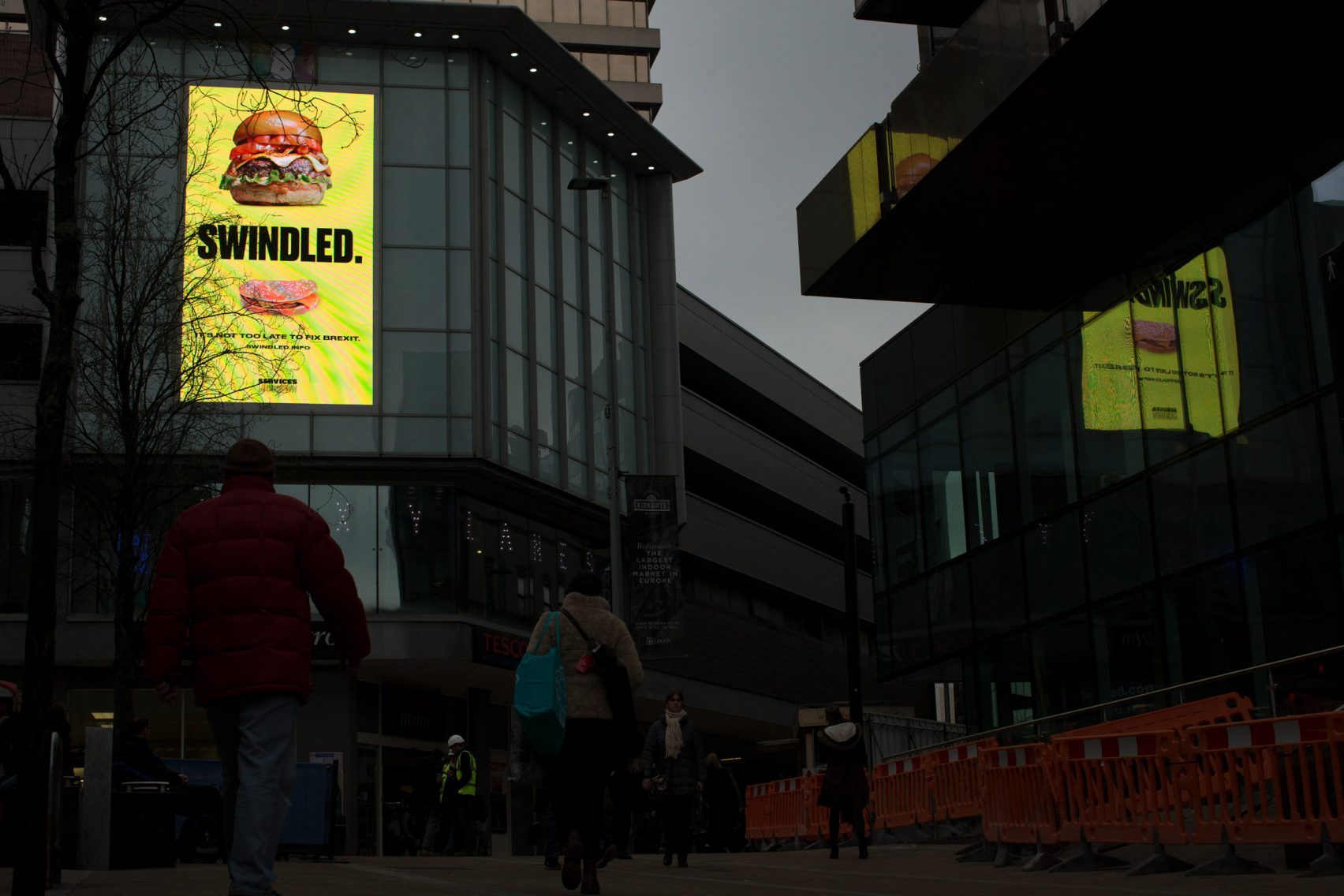 Set against a bright yellow background, two images of burgers can be seen on Superimpose Studio's campaign poster. One is the perfectly styled, mouth-watering burger image we're used to seeing on the menus of fast-food chains; the other, a flat, unappetising sandwich - not unlike the type of grub you usually end up receiving when placing an order at franchised burger joint. A call to action is visible below the imagery in smaller font, telling readers "It's not too late to fix Brexit."
The colours seen on the billboards were chosen less for their aesthetic qualities and more for their historical usage in road warning signs, important because of the campaign billboards' placement near motorways.
A metaphorical depiction of 'promise versus reality', the 'Swindled' campaign is also supported by a website - swindled.info - which calls on readers to write to their MP and post using the hashtag #swindled. "We want to give people very simple steps on how they can get their voices to be heard," says Olanipekun.