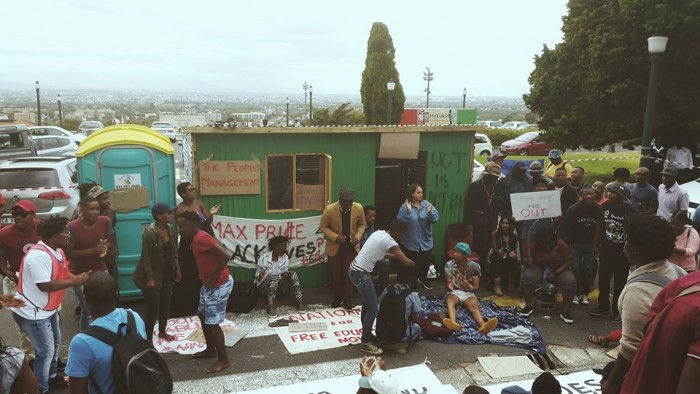 "This is the State of the Nation" reads a placard at the site of the latest iteration of the student-led movement calling for an end to financial exclusion and a solution to the housing shortfall at South Africa's institutions of higher learning. Protests across the country last year garnered unprecedented support and this year, the movement kicked off the academic calendar at the University of Cape Town (UCT). Around 30 students erected a corrugated iron shack, complete with portaloo and barbeque (braai) area to demonstrate the reality faced by numerous students who claim they've been overlooked by UCT's housing policies.
Informal settlements packed to the brim with iron shacks and shared bathrooms are a daily reality for South Africa's black and coloured people. Without electricity or running water, hundreds of students rely on university housing schemes and financial aid schemes to provide them with adequate housing for the duration of their studies. But, according to reports in the media, hundreds of students have not been allocated housing yet and many of them believe the shortfall has only affected black students.
Shackville is a representation of Black dispossession, of those who have been removed from land and dignity by settler colonialism, forced to live in squalor - RMF
To draw attention to their plight, the Rhodes Must Fall (RMF) movement erected a poignant installation on the Jameson steps. To create an authentic township environment, the students brought paint tins and beer crates for seating and a barbeque (braai) area to cook their food. The display also features placards like "beware of the monkeys", a reference to a controversial Facebook post in which a white woman referred to black people as monkeys. The post is just one of many that have gone on to fuel racial tensions in the country.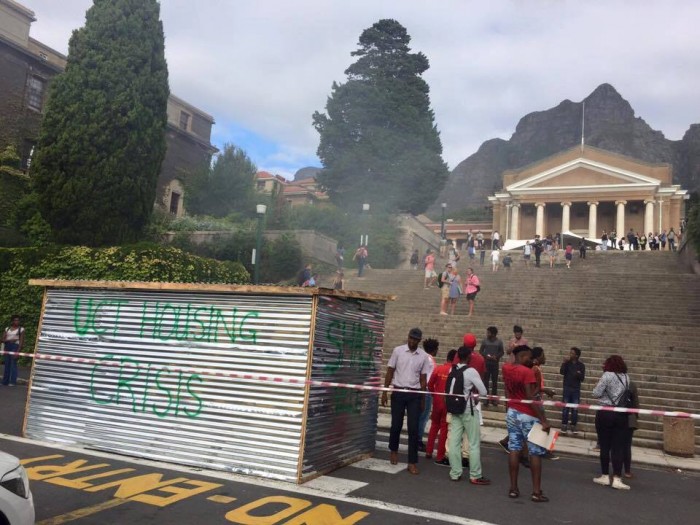 While the university has stated that it is currently facing a housing shortage, they reject RMF's accusation that they've excluded students from accommodation on the basis of race. In a statement issued by UCT's media liaison Elijah Moholola, the institution places the blame for the shortage at the feet of the student movement.
"It must also be noted that it is the very action of RMF in interfering with staff and operations at UCT that compounded the accommodation issue as various offices that were meant to deal with the accommodation issues had to be closed due to RMF interference," says Moholola.
"Some 700 beds normally released in early January in any given year could not be released due to deferred exams, outstanding financial aid decisions based on increased National Student Financial Aid Scheme (NSFAS) funding made available from government and a dramatic increased call from students for assistance with accommodation," he added.
Moholola believes the increased call for housing was influenced by the promise of NSFAS funding and debt relief made by national figures to quell the protests last year. The university only has adequate accommodation for 6680 students out of a total of 27 000.