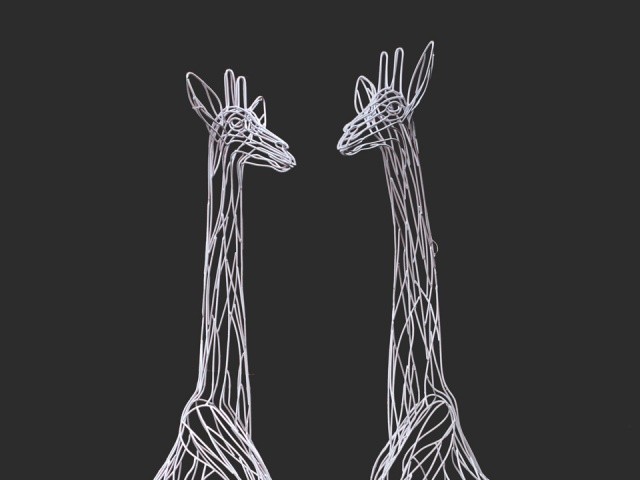 With a determination to accomplish the extraordinary, Streetwires is fulfilling their creative dream one design at a time.
The Fair Trade organisation's vision is achieved by working closely with people from various communities in South Africa, taking in diverse cultural inspiration to create and market the most beautiful and unique wire and bead craft creations.
Their vision extends in empowering local communities through dignified and meaningful work. With over 60 permanent employees today, Streetwires is spreading their passion and pride through remarkable designs paying close attention to detail.
A division of Streetwires "Netshomi Zam", headed by Riaan Hanekom will be exhibiting at Design Indaba Expo in 2013.
Hanekom shared more about their work:
What is the gist of your work? 
Our name, Netshomi Zam, which means "with my friends" in isiXhosa, pretty much describes how we approach what we do. We started off doing things for the fun of it, to see how far we could push the wire and bead medium. These days Netshomi Zam is an equal partnership between all of us, but still remains a creative space that allows us to collaborate and work on pieces individually.
Where does your overall inspiration of your work derive from?
Our inspiration mostly comes from the African wildlife. We try to capture nature as closely as possible. We like to think that we bring the most beautiful aspects of nature into your home with no cost to wildlife.
Do your designs follow a theme of any kind? Do you work with collections or rather individual pieces?
Other than wildlife, our work does not revolve around any particular theme. We have a few ranges in wire and beads, and only wire. Animal trophy heads and life-size animals are the most popular. We also specialise in commissions and once-off art pieces.
Please tell us more about the materials you use in your designs?
We mainly work with wire and beads and for a more contemporary feel only wire. We do not restrict ourselves to a specific medium and find it very rewarding to combine different materials.
Do you have plans to extend the business?
It would be great if we could, who knows what the future holds.
Can you tell us a little bit about what Netshomi Zam is currently working on?
We are currently working on the "Big Cats" range that will be showcased at Design Indaba Expo next year. We are also in the designing and making stage of prototypes for a new range of bedside lamps for children.