Well-known for her bright, zany installations and immersive spatial artworks, Design Indaba Alumnus Morag Myerscough's latest work is planet-focused. She teamed up with #TOGETHERBAND, which is powered by the sustainable fashion label Bottletop, to design artwork for their #CleanPower campaign.
"I was delighted when #TOGETHERBAND co-creator Oliver Wayman, who's been passionate about clean energy for years, got in touch to say he wanted me to design the artwork for their campaign," Myerscough told Design Indaba. "I liked the idea of showing the everyday person it's not out of their reach to start making the world a better place. As well as driving awareness of the importance of switching to renewable energy, #TOGETHERBAND teamed up with Ripple Energy for their campaign – the organisation wants thousands of people to come together and help own a wind farm."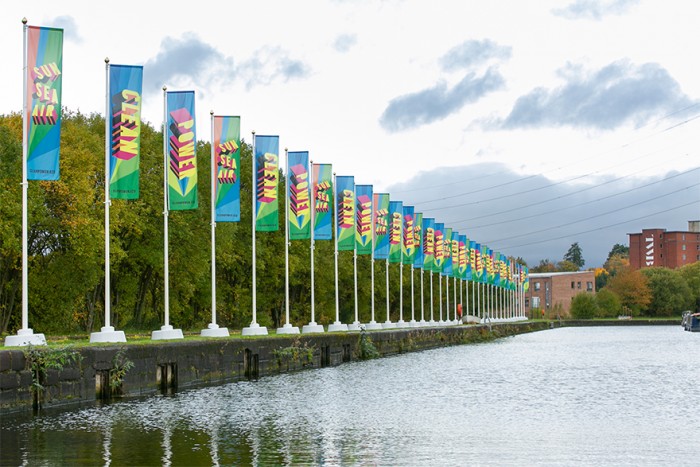 Myerscough designed 40 brightly coloured flags made of recycled ocean plastic, which #TOGETHERBAND placed alongside the canals of Glasgow, to coincide with COP26. The aim was to inspire action and highlight the importance of switching to #CleanPower. "We also had brightly coloured banners lining the entrance to the climate conference, in the hope we'd be noticed by world leaders on their way in," Myerscough revealed. "It was wonderful to see the area filled with colour and hope." The oranges, greens and blues in the designs represented the sun, sea and air that can power a renewable future.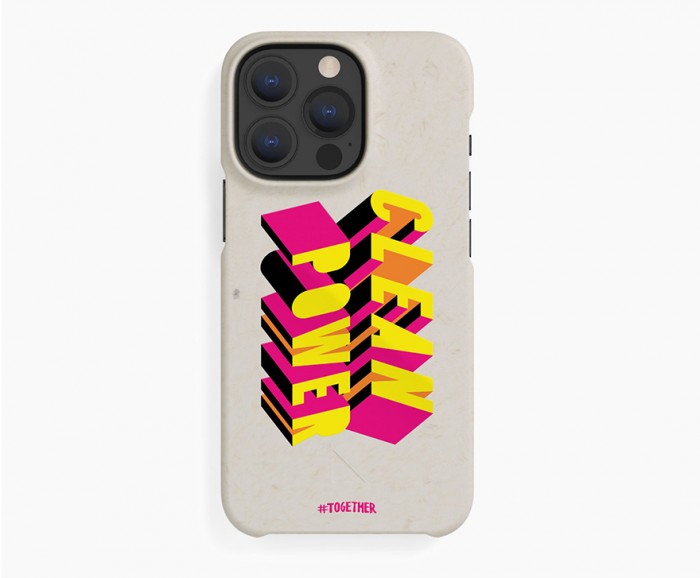 Myerscough has also designed compostable vegan mobile phone cases featuring #CleanPower artwork. The cases are made from linseed waste, with hydro and solar power used to manufacture them, and any water used in production is recycled in a closed loop system. The bright, punchy artwork has been painted by hand on the cases, using organic inks. "Every time someone buys a phone case, #TOGETHERBAND plants a tree in their special forest in Nepal and also donates three meals to a family in urgent need," Myerscough explained.
The artwork is intended to inspire action. It does so by focusing on possibilities rather than on how little time we have in which to make change – something that can cause paralysis and apathy. The World Economic Forum says climate-change communication needs to highlight innovation, hope and practical solutions. This is very on brand for Myerscough, whose trippy artworks with vibrant graphic signatures bring childlike wonder into sober adult spaces.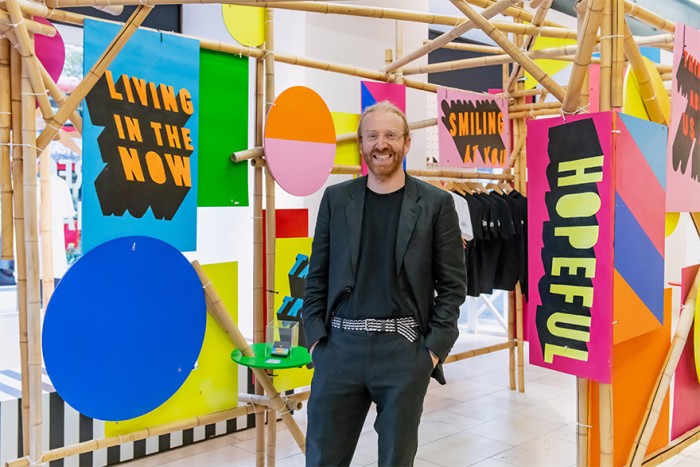 The designer has changed her own life as her awareness of sustainability has increased. "I live surrounded by trees, in a house that gets its power totally from renewables, with heat source air pumps and solar panels," she said. "I have always been very conscious about what I make, and I put things in place from the start to ensure the work isn't put into landfills."
As with her colourful, geometric Paris installation A New Now, which encouraged people to focus on some of the positive outcomes of the Covid-19 pandemic, Myerscough looks on the optimistic side of life, which is delightfully empowering.
Read more:
Nine climate-conscious fashion designers showcase at COP26.
Timothée Mion tells us how to take out the trash.