Marjan van Aubel is a solar designer that works in the three fields of design, sustainability and technology. Her company, Caventou, looks at creating energy-efficient products by using intelligent design.
Her latest project, Power Plant, is concerned with two questions: What if we could tackle both our world's energy and food problems? What if we can harvest both electricity and food within one system using the power of the sun?
With Power Plant, Van Aubel and her team of collaborators (The New Institute, architect Emma Elston; researcher Yasmine Ostendorf; Physee and the University of Amsterdam) are looking at problem-solving through design.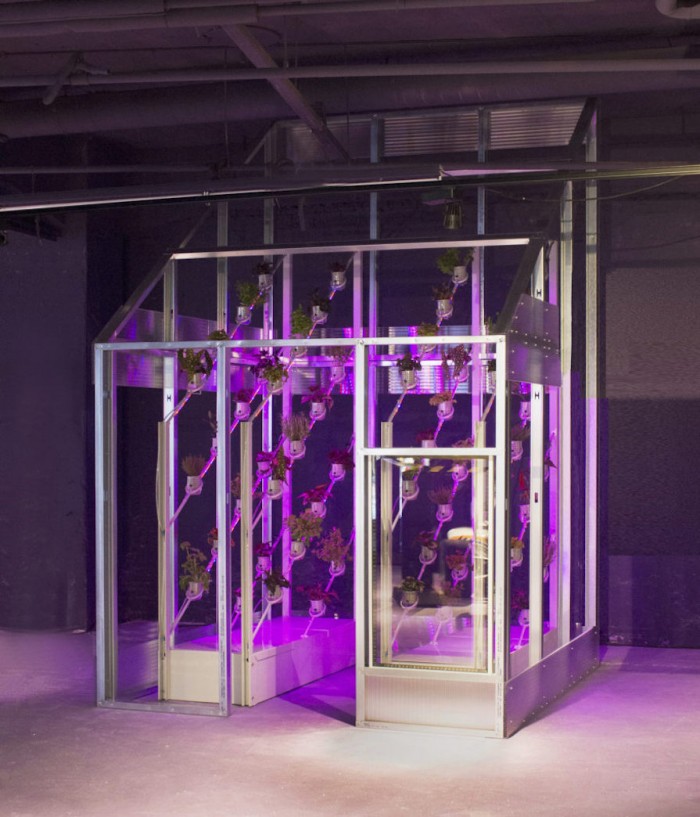 The project tackles the global food crisis.
According to the Global Report on Food Crises 2019, over 143 million people in 42 countries are just one step away from facing acute hunger.
"The world's population is growing, and so is the demand for food. New technologies make farming more efficient, but require considerable amounts of energy," explains Van Aubel.
Power Plant looks at designing a transparent solar glass to power indoor climate, allowing it to harvest both food and electricity for the future growth of plants.
"By placing Power Plant on rooftops we can reduce food miles by growing food directly on the place where it needs to be supplied," says Van Aubel.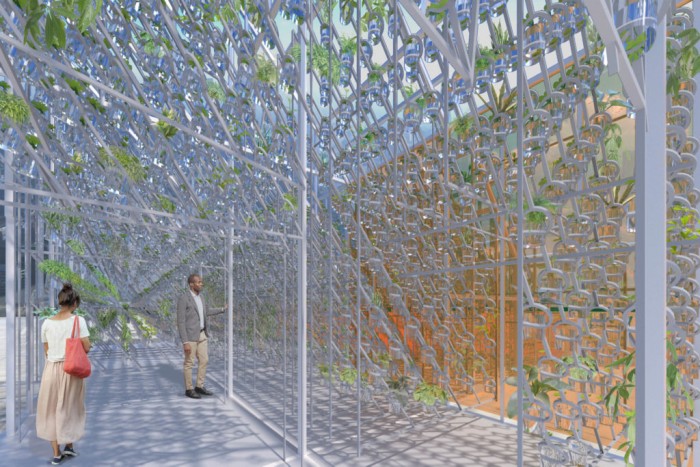 How will it work? The sun powers a hydroponic system, which pumps out nutrient water, which uses 90% less water than traditional soil farming. In addition to sunlight, coloured LED lights enhance plant growth, which can quadruple the produce.
Research into the project is still ongoing, but Van Aubel believes that it could contribute towards energy transition in the agricultural sector. "Power Plant demonstrates that botanical tech can be embedded in the urban environment to educate people to bring the future of farming into our cities," she says.
During her 2019 Ted Talk, Van Aubel revealed that the idea of using solar power first came from reading Travis Bradford's book, Solar Revolution, in which he reveals how in one hour we actually receive enough sunlight to provide the world with enough electricity for an entire year.
This is something that inspired not only Power Plant, but many of her other projects. Van Aubel recently did a collaboration with crystal experts, Swarovski Crystal Palace, who collaborate with designers to create unique lighting pieces that transform interiors.
In this collaboration, Van Aubel created the Cyanometer Collection to create three different lights using a technology called 'dye-sensitised solar cell'. According to Van Aubel if you cut crystals in a certain way, you are able to bend and direct the light onto a certain place.
She used this crystal technology to focus light onto the solar panel, which makes them more efficient, but still takes aesthetics into consideration. "The portable solar crystal harvests light during daylight hours, then once placed into a docking station, it powers a light installation that gives the sensation of "taking the sky indoors," she explains.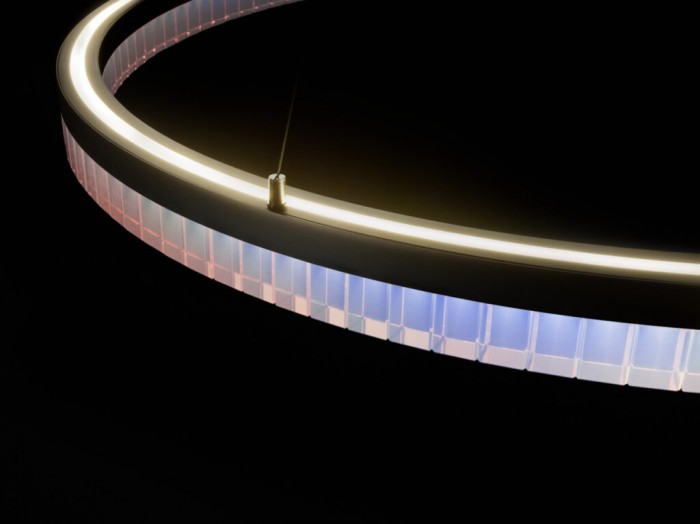 Most importantly she used colour solar cells and based it on the process of photosynthesis in which green chlorophyll converts light into sugar for plants – these solar cells convert light into electricity.
"Different colours have different efficiency levels depending on their place in the colour spectrum. As a designer it excites me that colour that's mostly used for aesthetic purposes now has an extra function and is able to harvest electricity," she explained during her Ted Talk.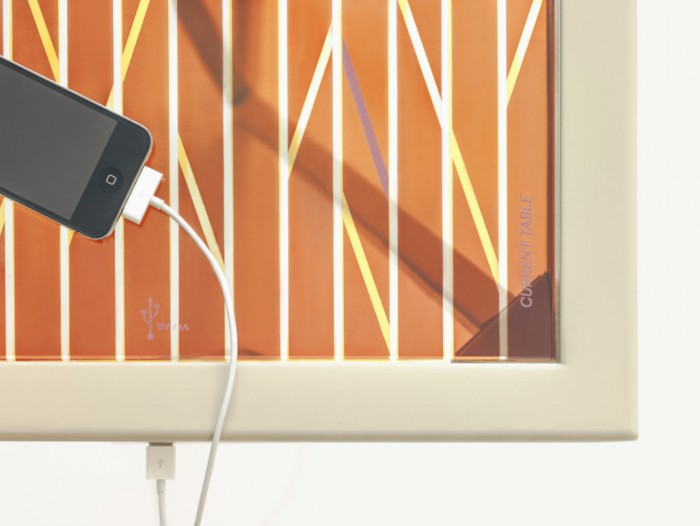 Another product Van Aubel has created is the Tabletop, called Current Table 2.0, which is the first piece of furniture to harvest energy indoors. It was developed under Caventou, in collaboration with Peter Krige.
The table consists of coloured solar cells that are equipped with batteries in the legs of the table, which alllows you to charge your phone using USB ports – once again it mimics the process of photosynthesis in plants.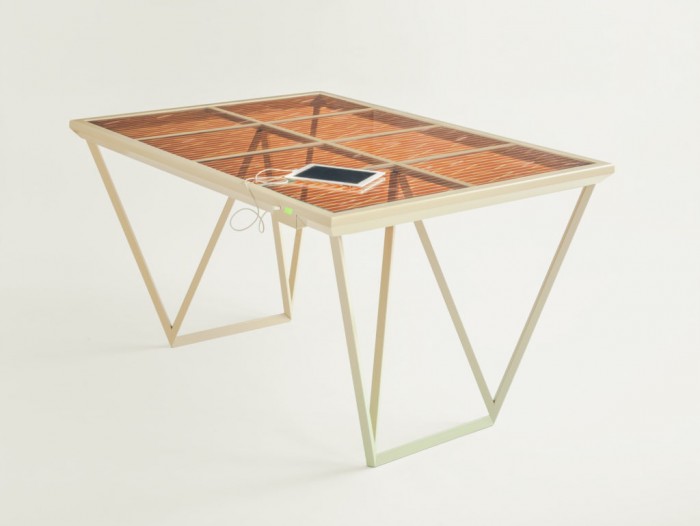 The design of the Current Table 2.0 is a new version of Van Aubel's first design, called the Current Table 1.0, which was nominated for London Design Museum's prestigious Design of the Year Award. It is currently part of a permanent collection at Boijmans van Beuningen in Rotterdam.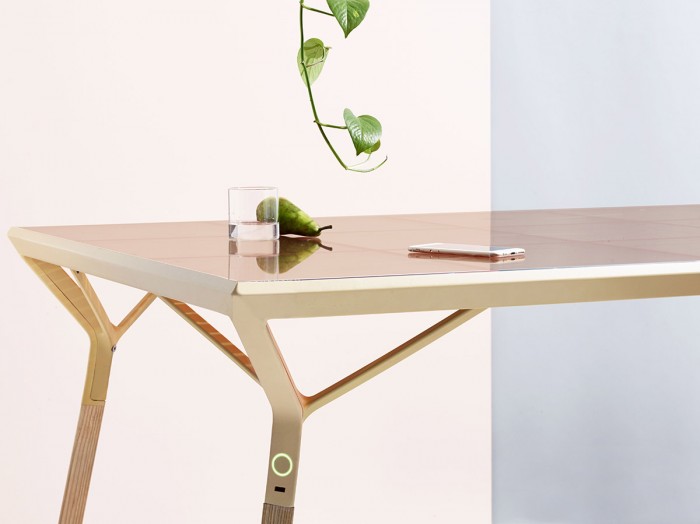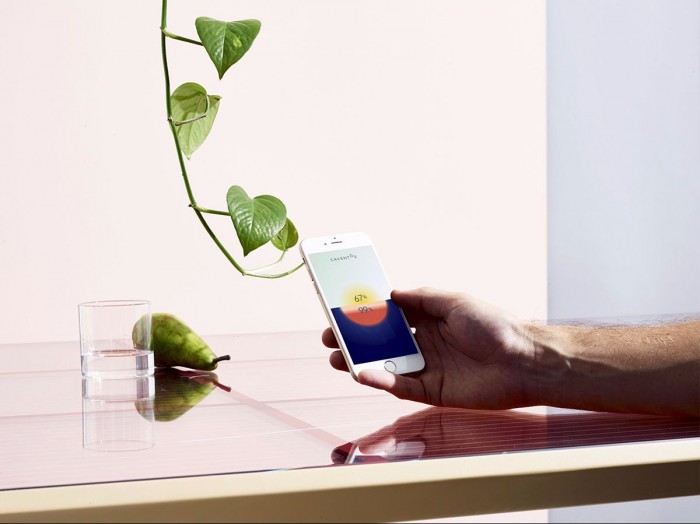 Read more:
The industrialisation of the natural world