Anyango Mpinga's designs are multifaceted. They demand your attention in a subtle way. They embrace elements of masculinity, while also flaunting their femininity. At their essence, her creations are a true representation of the women they clothe.
Mpinga grew up in Nairobi, Kenya, and her first exposure to the possibility of being a fashion designer came while watching the popular soap opera 'The Bold and The Beautiful' with her mother.
"I remember being intrigued by the two competing fashion houses, especially when they had the fashion shows, and when they argued about who stole who's 'show', or which creation was the showstopper," says Mpinga.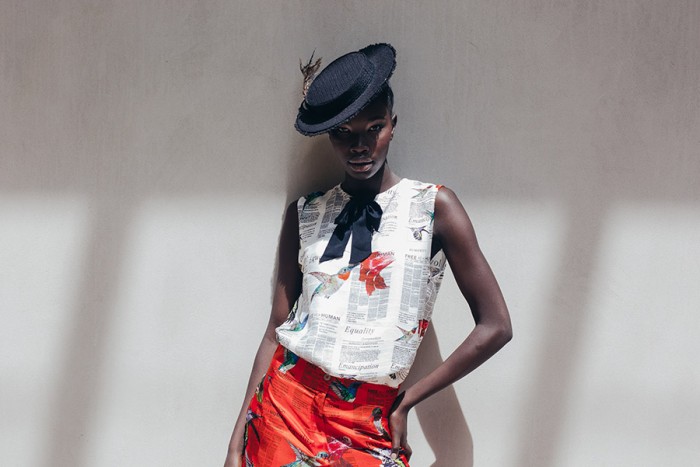 The show inspired her to cut up her mother's and sister's old clothes in order to create new costumes for her dolls, and put on a fashion show of her own.
Mpinga describes herself as always being a little artistic, but the idea of becoming a fashion designer remained a distant dream.
Working in the media industry, the designer quickly found her way into the life of glitz and glamour of the fashion industry, and was asked to serve as the project director of the first Hub of Africa Fashion Week which launched in October 2010 in Addis Ababa, Ethiopia.
Over the years she had learned how to design her own garments and seeing the work of other designers gracing the fashion runways, she knew it was time for here to take this design thing seriously.
A year later and Mpinga's eponymous label designs are sashaying across the very same runway, thus launching her career and her designs into the spotlight.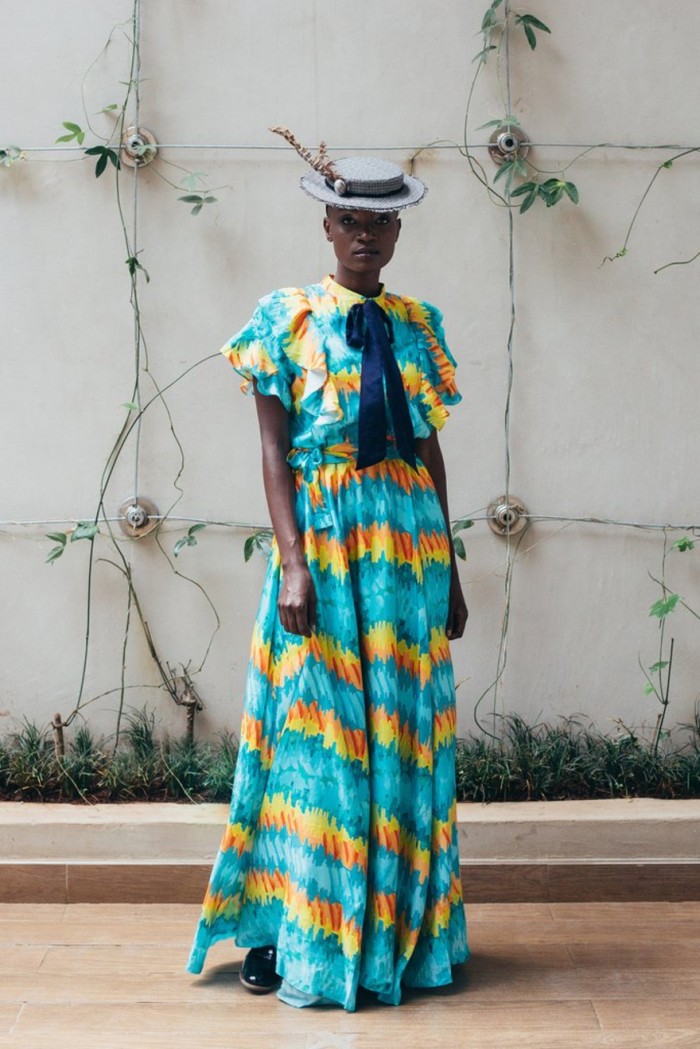 For this Kenyan designer inspiration comes from the magic of the world around her. One of her most popular creations is the soundwave printed silk dress. The soundwave pattern printed on the dress is the sound of the designer saying "I love you' in 25 different languages. The dress forms part of the 2018 Phonology series.
"I had an interesting conversation with my friend about the magic of soundwaves, and I wanted to explore how these sounds could be captured in a meaningful way and transformed into art. I recorded the words "I love you" in 25 languages. Ten of those were recorded in languages from 10 Kenyan tribes. The other 15 comprised of the words in 15 languages of some of the places I have visited around the world. All these soundwaves put together became "The Sound of Love" print," says Mpinga.
Nature is a big source of inspiration for the designer. Many of her creations feature floral patterns, hummingbirds and delicate, yet beautiful, insects.
"I once designed a print inspired by a dragonfly that was in the kitchen of a beach house I was staying in on Lamu Island. There was a beauty in its stillness. I remember wondering what characteristics dragonflies possessed," says Mpinga.
One of her dragonfly print silk dresses, which belongs to her 2018 'Literary Disenthrallment' collection was worn by Kenyan filmmaker Wanuri Kahiu for her profile on the Time 100 rising stars list.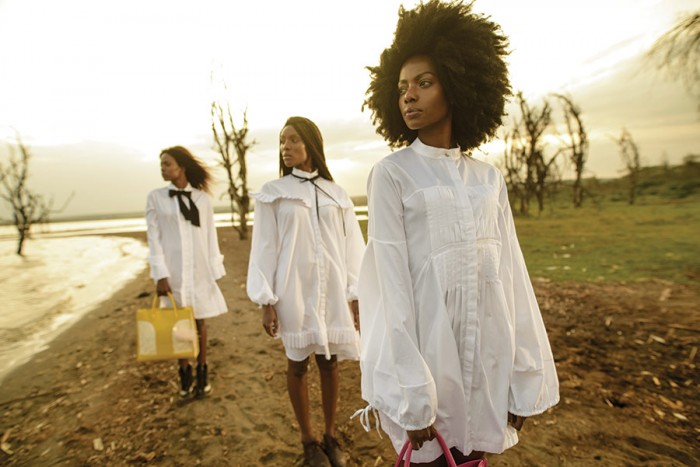 One of the things that intrigued her about dragonflies was the way a female dragonfly would throw itself to the ground and pretend to be dead to avoid mating with a male dragonfly. Once the male dragonfly sees this "lifeless" body, it loses interest and goes away.
"I remember after reading that, wondering why as human beings we don't respect each other's bodily autonomy," says Mpinga.
Not only is Mpinga a fashion designer, but she is also an activist and founder of Free As A Human, an anti-human trafficking initiative.
Together with her initiative Mpinga raises awareness against modern slavery, and rallies for a change within the fashion industry supply chain. The industry is one which is infamous for using slave and child labour in order to mass produce goods.
"I find that art and fashion have the capacity to shape the way our society views social inequality and drive change," says Mpinga.
The second part of her 'Phonology' series is made up of a selection of clothing designs featuring a newspaper print with images of humming birds superimposed on the print. According to the designer, hummingbirds are a symbol of love, and bring joy to all who encounter them.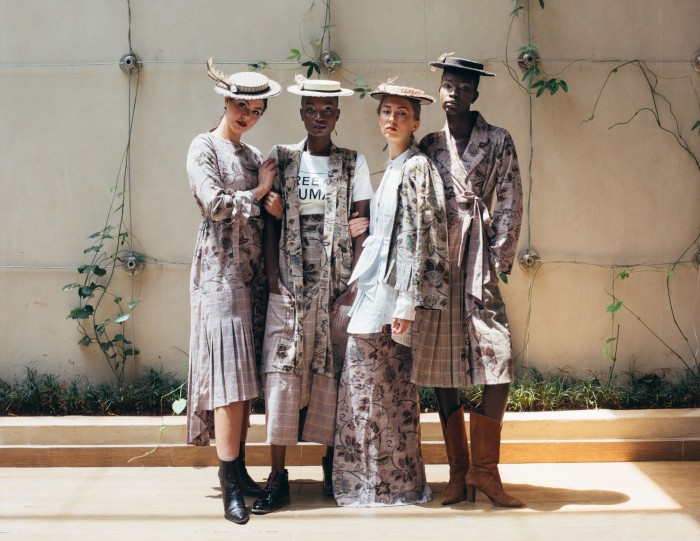 The words written in the newspaper print include "Free as a Human, Love, Freedom, Compassion, Equality" in among others. She added the hummingbird, as she felt what it represents would help to emphasise these words and messages. The design and its symbols are all based on her anti-human trafficking initiative.
Mpinga's other collections include 'Kondo Udo', a series inspired by a traditional hat made of ostrich feathers. The hat is worn by warriors and dancers from her native tribe "Dholuo". According to the designer, the hats, with their undulating feathers moving swiftly in the wind, are worn as a way to charm anyone who encounters the wearer.
Her 2017 collection, titled "The Proverbial Dreamer" analyses social transitions. Mpinga notes that one of the ways in which African tribes mark social transitions is through scarification patterns or tribal tattoos. These bodily adornments symbolise the different stages in a person's life and are used to identify where someone comes from.
"Basically human beings wore their history as a map on their bodies," says Mpinga.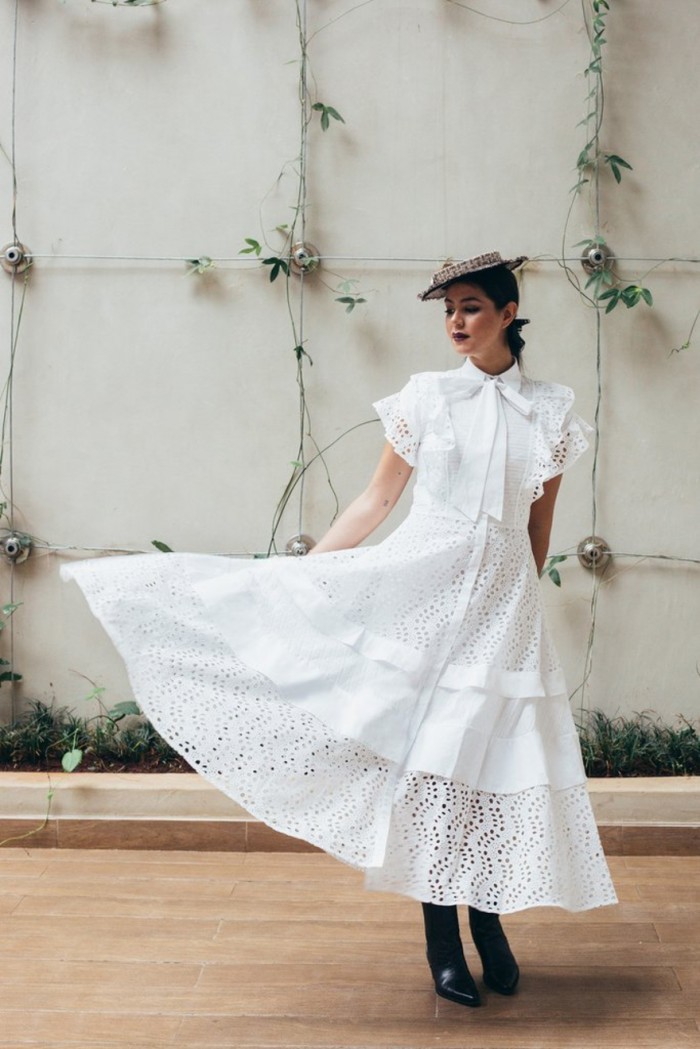 Speaking about her creative processes and what gets her creative juices flowing, for the designer collecting stories, reading up on African history and exploring traditional practices are some of the things that get her really inspired. She enjoys watching period films and also addressing social justice issues affecting our global community.
"I tend to start there when delving into the things that inspire me. I come across different subjects, and often start doing research on them before progressing that research into art. Sometimes I'll dream about something and I'll wake up in the middle of the night to write it down or make a sketch. I sleep with a notebook next to my bed for this purpose. I also play music when I'm creating - a lot of Motown and Aretha," says Mpinga.
Earlier this year the designer took part in the first edition of the Fashion and Cultural Exchange Africa-Japan, an initiative that's commited to promoting a cross-cultural exchange of art and fashion that transcends social and political boundaries, whilst fostering economic growth between the two countries. The initiative hosted a fashion show exchange where some African designers like Mpinga and former Design Indaba Emerging Creative Thebe Magugu hosted fashion shows during Tokyo Fashion Week and some Japanese designers hosted fashion shows during Lagos Fashion Week.
The designer's future projects include creating a biodegradable, environmentally friendly and cost-effective fibre derived from invasive species, to be used in the fashion industry. She is also going back to school to complete a post-graduate research programme, as part of the development of this new textile, which according to Mpinga involves a lot of experimenting in labs and learning from scientists and researchers.
"It's definitely a new path I'm exploring, and I'm excited about it," says Mpinga.
Read more:
Thebe Magugu takes a seat at the fashion table
Mzukisi Mbane's imprint on African fashion
From refugee camp to fashion runway