If you want to know anything about where the world is going, you should probably be listening to millenials.
This was the overriding sentiment from Design Indaba CEO Ravi Naidoo and Dutch Design Week CEO Martijn Paulen on the opening night of Antenna. Just a few months ago, Antenna was just an idea that Naidoo and Paulen had dreamed up to try and create more opportunities for collaboration between young and established designers. They wanted to launch a global scan of the best design graduates.
And with 20 nervous, excited young designers waiting to take the stage at the Klokgebouw in Eindhoven in the Netherlands, they had achieved their goal. The stage was filled with one designer after another, coming from places as varied as South Africa, Vienna, Iceland, Mexico and everywhere in between.
The event, which took place as part of Dutch Design Week, was hosted by Design Indaba alumni, investigative & critical designer Isabel Mager and fashion researcher Vera de Pont.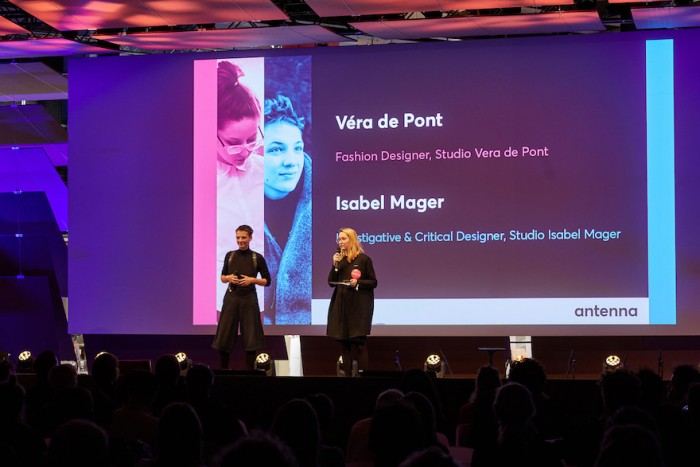 The first to take the stage was Marta Velasco Velasco. Her project Pulau Banda traced the Dutch's colonial history back to a small island in Indonesia that is struggling with plastic pollution.
Marta told of how this island was colonised by the Dutch in order for them to get access to nutmeg spice. She looked into the history of the people on the island, as well as her own family history, to create a unique fabrics. She presented everyone in the audience with a tiny piece of silk cloth that she made for the event. In it she wrapped nutmeg.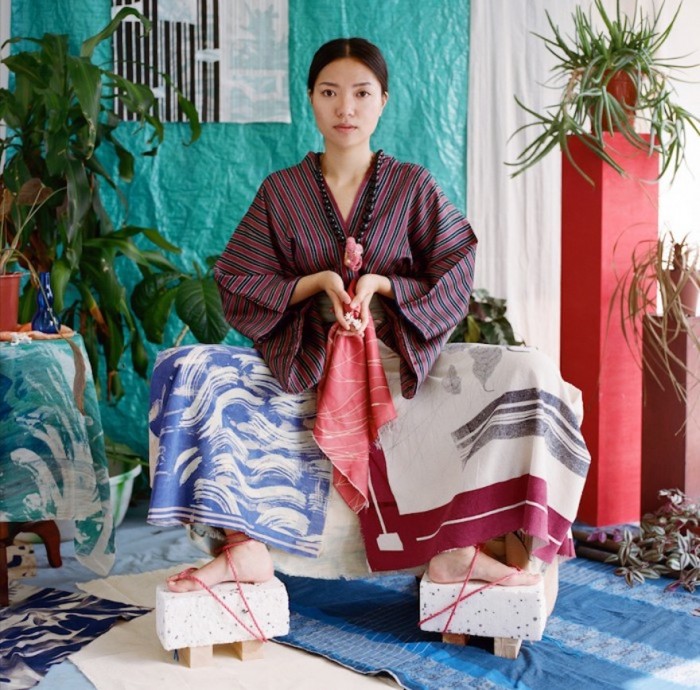 But she was not the only one who came bearing gifts. Renata Souza – whose project is called Thomy – was inspired by her nephew in Mexico called Thomas.
He was diagnosed with diabetes and Renata wanted to find a way to design a syringe kit that would be easy and colourful enough for her nephew and other kids with diabetes to use.
As she told the audience during her presentation, the kit, which also comes with temporary tattoos, worked so well that Thomas' younger sibling pretended to have diabetes too in order to get a free tattoo.
Following Antenna, Renata won the Dyson Design Award for the insulin kit with Jenny Blanton, the Lead of the James Dyson Foundation in North America saying that her design struck a perfect balance between a medical tool and a toy.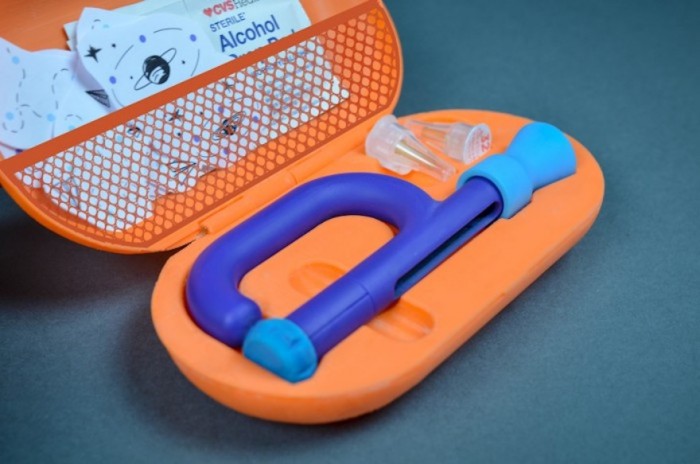 From improving the lives of children to making the world better for the elderly. For Sarah Wisniewska, this came in the form of a book called Dissolving Memory.
The book was born out of the frustration of watching a family friend slowly lose her memory through Dementia. She told of how Monique's memory deteriorated to a point where she would put the chicken in the dishwasher and other such incidents.
To try and raise awareness and empathy for people like Monique, Sarah made the book in order to help people understand what reading is like for people like Monique.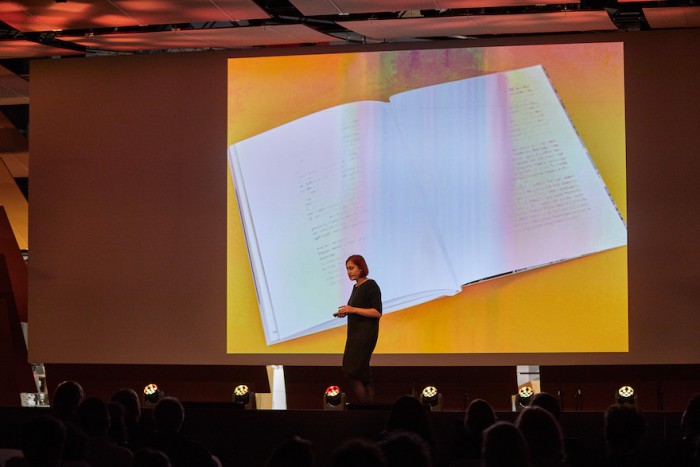 The letters repeat themselves and sometimes disappear while the images are faint. She printed a smaller version of her book for the audience to experience a bit of the book for themselves.
Another project that concerned itself with the elderly was by Mar Ginot Blanco and Aaron Garlick called Ageing On The Move. The two designers speculated on the future, about 50 years from now, and how mobility and the way we live will be affected.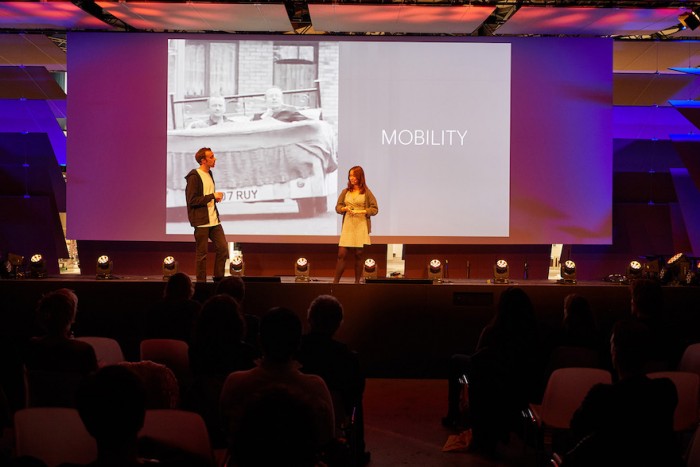 On the other side of the speculative design spectrum, Kazuya Kawazaki looked at bio-fashion and growing material for zero-waste fashion. He studied the possibilities of producing a fibre – and eventually a garment – made of biomaterial through biohacking. And the audience was treated to a live display of the jacket he made using this method.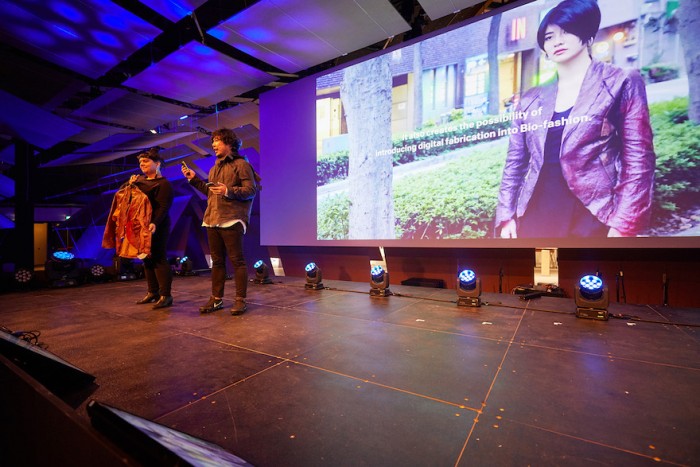 Another speculative design came in the form of Window Of The Future by Sebatian Gier. His project on the future of mobility looks at a car window as more than just an opportunity to get fresh air and see what's outside.
His project looked at the window as an interactive medium through which passengers can change their view, record their journey and even download the local language (which will be helpfull on a roadtrip through a foreign country for example) in order to read local road signs and understand the local language in the area you are travelling through.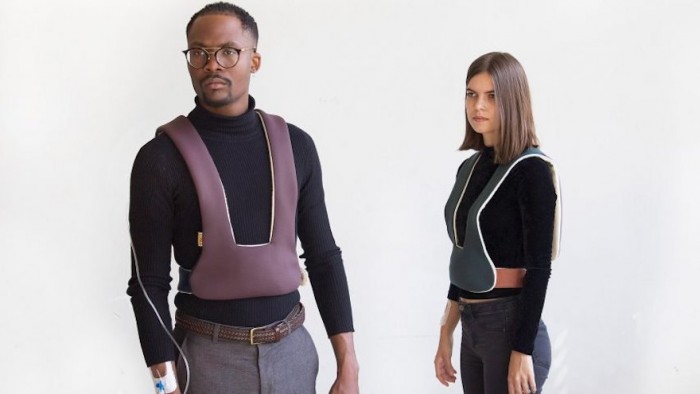 With IV Walk, Alissa Rees continues her aim to humanise hospitals by introducing products that make the lives of patients easier. Having spent months in hospital as a result of Leukaemia, Alissa has personally experienced having to rely on an IV drip attached to a pole.
She instead designed the IV Walk as a product that patients can wear over their shoulders and have the drip stitched into the fabric. This makes it easier for patients to move around should they need to use the toilet or catch some fresh air outside.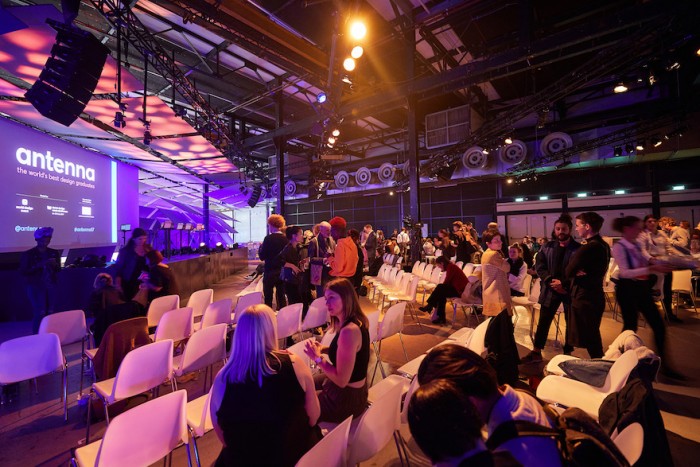 All Antenna images by Jeroen van der Wielen. Keep up with all the latest Antenna videos and stories.
Watch the Talk with Kazuya Kawasaki