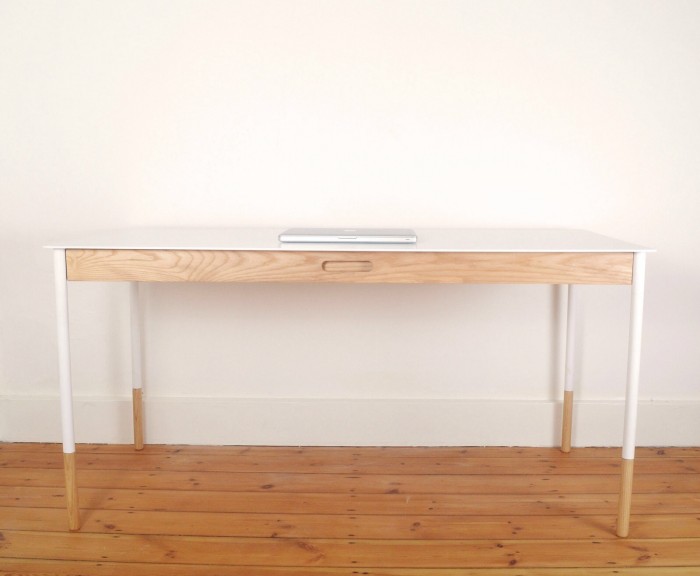 "Having a child changes your life, for the better" says Gideon Roos, who recently became a father. Parenthood is just one of his many responsibilities. As well as bringing up his son in South Africa, he has a job as a landscape architect in the Middle East and still finds time to make bespoke furniture here in SA.
Roos uses his background in design and knowledge of 3D modelling to produce the pieces he creates under the moniker Roos Designs. His furniture relies heavily on the use of modern equipment and technologies to work the wood and bend the steel, two raw materials he loves using. He aims to declutter a space by using slim, straight lines in objects that are soft on the eye but heavy and solid when touched or held.
He's inspired by mid-century Nordic furniture: the kind of things found in old Afrikaans households. "Those prominent lines have stayed with me since I can remember," he says. "Subconsciously maybe even prompting me to study design. My first flat as a student was filled with old wash tables, coffee tables and dressers, things my family threw out to modernise their house. To some extent I'm trying to revitalise those elements of style using modern materials and construction techniques."
We took some time to investigate Roos' fascination with old Afrikaans furniture further.
Do you still have some of the pieces in your current home which you had in your student flat? If yes, which ones and why, when decluttering seems to be an objective of yours?
I only have one object left. A beautiful bespoke floor lamp given to my grandfather by the University of Stellenbosch after his time serving as registrar in 1966. Buying my own house was a good way to purge all the pieces that has seen better days. It's always nice to start with a blank canvas, yet certain pieces will always have strong sentimental value and cannot be thrown out.
What kind of construction techniques do you use in your design?
I rely heavily on 3D modeling to do mockups before building actual prototypes. CNC cutting and milling, and machine bending performs a large part of the construction process. Of course the human touch is always required to obtain the final look, as well as a steady hand with a mig/tig welding machine.
Do you keep children in mind when designing and building furniture?
Prior to the birth of my son I did not keep children in mind. I had to add soft padding protection to the beautiful walnut and glass coffee table I designed. More to protect the furniture from my boy! They really are like little beavers when they are young!
What are some of the raw materials you use and which are your favourite to work with?
All of my furniture pieces involve some sort of hardwood, steel and glass. I love working with lighter timber, such ash or beech, and then adding the darker tones of mild steel. I'm starting to include copper and brass although this drastically alters the cost factor.
Still having a full-time job to sustain your family indicates that the market for bespoke furniture is not doing so well…?
My part-time job in the Middle East is the perfect way to sustain my design work back in Cape Town. All designs start with building prototypes and these don't come with a cheap price tag. They also take up hours of your time. With the favourable exchange rate this setup allows me the freedom to be part of large scale construction projects abroad, spend lots of time with my family when I'm in Cape Town and have enough capital and time to develop my designs piece by piece.