South African architect-turned-designer Tshepo Mokholo has imagined a fossil-fuel-free houseboat for a future nomadic labourer who might travel by river to the city he or she works in and return home for the weekend to be with his or her family. The setting for Mokholo's houseboat is the Apies River in Tshwane, the administrative capital of South Africa.
This design is Tshepo Mokholo's interpretation of a third-year design project given to him while studying architecture at the University of Pretoria. The students were asked to imagine a dystopian future free from fossil fuels and oil, and design something for this apocalyptic world.
"This project required us to apply our minds beyond the conventional. Designing in a non-existent context takes away any dependence on precedents and forces you to become creative," says Mokholo.
Solving the propulsion issue was critical for Mokholo. Without the use of a combustion engine, propelling a boat up and down a river could prove difficult.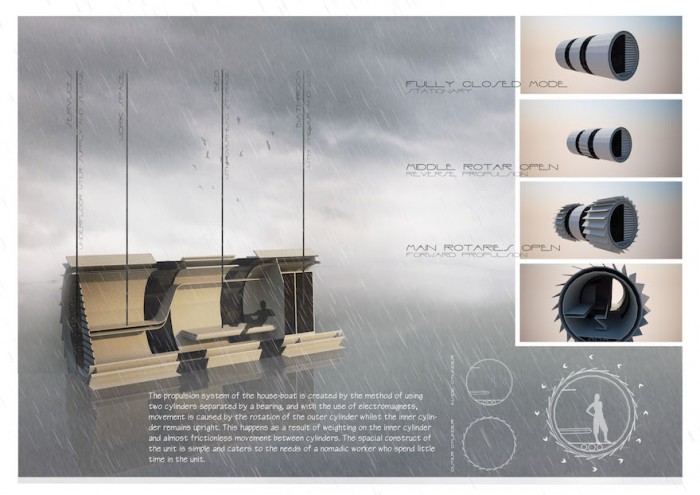 "I proposed the use of two cylinders, one inside the other, separated by a bearing. The same principles would apply as applied to magnetic levitation. The outer cylinder would rotate whilst the internal cylinder remained still".
Solving problems, even within fictional scenarios like the above, is what drives Mokholo as an architect. Through architecture he says, he wants to bring about social change in society. Mokholo is especially interested in the inner city areas that were once hubs of commerce and activity.
Mokholo is adamant that Tshwane and Johannesburg are brimming with Modernist architectural gems sitting dormant and idle, and he feels these buildings should be re-commissioned and utilised rather than left abandoned. According to Mokholo, effective design can be used to breath new energy into our inner cities without gentrifying residents. Otherwise, when left abandoned, certain areas of the city become hotspots for crime.
Mokholo adds that cities are the meeting points for people. By making the inner cities more accessible, a better environment is created that breaks stigmas about social and cultural barriers.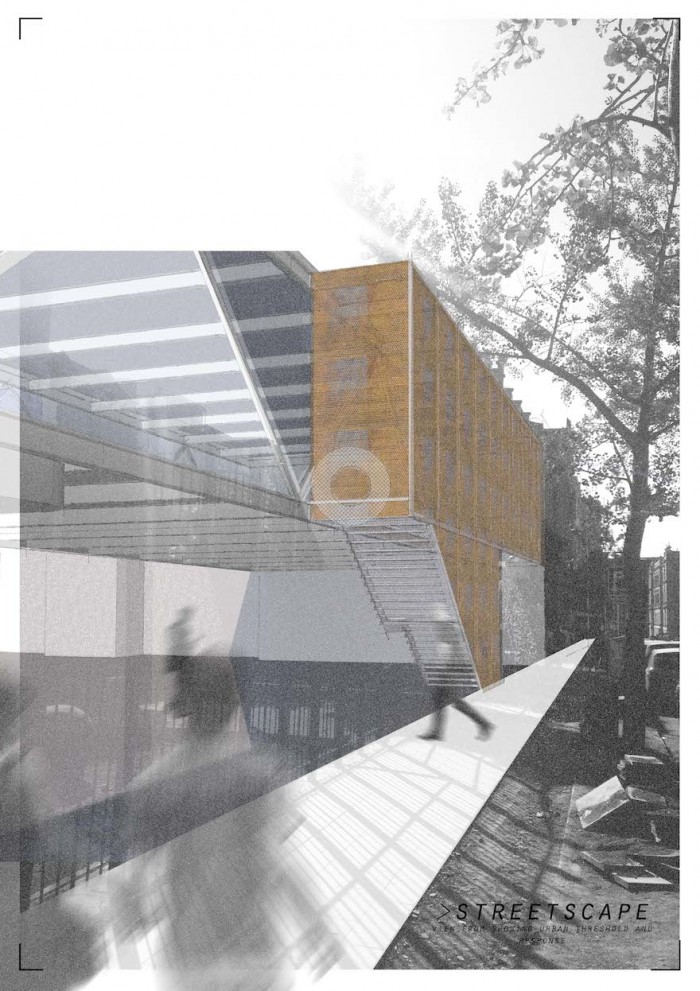 As an architecture student, Mokholo has garnered exceptional graphic design skills. He currently designs graphics under his own brand, Creatif Studio, while seeking full-time employment. He lives by words instilled by his first-year lecturer, Mr Nico Botes: "As an architect, you are a designer, and as the designer, you must be able to design anything." Mokholo adds, "Our designs are only as meaningful as our ability to present and express those ideas, which we do through the graphic language of design."
Mokholo also spends his time experimenting with furniture design, though this is still a passion project. He is yet to build something tangible, which he attributes to a lack of resources. He finds inspiration through Modernist architects who not only design buildings but the interior and the furniture too, as furniture is the custodian of the space it occupies.