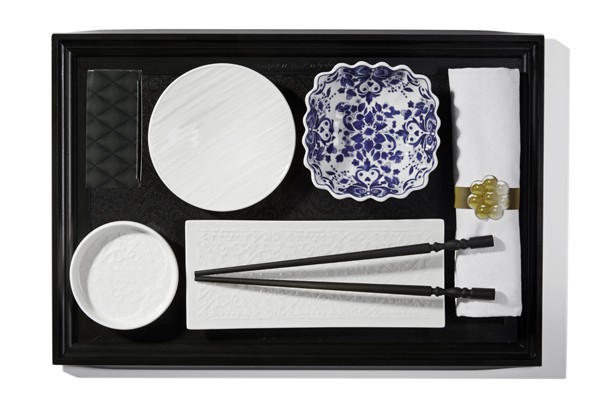 Japanese tableware by Marcel Wanders for KLM.
With the increasing popularity of sushi all over the world, Marcel Wanders has designed a collection of tableware that is fit for the traditional Japanese meal.
Dutch designer Wanders has collaborated with KLM airlines to design a collection of tableware for their business class passengers that offers a versatile solution in an elegant form.
The business class service includes a basic black tray, a white rectangular porcelain plate for sushi, a multifunctional square side bowl and a round dish, a set of chopsticks and a napkin band. Carefully arranged, the collection of tableware reveals Wanders's signature trademarks and quality.
The design of the bowl takes its cue from traditional Dutch Delftware techniques, while the chopsticks are impressed with Amsterdam's three cross city logo that adds extra grip. The components are interchangeable to facilitate the serving of all types of delicacies.
The tableware collection started flying earlier this year.
Watch the Talk with Marcel Wanders