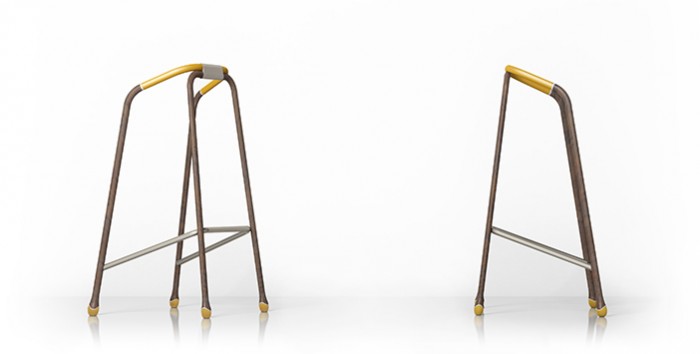 IDEO Designs on Aging: Grand Slam.
Tom Hulme, director of IDEO in London, a global design consultancy creating impact through design, believes it's time to take a different approach when designing for the elderly.
The Designs on Aging collection presents 18 concepts that aim to make the pensioner's life a little easier. From innovative walkers and pit stop posts to the Instagran, a personalised television station with a stream of photos from loved ones, the collection takes a look at the challenges facing the elderly and how they may be able to overcome daily difficulties.
This is a global collection with concepts from our IDEO offices worldwide. We have perspectives from a country like China, now facing a rapidly aging population head-on, and in Europe, where the economic and pension crises have changed the face of retirement. There are many challenges and opportunities ahead for the designers of products, services and systems tailored for the boomer generation in the second half of life. It is for these people that Designs on Aging was created, says Hulme.
Here is a look at the 18 concepts featured in Designs on Aging:
Up In Years by José Colucci, Richard Herstek and Alexey Ivanov is a campaign to help prevent STDs among seniors. The main focus of the campaign is to spread the message "use a condom".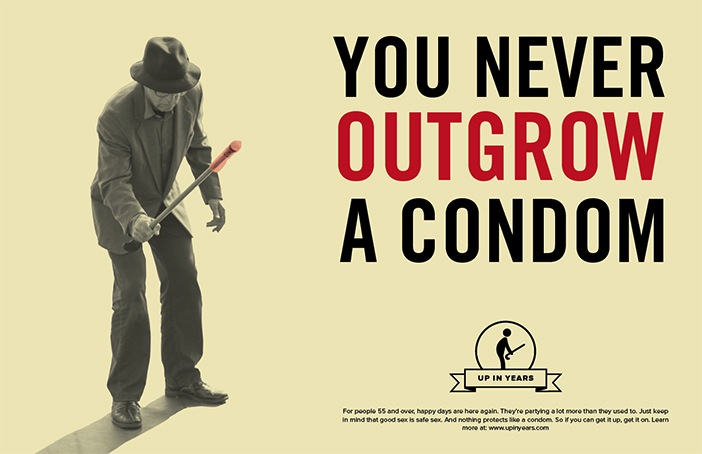 When it comes to housing, living large can have its drawbacks later in life. Care BnB by IDEO Singapore is an architecture and management service that converts a home into separate apartments, allowing individuals to grow old in the place they love. The excess apartments can be leased out to others for income generation.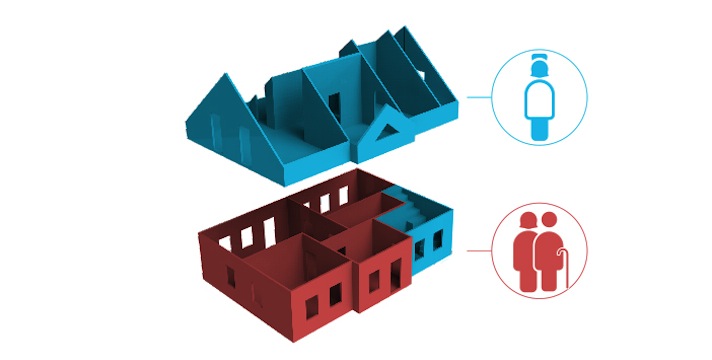 Barbara Franz, James Price, Jens Wiemann and Moja Lees conceived Gradually, a service providing advice and assistance in planning for retirement and beyond. With a job coach, community centre and financial advisor all under one roof, Gradually aims to allow people to leave their jobs with peace of mind.
The Gray Mirror is a tool that can be used to encourage young people to empathise with their future selves and to perceive elders in a different light. When standing in front of the mirror a screen shows positive messages associated with aging.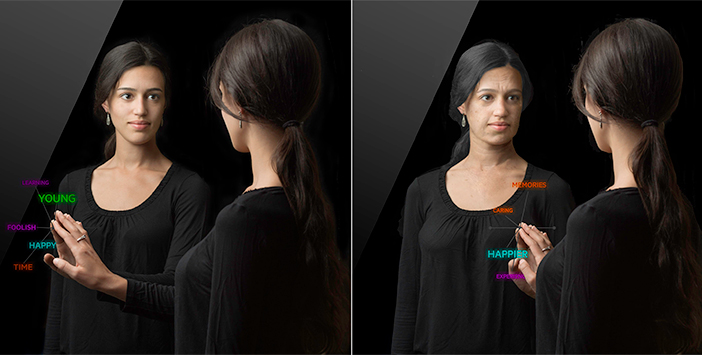 Designers Martin Meier, Franziska Mayer, David Mallard, Joel Derksen and Kael Jönsson, give the classic swimsuit a supportive life. The Sväv's pneumatic features are integrated into the body of each suit to allow elderly swimmers to stay in the water longer.
The designers for the Sväv also conceived the Trikka, a device that keeps walking and cycling a part of everyday life. To minimise daily hurdles, the Trikka has big wheels and can easily be switched between walking and cycling modes.
Changing Gears and Grand Slam, designed by Kuen Chang and Florian Gerlach are stylish walkers. Just like any other healthy lifestyle product, the walkers are sold and serviced at local bike shops and outdoor retailers. They come in a range of finishes and boast wireless geo-location to track steps and call for help in emergencies.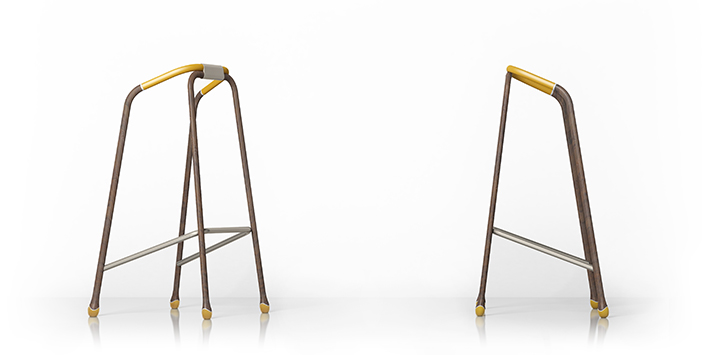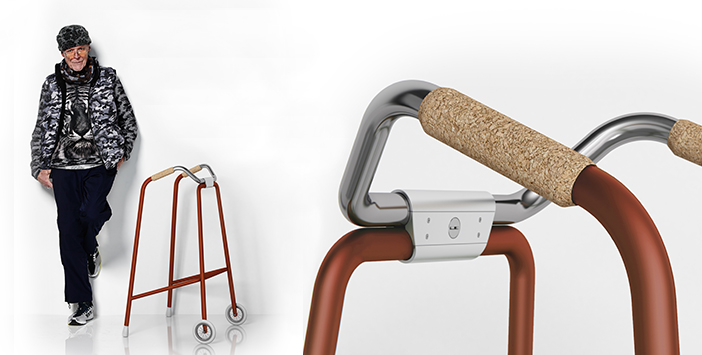 Goofy Foot by Dirk Ahlgrim shows how meaningful objects can grow with people as they age. With the Goofy Foot, a skateboard is used as the wheels on a walker.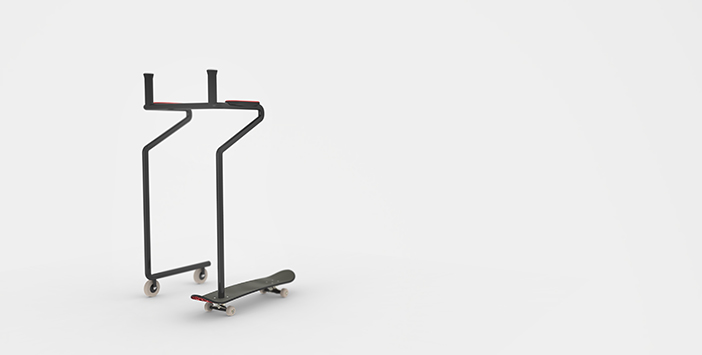 Instagran is a simple tool that connects grandparents with their children and grandchildren through social media. Designed by Yuni Lee and Karoline Andersen, the simple tool pushes a photo feed to the Instagran channel on an older relative's television.
Connecting the elderly with local children, Karoline Andersen and Nadine Stares designed Sprouts, a simple programme that turns the untended gardens of the elderly into learning opportunities for children. Sprouts develop skills and earn badges that help cultivate a new appreciation of nature, particularly for urban children, while the elderly simultaneously benefit by having their gardens maintained.
Today home delivery is available for almost everything, but with the speed and top priority, most couriers are paid to drop and go, leaving no time to help with unwrapping packaging. Overdelivery by Dave Russel and James Moed provides customers with a few minutes of care and conversation.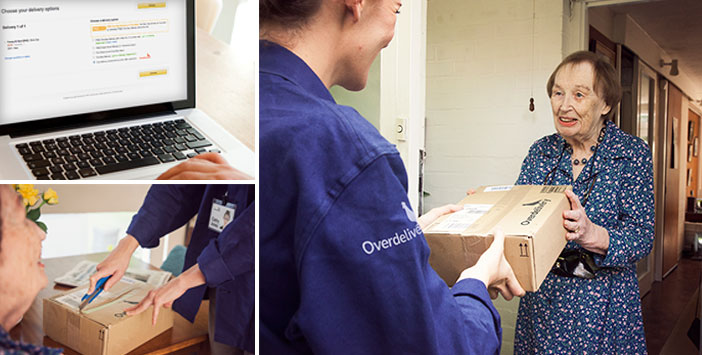 Pit Stop Posts, by IDEO Singapore is a line of street furniture designed to help seniors and those who are slower in pace find a place to rest in busy urban areas. Resting posts that appear as walking sticks allow seniors a moment to pause or a place to hang shopping bags.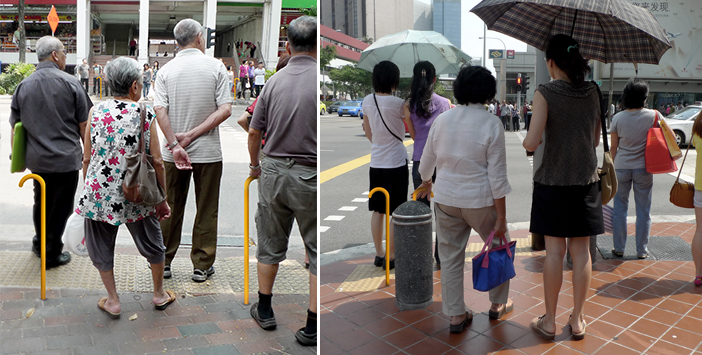 The Pill Necklace designed by Stina Jonsson and Ross Lockwood ensures that the daily medication regime is easily accessible. A simple divider separates the pills into morning, lunch, dinner and night. The increased visibility also heightens the awareness amongst the general public and keeps the issue top of mind.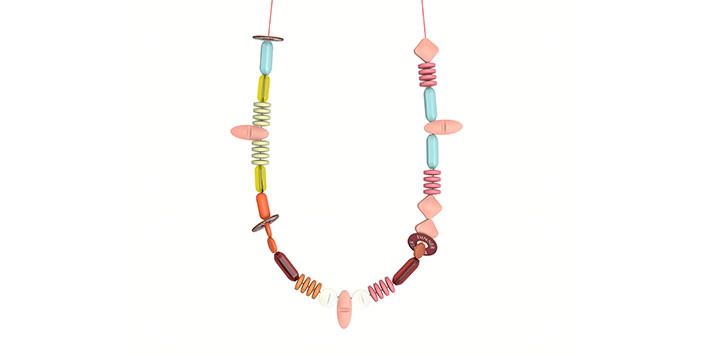 By the year 2050, about a third of China's population will be over the age of 60. The current generation of 60-year olds has experienced vast changes in China, from the birth of modern China to the Cultural Revolution and the country's emergence as a world power. Hei Cheng, Nancy Xu, Gregory Perez and Bosung Kim have designed The Storybox to bridge the gap between physical personal objects from the past and virtual memories of the future. A wooden box contains a curated set of small tokens of one's life, which can be passed on to family members. Inside, a small digital touchscreen provides a way for family members to scan, share and view photos placed inside the box.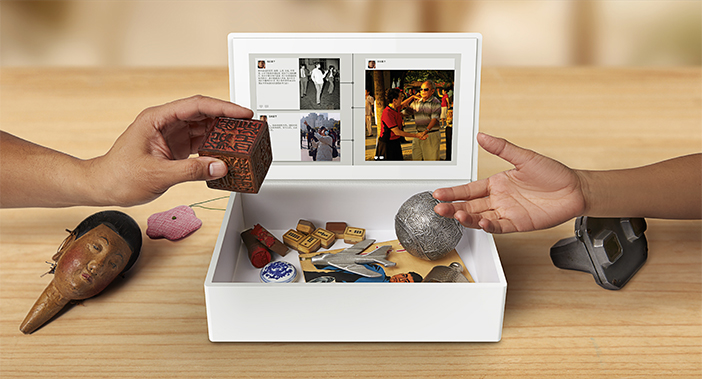 How often do objects with deep meaning get bequeathed without the actual meaning attached? Book of Requests by Katja Battarbee is a way to capture the stories and significance behind objects given to family and friends after the death of loved ones.
OWL, by Elger Oberwelz and Yusuke Miyashita is an elegant time capsule flanked with 80 glass tubes representing the years of life. Each year, individuals are asked to write a reflection on the past year and a hope for the coming year to be placed in one of the vessels. The OWL extends to all generations and can help families share each other's histories visually on a wall.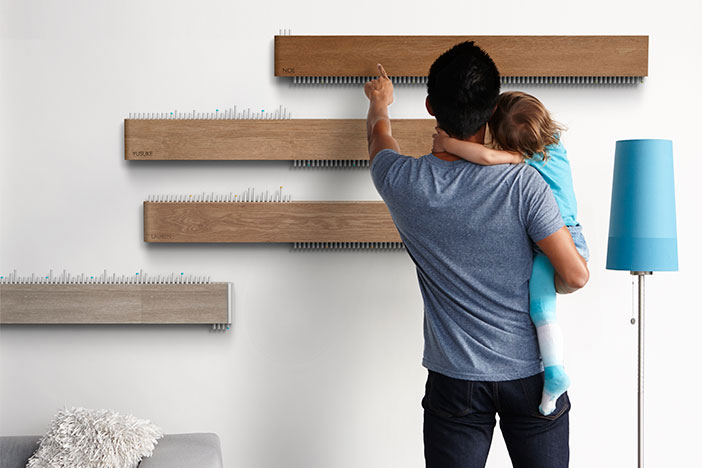 Live Forever, by Scott Paterson, Reid Williams and Vinh Pho is a way for scientists to immortalise tissue samples on demand. In a visiting room adjacent to a lab's clean room, a custom 3D printed vessel holds a loved one's genomic and cellular traces. Relatives can control research permissions, while scientists can share their learning's from the cells via recorded oral stories and digital posts.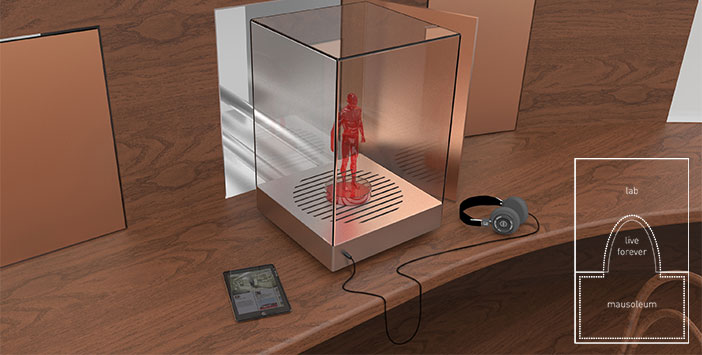 Watch the Talk with Tom Hulme