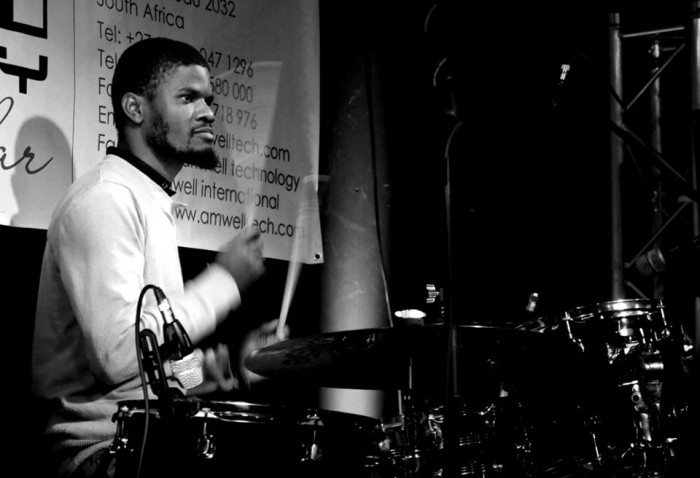 Ade Omotade from The Fridge.
For the third instalment of our weekly music chart following Desert_Head's electronics, we mellow down for Johannesburg-based, Nigerian drummer of The Fridge, Ade Omotade. Unbiased in his love for music, he has curated a mix of his favourite songs and memories. Inspired by his most meaningful influencers and a few throwbacks from his childhood, he gives listeners insight into his musical development. From Yoruba grooves, to jazzy breakdowns and even a Simply Red cover, he shows us just how broad his musical landscape really is...
Why should people support music as a design-centric element, and how do you feel about being chosen for the Design Indaba Music in 2014?
Music, to me is design; the collective idea of creating different elements that come together as a whole and making music palatable to the ears. I feel quite honoured, as it gives me a platform to share my favourite music. I have been collecting music from around the world and I'm still in search of more. This platform provides an opportunity to share music few people may have heard before.
Why did you choose these songs, and what about them speaks to who you are as a musician?
Most of these songs are from my childhood and have helped me in my musical journey and career. Years later, I still have them as part of my music collection. The great part is whenever I listen to them they give me a different feeling and remind me why I became a musician.
Tell us a bit about yourself and how music has become a part of your life.
I am an artist. Both my parents are artists. My mom is a fashion designer, vocalist and violinist, while my dad was an art curator, actor and drummer. I am glad that I was born into this family otherwise I'm not sure what direction my career would have taken. Growing up my life was music... Today, I wake up and fall asleep to music.
What can we expect from your performance?
Music at it best!
ADE OMOTADE (THE FRIDGE) DESIGN INDABA MIX 2014 by Design Indaba on Mixcloud