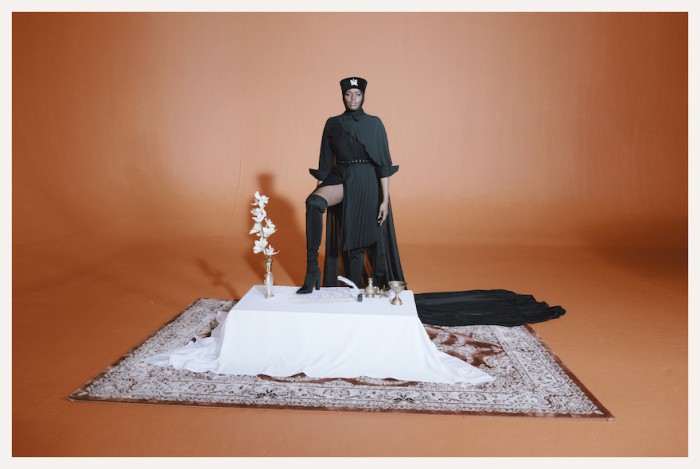 The new Autumn/Winter 2021 collection by South African fashion designer Thebe Magugu, entitled Alchemy, centres on African spirituality and primarily the relationship we have with our ancestors. The one-time Design Indaba Emerging Creative now operates on the global stage after having won the 2019 LVMH Prize.
Speaking of the Alchemy AW21 collection, the designer states: "African spirituality, which is exceptional in its plurality, is primarily based on the relationship we have with our ancestors. And any disruption between this line results in existential thoughts, and sometimes serious illness. This season I wanted to have a conversation with traditional healers who act as a conduit between realms, often by using objects of divination."
One of the collection's primary collaborators was Noentla Khumalo, a Johannesburg-based stylist and traditional healer who uses the medium of bones to communicate. To create the collection's primary print pattern, Khumalo threw the objects she uses to divinate onto a mat, which Magugu then photographed, abstracted and printed onto garments.
"These garments become quite personal, as the wearer will have their own interpretation of the story these bones are telling, all stemming from the question 'What's next?'," says Noentla of the collaborative effort.
Merging traditional silhouettes and styles – such as wrapping and draping – together with sharp tailoring, Magugu brings the contemporary and traditional together in signature storytelling fashion. Just as he merges old with new, Magugu also draws on textiles from all over the world.
Not only Afrocentric, the collection celebrates print and textile techniques from around the world and incorporates contributions by various collaborators. In South Africa, eco-print maker Larisa Don created botanical transfers by pounding together cannabis and imphepho (the plant traditional healers burn to communicate with the ancestors) onto wool. Across the globe, respected Japanese textile maker Adachi San created handcrafted wool suiting with tufts of rayon pompom sewn onto the garments. Netherlands crew BYBORRE created raised surfaces like the scarification you'd find in Central Africa.
Wool features centrally in Alchemy AW21. Key pieces from the collection will form part of Magugu's International Woolmark Prize 2021 entry, where he's a top six finalist.
"Wool is one of the most sophisticated fabrics, from its odour-absorbing qualities and its natural heat management, to its inherent sense of luxury. All these sound like man-made advances but they're not, which ties in beautifully with the theme of the collection – the unparalleled power of the natural world," he says.
The collection's associated art film, Banyoloyi A Bosigo (Ultimate Midnite Angels), was written and directed by long-time collaborator Kristin Lee Moolman. Banyoloyi A Bosigo takes the exploration of spirituality still further with a story about the love between members of two rivalling tribes.
"I like the idea of creating heroes and mythologies around South African women of all races and all sexualities – an intersectional view of Africa," Moolman says.
The film references Japanese "pink" films from the 1970s; Toshiya Fujita's Lady Snowblood; Once Upon a Time in the West by Sergio Leone; the work of Kenneth Anger; and the attitude of Nollywood. Art direction and costumes for the film were provided by Chloe Andrea Welgemoed.
In essence, Banyoloyi A Bosigo is an artfully told love story between two strong women, where the fashion is the real main character. Watch it here: https://www.youtube.com/watch?v=54Rb5tg3z5A
Learn more:
Thebe Magugu wins 2019 LVMH prize.
Thebe Magugu explores escapism.
Thebe Magugu on gender expectation.
Emulating female power through fashion.
Thebe Magugu's Emerging Creatives profile.
Thebe Magugu collaborates on the MBOISA-nominated Hawker's Rocking Chair.