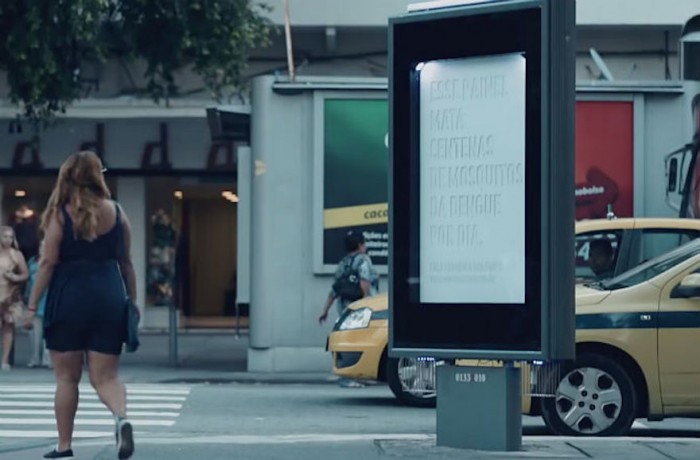 As the Brazilian government and health care sector create systems to stop the Zika virus from spreading, two advertising companies are trying to do their part with a campaign that not only creates awareness about the virus but also aims to alleviate the problem. The Mosquito Killer Billboard doubles as a poster and a mosquito trap that can lure in the Zika mosquitoes (Aedes aegypti) from as far as 2.5 kilometres away. Two of the billboards have been placed in the two Rio de Janeiro neighbourhoods hardest hit by the virus.
The campaign was created by the alternative Brazil-based marketing agency No Bullshit (NBS) in collaboration with Posterscope, an agency that specialises in billboard and poster advertising. The surge of the Zika virus in Brazil, which initially arose in May 2015, has caused great concern amongst locals due to the suspected connection of the virus with microcephaly, a medical disorder that limits brain development in newborn babies and young children.
The billboard works like the tyre mosquito-trapping device previously featured on Design Indaba. It only attracts Aedes aegypti mosquitoes by emitting a milk-based acid solution, which mimics human breath, sweat and odour. Fluorescent lights that illuminate the display at night also lures in the mosquitoes. A suction mechanism installed at the base of the billboard draws in the insects and traps them inside the transparent frame, where they eventually die from dehydration.
Written on the billboard is the message:
"This billboard kills hundreds of Zika mosquitoes every day."
Cleaners remove approximately 100 dead mosquitoes from the bottom of the billboard each day, demonstrating the effectiveness of the trapping method. NBS's creative vice president Andre Lima feels strongly about creating more of these action-driven campaigns that send out a message and make a change. "This idea reflects a lot of our beliefs in terms of what communication means in the contemporary world — that speech is not enough anymore. We need to do real things, not just talk about it," says Lima.
The two companies are passionate about spreading the idea and the technology throughout the many countries affected by the Zika virus. For this reason, they have open sourced the billboard technology so that anyone under a Creative Commons license can replicate the design.