Inventor, designer, architect, engineer, these are just a few ways you can describe Rodrigo Garcia Gonzalez. At this year's Design Indaba Conference, Gonzalez shared his thoughts and methods on how you can take your ideas and grow them into something great.
Using the analogy of a ball that one uses to play with in sport he described his process. "First of all you need to identify where the ball is, where the idea is. You can do that through observation. The second thing is to pass that idea to people...every time you pass, an idea it grows. The third thing is to [score] the idea whenever you have the chance," says Gonzalez.
One of the ideas to which he applied this method is the Ooho! water capsule. The capsules, made from an outer layer of seaweed, is Gonzalez's attempt at solving the world's plastic waste problems.
He recognised that only 10% of the world's plastics are being recycled and that the rest are simply dumped in landfills or make their way into our oceans. Gonzalez mentions that in order to make one plastic bottle it takes about 3 to 4 litres of water, highlighting the whole process of creating and disposing of plastic as completely wasteful.
Thinking about disposable solutions to package water, he and his partner turned to nature. They recognised that membranes are the common thread that nature uses to encapsulate things. Think eggs, fruit peels, cells, etc.
Through experimentation with different materials, they settled on seaweed. "Seaweed is an amazing resource. Some of the seaweed that we use grows up to six meters per week. It doesn't use farmland. You don't need to water it, you don't need fertilizer," says Gonzalez.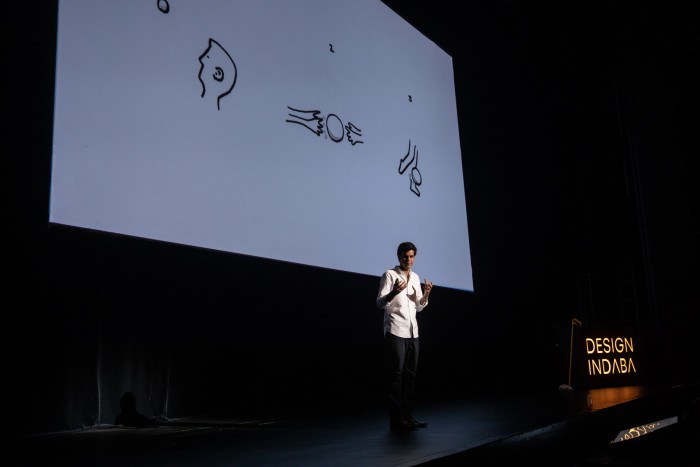 The membranes that they create are biodegradable and can even be eaten. Today Ooho! can be found at marathons, festivals and various outdoor events in the UK, thereby reducing the amount of single-use plastics at these events.
His other experiment involves looking at the materials that line coffee cups. Often coffee cups are made up of a combination of plastic and paper, making them difficult to recyle. To solve this problem, Gonzalez and his team are looking at lining these paper cups with natural fibers, making them easier to recycle. He has also looked at foldable and flexible household tools such as mops and brooms in order to reduce the amount of space these items take up in your house.
Coming back to his analogy of the ball, Gonzalez emphises, "Don't wait. Just shoot. When you have a chance to score a goal with an idea, don't wait until the goal [post] is empty. There is always going to be something around, so just push it."
Scroll down to watch the talk.
Watch more of this year's conference talks:
Tin&Ed on work that fosters togetherness and celebrating the unknown
Here's how movement can form type
How ostrich feathers are uplifting Oudtshoorn's economy through design