Unless you suffer from photosensitive epilepsy, the work of Australian design duo Tin&Ed is quite a feast for the eyes, and the imagination too. Bold, bright and trippy, their design work ranges from digital to physical installations, but for them, the space between those two is the sweet spot.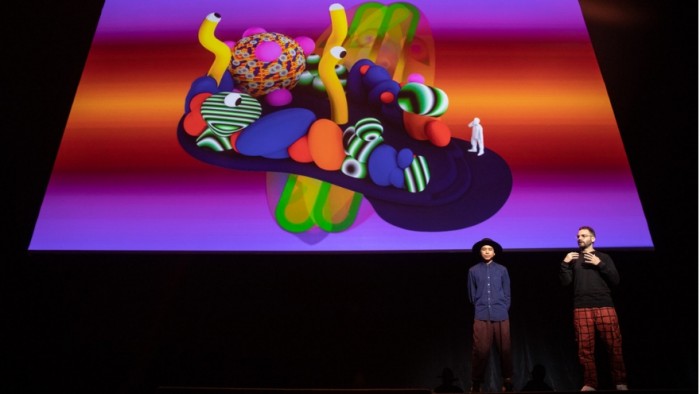 Speaking at Design Indaba Conference 2019, they presented the many ways they're exploring those spaces. "Our work has always delved in and out of the real world and the digital world," says Tin donning his signature hat.
But what sets their work apart is the creators' deep appreciation of the way all our surroundings are ultimately intertwined. This is a strong influence on the diverse body of work they've produced.
"We believe in the interconnectivity of everything; where it's art, design, nature, technology, work, play, the universe, everything," they explain.
Trained as graphic designers and self-confessed "science nerds", they pride themselves on their curiosity, which has resulted in the duo experimenting across various design forms and mediums.
One look at their work and it's easy to see the big influence of nature and science in their work.
"We really believe that we're all connected and we're not separate from nature, we're really a part of it, and that includes our cities and our technology"
One of the projects that demonstrate this is the Inflatable Futures installation (above), specifically designed for kids, who they say are more connected to ideas than adults. They took the audience through the process from sketch to render to real-world application, which was a giant otherworldly creature that provided a space for kids to jump and go crazy.
The installation was inspired nature's ability to change, adapt and self-shape over time, but it also served as a platform for the designers to educate kids about the future and what's possible.
In addition, they created an alien-like structure for kids, to hone in on the idea of embracing the unknown.
"The unknown in our practice is the most fertile place, and we love the unknown," they shared.
Another element Tin&Ed hold dear in their creative process is collaboration. With a lot of their work being experimental, they're first to admit that if they don't know how to do something, they'll get the right person to do it properly, contributing to a better whole.
And collaborate they did, on a 600-metre long mural through the contributions of 20 designers from across the world, and a dash of generative technology. They saw the project as an opportunity to speculate on the future role of designers in an increasingly automated world - designer becomes curator.
After the collaborators submitted their unique pieces, Tin&Ed then created parameters, so that the system could generate infinite outcomes using machine learning and automation.
"The idea of the technology brought us all together and it helped create a piece that wasn't just ours, it was everyone's."
Their most recent project was a hit out on the Artscape's piazza at Design Indaba 2019. 'We Come In Peace' was launched at the festival, and uses 3D scanning to create AI-controlled dancing avatars. It's a fun, frivolous experiment, but it bears a greater purpose of celebrating the joy and euphoria of coming together.
They ended off their talk with a heartfelt dedication to making the world better through their work: "There's so many forces acting on us that are pulling us apart, so our work is about trying to find ways to bring us all together and connect with each other and nature and the universe...and doing it in a way that is playful and inclusive." Scroll down to view their full talk.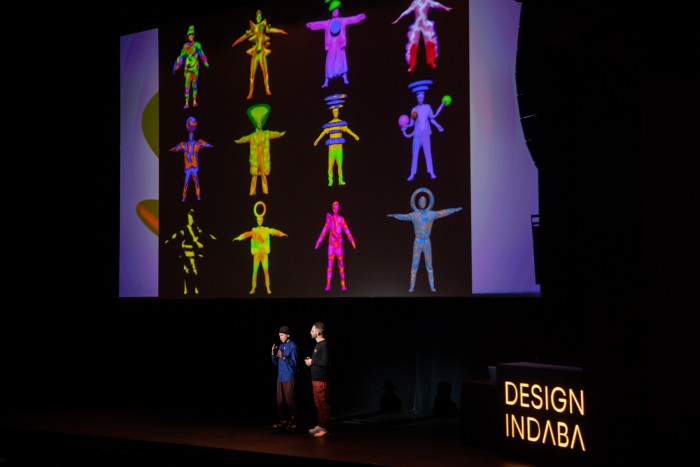 Watch more talks from Design Indaba Conference 2019:
David Drogra on why he still optimistic about advertising
Wanuri Kahiu on using film to talk about Africans as joyful and radiant