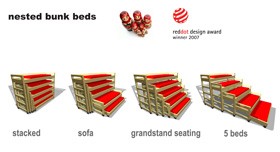 Bunk beds win Most Beautiful Object in South Africa Award
Y. Tsai of Tsai Design Studio was announced as the winner of the Most Beautiful Object in South Africa at Design Indaba Expo on February 26, 2008. The Nested Bunk Bed received 150 of the 402 public votes cast during Design Indaba Expo.
The award asks our diverse country: "What is beauty?" While some may consider it an aspect of taste and others know it on sight, beauty becomes far more profound than a visual sensation when design characteristics such as social significance, economic impact, aesthetic value, humanist intuitions, lifestyle functioning and sustainability are thrown into the mix.
This young creative studio based in Cape Town, South Africa, strives to design products that are socially and culturally relevant to South Africa, hence the winning design being the Nested Bunk Bed, that offers a space solution for overcrowded,
low-cost houses.
Tsai was thrilled when he was chosen among the other incredibly creative finalists as the overall winner: "Thank you! I am very excited because I think that the bunk bed will get more sponsorship from the awards [Most Beautiful Object in South Africa] and then we can put more beds into orphanages. It's great that Design Indaba is rewarding young designers and recognising that design can have a positive social impact."
A hearty congratulations to Tsai, who wins a free stand at Design Indaba Expo in 2009, and the rest of the finalists: Ronel Jordaan; Daan Samuels; Juanita Oosthuizen; Philippe Bousquet; Clementina Van Der Walt; Lisa Firer; Richard de Jager; and Palesa Mokubung of Mantsho. Design Indaba hopes to see you all on our platform again next year!
Living space is at a premium in South Africa's townships - it's not unusual for six to eight people to share 36 square metres of space. The Nested Bunk Bed offers a space solution for overcrowded, low-cost houses. Sections of the Nested Bunk Bed can be pulled out to serve a number of purposes, such as a sofa for two, grandstand seating, or five beds that can be packed away into a standard bunk bed area. When fully extended, the bed system can sleep 20 children in a tight space of 50 square metres, as well as providing play space when the beds are retracted.
Watch the Talk with Y Tsai