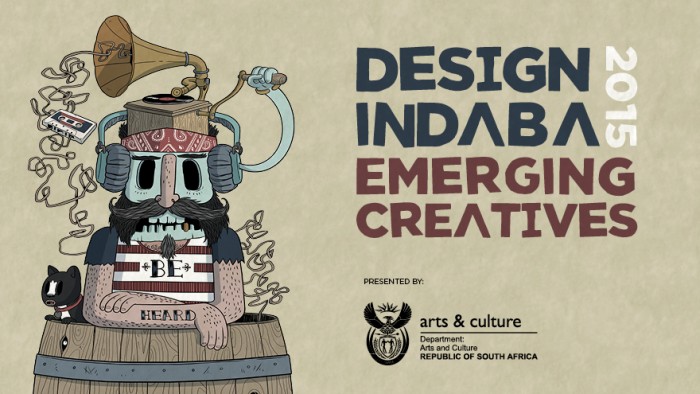 Emerging Creatives Programme 2015
Each year, Design Indaba goes on the hunt for South Africa's top design talent. And year-on-year, we unearth the next wave of talent that goes on to soaring heights and successful careers. This is the Design Indaba Emerging Creatives programme, presented by the Department of Arts and Culture.
With a record number of applications this year, the curators had the near-impossible task of narrowing down nearly 270 applications to just 40 successful candidates.
We were blown away by the talent and innovation of South Africa's young creatives. From 3D fashion printing and community art projects to children's books and contemporary sewing patterns, the class of 2015 shows an exciting and forward-thinking mix of young designers.
These creatives will be showcasing their most innovative work, as well as offering products for sale. Don't miss the chance to pick up something from South Africa's future design stars.
Here they are – the Emerging Creatives Class of 2015:
In addition, for the second year in a row, Design Indaba and the Department of Arts and Culture have selected five up-and-coming designers and paired them with experts in their relevant fields. The mentorship programme allows for collaboration and skills transfer, and the ability to learn from seasoned professionals who are working in the design industry.
The Department of Arts and Culture and SABS Incubation Programme, in association with Design Indaba, present the first group of the 2015 incubatees...
For the last few months, the Department and Arts and Culture and the SABS Design Institute have been mentoring six emerging creatives that will also be showcasing their work at Design Indaba Expo 2015.
DAC has the responsibility to develop and transform the creative sector and SABS Design Institute has the ability to be the catalyst for economic growth through design. With these complementary mandates in mind, they have been working with the young designers to help them build sustainable creative enterprises, while exposing them to the industry's best practices and standards.
Watch the Talk with Rich Mnisi