And so the first day of Design Indaba Conference is over. With possibly one of the longest days in the Conference's 21-year history, we've had a day full of advice on collaboration, community, taking chances and occasionally making an idiot of yourself. To borrow the studio mantra from Nick Finney and Alan Dye, today was a day full of creative courage.
Read about day two at Conference and our spectacular final day three to find out about all our amazing 2016 speakers.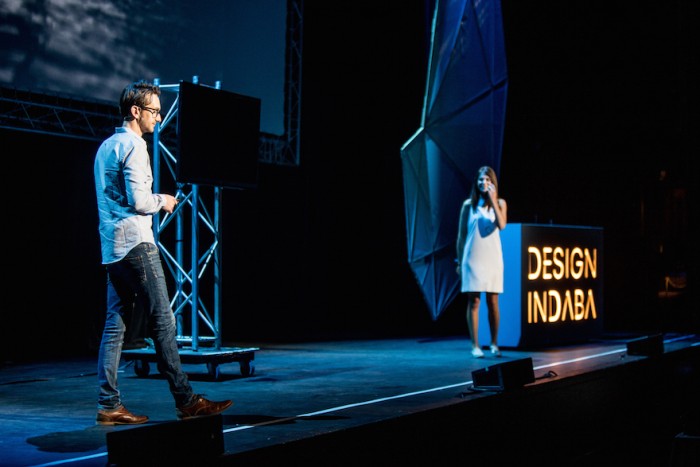 Stevo Dirnberger and Chanel Cartell – How Far From Home
Stevo Dirnberger and Chanel Cartell from How From Home kicked off day one at Design Indaba by returning to the Conference and jumping from the audience to the stage with their message about the power of time off and breaking out of your comfort zone. These two advertising creatives were inspired by a Design Indaba talk by Stefan Sagmeister in 2014 to quit their jobs, sell their belongings and travel the world.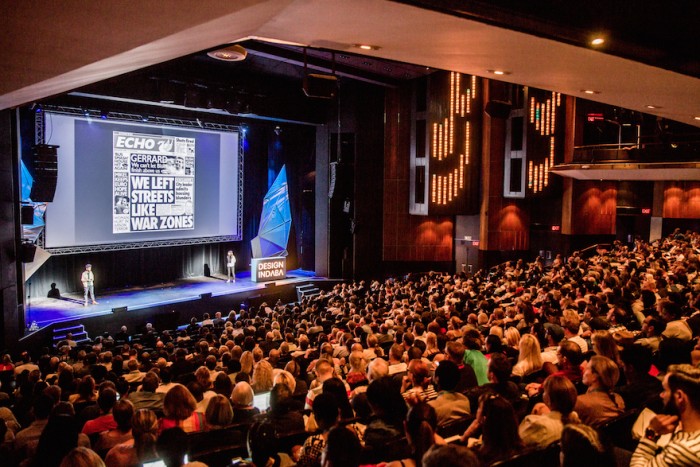 Paloma Strelitz and James Binning – Assemble
Two members of Assemble, the architecture collective that won the 2015 Turner Prize took to the Design Indaba stage to share some examples of their community-minded work. It comes as close to urban activism as it does to architecture and involves designers, artists and members of the public. As they talked through some of their recent projects, including The Cineroleum, Folly For A Flyover and their Turner Prize winning work in Granby Four Streets, Liverpool, the audience were reminded of the way in which Assemble are able to bring the manmade closer to the man. The urban environment becomes a playground and a place of public participation and pride. Creativity and collective action leads to change.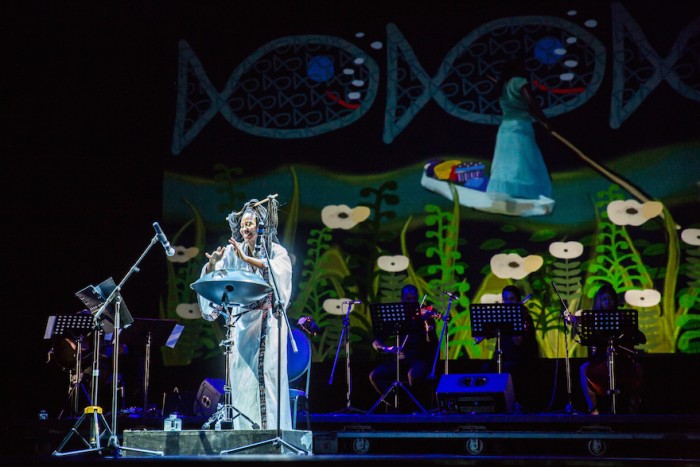 Helen Isibor-Epega
"Once upon a time" was a phrase Helen Isibor-Epega loved to hear as a child. But fearing "The End" that would always follow them, Isibor-Epega began a quest to stay in the middle, and her middle – her story – was music. Writing and performing under the name The Venus Bushfires, Nigerian-born singer-songwriter Isibor-Epega delighted the audience with her melodious singing and incredible hair. Taking full advantage of the Artscape stage, Isibor-Epega performed with some of the city's young musical talents from the Cape Town Youth Orchestra and UCT College of Music and a dancer from Jazzart.
Isibor-Epega admitted she has always been a dreamer and an optimist – and as she wrote into one of her songs, she is like a sparrow who always wished to be an eagle.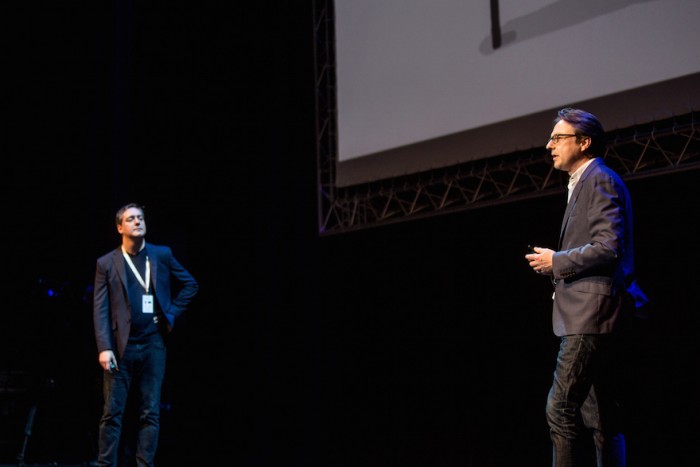 Nick Finney and Alan Dye – NB Studios
Nick Finney and Alan Dye started a studio together with the mantra "creative courage", and they lived up to their motto today. In a made-for-Design-Indaba play called Turn Table – The Anatomy of a Pitch, in which two professional performers acted out the story of an agency pitch to a client. The play reviewed all the things that are unsaid in the interactions between the client and the agency. Finney and Dye then came on to explain some of the themes of the play, which they presented as a form of manifesto:
Learn the rules before you break them
Assumption is the mother of all fuck ups
Indecision kills
Become your customer
If everything is important – nothing is important
Tell the truth. Be on Time
Life's too short not to be a designer
Global Graduates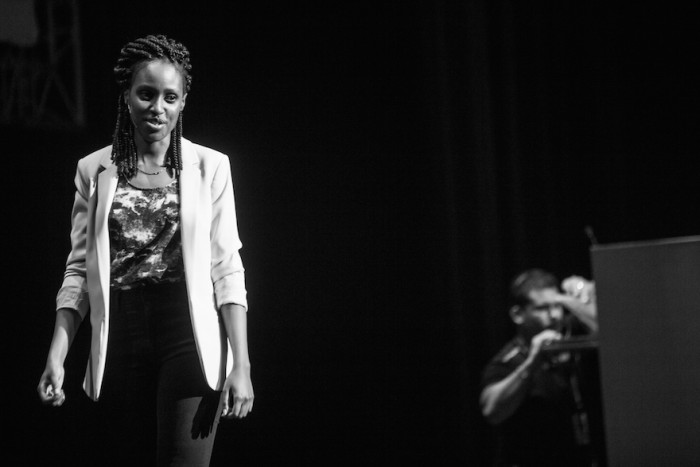 Ugandan designer Pia Nyakairu, the first of our Global Graduates from Carlton University, presented her graduate work and stressed the importance of collaboration. Her work focuses on remote rehabilitation for breast cancer sufferers.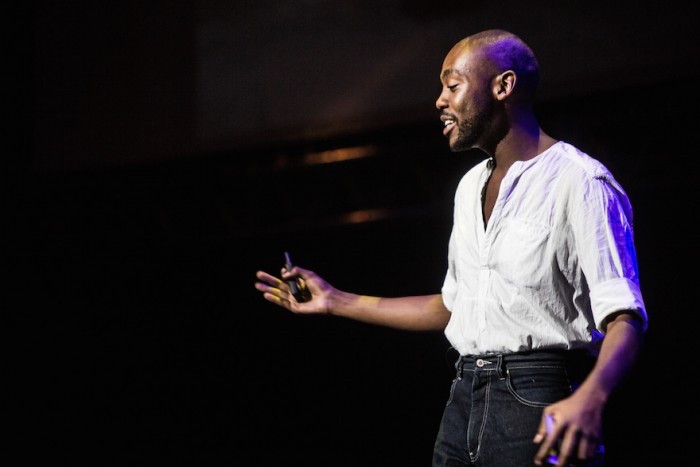 South African Rich Mnisi's talk morphed into a fashion show of the newest line from his eponymous brand RICH MNISI. Mnisi told the story of how his brand has transformed over the years.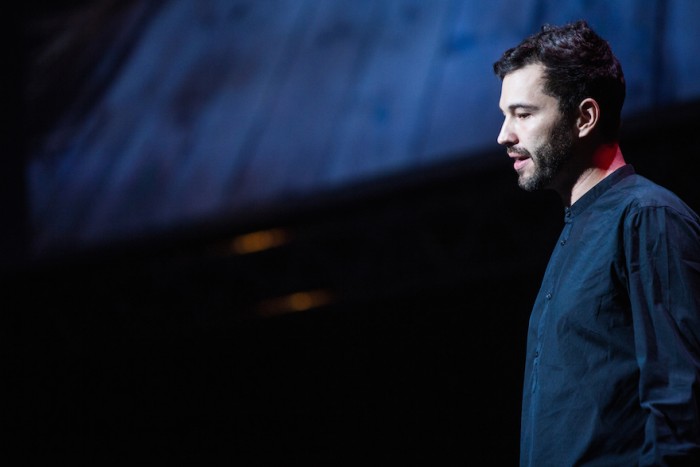 Christophe Guberan from ECAL in Switzerland presented his impressive collection of work, all focussed on the intrinsic qualities of materials.
Thomas Chapman – Local Studio
Thomas Chapman is the founder of Local Studio and is a proud citizen of what he referred to as "The Republic of Johannesburg". In his talk he mentioned some of the incredible urban design and upliftment work he has been doing in South Africa's biggest city and made an exciting announcement. Chapman revealed the completed Sophiatown Remembrance Screen – which sits along the façade of a community centre in Sophiatown, which was known for jazz music.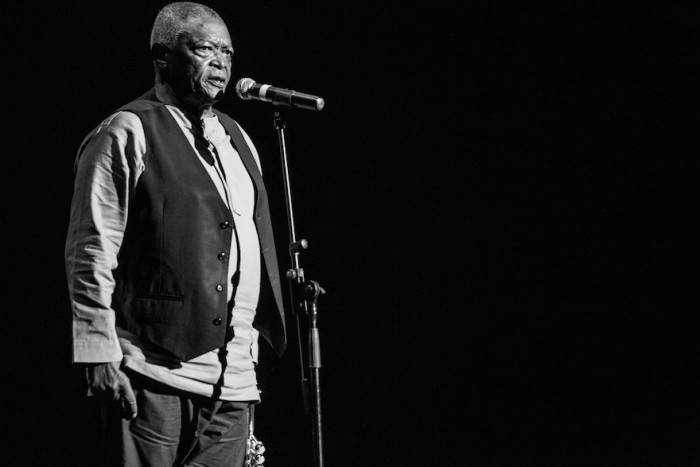 Chapman was joined on the stage by Hugh Masekela, who told the audience some stories from his youth, before playing them a song on his trumpet.
Hilary Cottam
Hilary Cottam, a social entrepreneur from the United Kingdom, gave a lecture-style talk on how designing systems that promote sharing and relationships can make a real difference to people's lives. It is a sad fact that more people die of loneliness in the UK than of cancer, and Cottam described a system she created for a community in south London called Circle, where residents can come together to help each other in exchange for credits. Once the people in the community felt involved with each other, visits to the local doctors dropped by 70 per cent, as many of these visits had been caused by a simple need for human contact.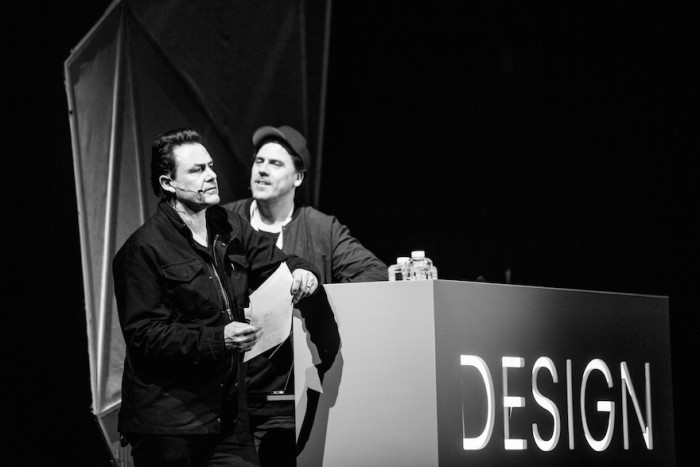 Warren du Preez and Nick Thornton Jones
Warren du Preez and Nick Thornton Jones are highly skilled image merchants from London. They have been collaborating for 18 years. Their highly stylised photography and film combines the craft of image making and the possibilities of digital. They were joined on the stage by British DJ James Lavelle (of Unkle), who they've shot music videos with and who has created the soundtracks for some of their film work.
Erik Kessels
Erik Kessels is widely known as the most influential man in the Netherlands. His work is full of humour and he entertained the audience with a presentation full of clever advertising campaigns for Amsterdam's worst hotel and a collection of his personal photography projects, many of which are made up of bizarre found images. He ended his presentation by showering the audience – who were all in yellow ponchos ("make an idiot out of yourself at least once a day" said Kessels) – with confetti.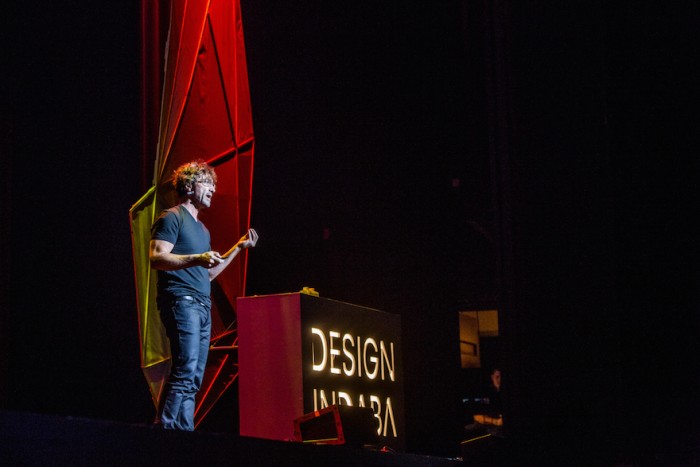 Alfredo Brillembourg
Venezuallan architect Alfredo Brillenbourg presented at Design Indaba in 2012. While he was here, South Africa got under his skin and he began investigating how he could make a real difference in the densely populated townships of Cape Town. Thus Brillembourg is working on the Empower Shack. Brillembourg's talk was a rousing call to action and he stressed that sharing knowledge, connecting and thinking global was the key to saving our cities.
Watch the Talk with Erik Kessels