Download
options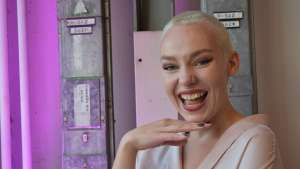 Download: On cityscapes and soundsuits with future-proofing graduate Ines De Peuter
Click on a link to download the video file
As she takes the antenna stage, Ines De Peuter says her career trajectory followed quite a curvaceous path. The annual conference is a collaboration between Design Indaba and Dutch Design Week to scour the globe for the world's design graduates who are shaping the future. Indeed, the Design Academy Eindhoven alumna's list of disciplines she's studied is enviable: psychology, fashion, fine art and tourism. Each subject has played a role in De Peuter's current work.
De Peuter decided to explore the relationship between the self and its context. Her project, Bodybuildings investigates the way we move in the cities we live. She was particularly struck by the significant impact of the city pn the person when she moved to London. The project, a forecast film, proposes garments inspired by the hard structures and grids of the city transalted into soft, protective textiles.
The streetwear clothing line protects against the harsh elements of the city such as noise, aggression and the invasion of personal space. So, while Bodybuildings aims to adapt the language of the city, it also aims to soften its edges.
As part of her talk, she addded a sonic experience called, Dronal Mode. It is a collaboration between De Peuter and sound artist Ben Glas. It explores perception by playing in the space between art, design and phenomenology (the philosophical study of experience and consciousness). For the project, Glas composed sounds that change as a result of physical movement through space, while De Peuter designed 'soundsuits' made to phyically interact with these sonic compositions.
Watch more from antenna 2018
The Arctic Commons: creating a new network for future stability in the Arctic
Could the heat generated by blockchain be useful for other living beings?
Basic Income Cafe is a uses coffee as a metaphor for the flow of money