Download
options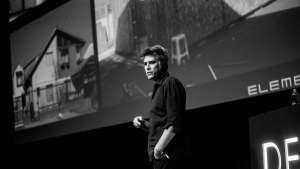 Download: When a natural disaster occurred in Chile, Alejandro Aravena and his team set out to rebuild the city
Click on a link to download the video file
After an earthquake and tsunami hit the coastal city of Constitución in Chile in 2010, Alejandro Aravena and his team led the reconstruction of the city; from redesigning the distribution of water on day one, to implementing the Sustainable Reconstruction Plan (PRES) by day three thousand.
In his talk at Design Indaba 2018, Aravena speaks about how his team at ELEMENTAL worked together with the government, private corporations and the people of Constitución to rebuild the city.
"We wanted to do something that was better, than what had failed," Aravena told the audience. His goal was not only to rebuild the same housing for the residents of Constitución but to improve upon the previous city layout.
At first, the plan was to deal with future tsunamis by either designating the land near the coast as "Ground Zero" and prohibiting people from using it or creating a heavy structural border which would block the waves.
The reconstruction team set up an open house so that the people of Constitución would be able to participate in the rebuilding of their city. They soon found out that the residents highly valued their access to the river and therefore they had to reexamine their current solutions.
Aravena and his team then came up with the idea to plant a forest on this coast. They realised that "against geographical threats, we had to come up with geographical answers," he explains.
Not only would the forest create equal access to the river and dissipate the energy of a tsunami, but it would also give the residents more public space. Before the natural disaster in 2010, Constitución only had 2.2 metres squared per inhabitant of public space. The international standard for public space in a city is 9 meters squared per inhabitant.
The rest of the projects set out by PRES continued this process; brainstorming ideas with a preventative mindset, and communicating with the residents in order to align priorities.
As Aravena points out, the participatory process was not necessary to find the right answers, but rather to highlight the right questions. And in this way, the team was able to reconstruct a sturdier city which held on to the identity of its inhabitants.
To find out more about this undertaking, watch Aravena's fascinating speaker talk above.
Design Indaba 2018 Conference Talks are presented in partnership with Liberty.
Read more on design for disaster management:
Students design temporary furniture for displaced people
Cuban students have developed an architectural model for hurricane risk management
Refugees are learning to map their world and gain marketable skills in the process