Li Edelkoort Trend Seminar 2014

Renowned trend forecaster Lidewij Edelkoort presents the seminar "Gathering" Spring/Summer 2015 in Cape Town on Saturday 1 March 2014.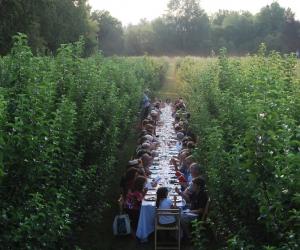 In an unstitched society suffering from a long lasting crisis that has made humans ferociously protective and arrogantly egocentric, it is time for mending and gathering, restoring the fabric of society, picking up the pieces and bringing them together in a patchwork of possibilities, a quilt of substance, able to absorb shock.
To layer and weave different entities and characters into one textile of existence, waiting to be embroidered.
To veil one cloth with another in order to give colour to the human condition.
To weave flexible three-dimensional patterns into the development of enlightenment, able to structure the future.
To pleat and fold matter into newer, sharper form, to bring innovative architecture to life and design planning for society.
To crinkle up common beliefs by wrinkling texture and tarnishing metals into negligence, delivering a message of humble beauty.
To stitch fresh cottons into armour, lending a robust hand to otherwise light weights.
To gather linens into billowing beauty in order to control their volume.
To frill heavier silks into amazing spheres of rustling matter, running to the revival of a baroque momentum.
All these interventions on the surface of the fabric of our lives are meant to restore trust and faith in the capacity of humans to work and play together.
To bring talent to the table and share it with all.
To celebrate the possibilities that lay in front of us, ever more creative than in the recent past.
All this three-dimensional craftsmanship will somehow reinvigorate fashion with a fresh start, lending body and beauty to simple cloth, giving form and volume to basic sportswear and delivering exceptional grace to silks and synthetics.
Reaching out to soften our hearts.
Nothing will be left untouched.
Event Information

Event Information

Saturday, 1 March, 2014 -

Venue: Auditorium 2

Professionals: R600

Student Price: R499

Ticket Information

Professionals: R600

Student Price: R499
Introduction by Lidewij Edelkoort on "Gathering" Spring-Summer 2015
Audio-visual presentation for SS 15
Commented presentation of Spring-Summer 2015
Preview for Autumn-Winter 2015 "Embryonic – the dawning of a new age"