Design Indabar 2011 presented by Grolsch

Prepare for an evening of fine creative entertainment and laughter under the glistening stars.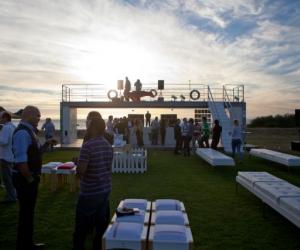 Design Indabar presented by Grolsch combines pop-up store with container lifestyle.  Innocatively enclosed within a refurbished shipping container, this state-of-the-art bar and gallery will be hosting its second event at a brand new location as part of its nationwide tour to spread the creative message across the country.
Besides indulging in an ice-cold Grolsch at the bar, you will be entertained by a few creative minds presenting Pecha Kucha style including well-known South African cartoonist Zapiro and world-reknowned South African photographer Roger Ballen.  The South African National Gallery (venue) will also remain open until 20h00 for your convenience so that you can view a selection of works from the permanent collection, and the following exhibitions: Imagining Beauty with young South African designers, In Context featuring contemporary international and local artists, as well as an exhibition of Ernest Cole's photos.
By invitation only.