Pretoria-based artist, illustrator and muralist Johnny Allison, one of Design Indaba's Emerging Creatives class of 2023, initially worked in advertising and branding, but decided to pursue illustration and mural art fulltime after the Covid-19 lockdown.
With a background in fine arts and design — he holds a cum laude degree in graphic design — Allison has a unique perspective and approach to bringing art to communities. His recent large-scale work tends to look at the world through a positive and encouraging lens, with bold and exciting colour, subject matter and presentation.
We spoke to Allison about moving from illustration to large-scale murals, his career highlights and the year ahead.
Tell us about your journey as an artist.
My journey started from a very young age, as I come from a family of creatives. It has taken me from Pro Arte Alphen Park Performing and Creative Arts High School to studying graphic design at Inscape. After illustrating in advertising agencies and lecturing for a while, I realised I wanted to be a fulltime freelancer after the pandemic. I realised how much more I'm drawn to the analogue and reconnecting with the community. For the last two years I've been pursuing murals primarily.
What are your biggest inspirations?
I feel like my time spent in illustration has had a massive influence on my artistic pursuit. The themes of magical realism, 'calm in chaos', hyperstylisation, linocut etching and stained-glass significance are also at the forefront of my inspiration.
How do you approach the conceptualisation and design process for your murals?
Murals have a unique ability to connect with a community, which means that localised references, including fauna and flora, local landscape, culture, value and people, are all incredibly important avenues to incorporate, as they allow a deeper connection with the community the mural inhabits.
Murals for me are also aspirational, thus pursuing themes of optimism, harmony with nature and calm in chaos are invaluable virtues to extrude and reinforce.
What has been a career highlight for you so far?
I've been fortunate enough to have had a colossal last two years, during which I've been able to paint at an incredible scale of eighty-plus square metres in the food court at [Fourways, Gauteng, design and homeware destination] Design Quarter. I've had the opportunity to travel and work in incredible places, such as Botswana, Gqeberha, Durban, Johannesburg and the Free State, and many more, with [fast-food restaurant chain] Chicken Licken over concurrent weeks. I've worked with incredible galleries, such as USURPA, and wonderful brands, such as Sony Music, Heineken, Halls and Investec, to name just a few.
If you had to describe yourself as an artist in a few words, what would they be?
A gleeful grinder for good!
What's up next for you in 2023?
Chicken Licken and I have partnered up and are planning a lot of murals to be painted all over South Africa in 2023.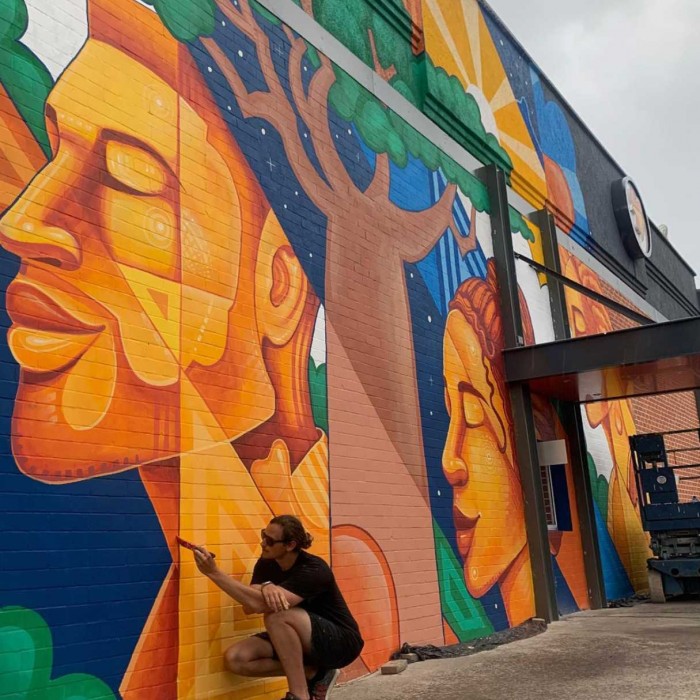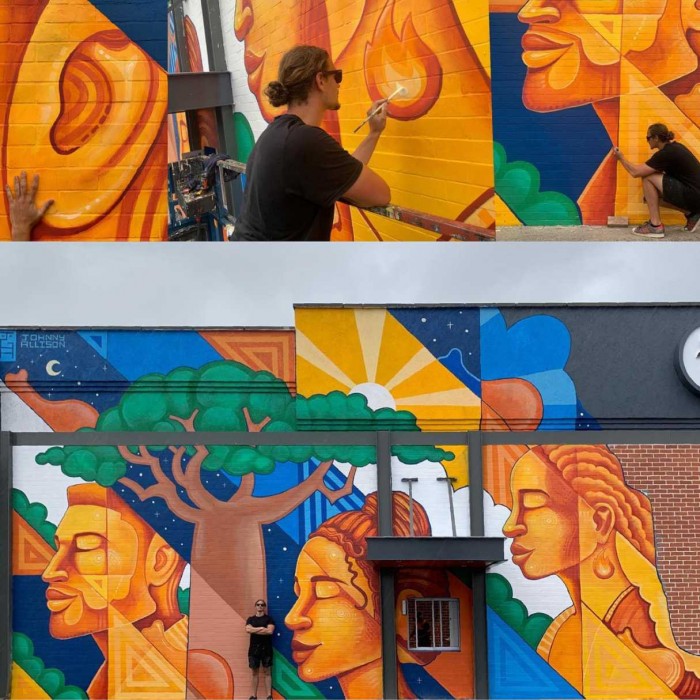 Read more
Photographs: Johnny Allison.