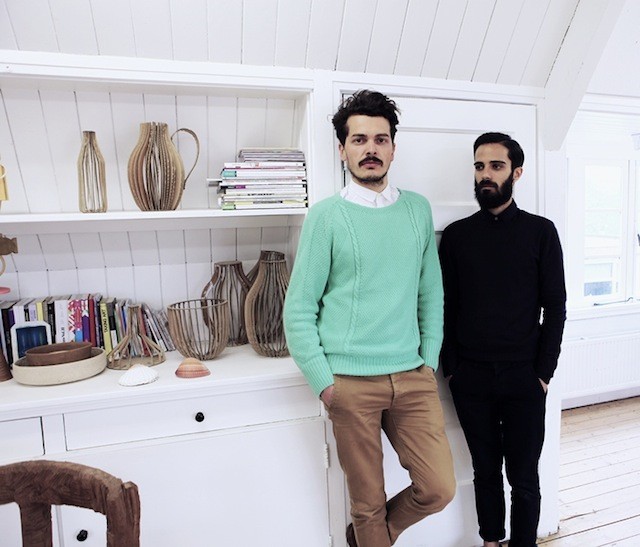 Studio Formafantasma are Andrea Trimarchi and Simone Farresin. Image: londonist.com.
Italian design duo Andrea Trimarchi and Simone Farresin – who make up Studio Formafantasma – met as students in Florence, beginning a partnership that would define their design identity. They started working together and applied to study their master's at the Design Academy in Eindhoven as a team, graduating with a joint project – the first time in the school's history that this had happened. They credit the head of the interior master programme, Gijs Bakker, who was open-minded enough to believe this unique way of studying and working could be possible. We caught up with the experimental design duo to find out more about their unusual collaborative process, inspirations and where they think the future of design is heading.
Tell us about your way of working together.
We have not yet found a perfect way of working together. Everything is really organic and sometimes we have a lot of discussions. When we work together we continually discuss our really abstract or undefined descriptions of something we would like to design. We understand and trust each other. Working as a couple gives you the possibility to look at your work with more objectivity.
What is your design mission?
In general, our fascination for objects lies in their ability to represent human history and even possible futures. We see design as a discipline meant to question and envision social, cultural end even political changes. With this in mind, our projects always start from our own personal fascinations. The translation of this intuition into our designs sees the transformation of intimate ideas into more sharable concepts. We, as designers, work almost as filters and our projects are the result of a process of distillation. We always know were we start but never where we are going to end.
When did you realise you wanted a career in design?
During our studies and working together.
Do you have a design muse?
Our inspiration changes depending on what we are working on at the time. Despite this, we really love the work of the Italian Radicals. We are inspired by the groundbreaking values of the work developed in Italy during that particular period [the late 1906s].
Which of your own designs is your favourite and why?
We like our straw brooms. If you think about it, straw brooms are perfect tools made with really basic natural materials that are left unprocessed. The pieces join functionality, craft and sustainability.
You have recently experimented with lava. How did this come about?
We are fascinated by the idea of a production process strongly connected to a specific locality. When we visited Mount Etna in Sicily, we thought it was interesting how the volcano provides a form of entertainment for tourists. However, the activity of the volcano makes it more similar to a mine – but without miners. Using this as starting point we investigated the production possibilities of lava as material.
Our "lava" collection is constructed from what is already possible: the carving of basalt stone for tables and chairs to more experimental pieces such as the vases and boxes made from molten lava. The pieces are mouth-blown or cast.
Can you tell us more about your collaborative creative process? How do you go from conception to final product?
Every project is a different experience. The starting point can be a material sample or a concept that emerges from a previous project. Usually one of us gives the first input and immediately we start to work on it together, discussing ideas for hours! We are not the type of designers that spend most of their time sketching forms… that is our last step. We start from a concept and we later create an archive of images and texts that help us communicate our point of view on the subject to the other one. There is a lot of verbal and visual communication.
Most of the time we collect similar images. This means that we are going in the right direction and we understand each other well! We later organise the material in a sort of visual map on a wall. The first step is a magical moment: we find objects around our house or studio that we can use, stacked or attached, to check the first proportions and to have the project's first translation into something three-dimensional. We often write about our work in the middle of the process to refine our thinking and identify any weaknesses, which we have discovered to be quite unusual for designers.
Describe your workspace…
It's a big open plan space in Amsterdam. It's a part of a former stove factory. It's full of light, with two ceiling fans and all the tables are designed based on Enzo Mari's Autoprogettazione table.
What is the most rewarding part about being a designer?
Having the feeling (and the responsibility) to add something to the world that has not existed before.
What do you think the future of design holds?
We believe in design thinking and that designers should be more involved in cities or private institutions in order to design solutions for social issues. Designers should rethink education, health care and retirement (three of the major areas where we believe a different way of thinking is needed).
What are you currently working on?
We are currently working on silver flatware for a project about Rome. It's an installation about time for a company based in London.