Visual artist Mignonne Busser, a 2023 Design Indaba Emerging Creative, explores storytelling and environmentalism through her chosen medium of monotype printmaking.
As a co-founder of Filthy Plinths, an artists' collective she started with Melissa Wrench and Phillip Newman, Mignonne has presented various exhibitions in Stellenbosch and Cape Town. The recent BA in Fine Arts graduate is open-minded about the future of her artistic career.
We spoke to Mignonne about her educational experiences, how her disciplined upbringing prepared her for printmaking, and where she finds her inspiration.
You recently completed your BA at the University of Stellenbosch, participated in the Tankwa Artscape Residency and did an internship at the David Krut Workshop. How have these educational experiences shaped you as an artist?
The biggest lesson I've learnt is that art is all about collaboration. Even if you're sitting making things by yourself, it's essential to be emerged by other people. The lone creative genius is a myth. I'm extroverted, so I thrive on interaction and collaboration. The internships, residencies and my arts degree have taught me this lesson over and over. No one is an island, and the best artworks have more than one name tied to their story.
What drew you to printmaking?
There's a joke that printmakers are the uptight people of the art world. I used to get irritated with my overly organised parents, only to realise that my disciplined upbringing equipped me with the patience for printmaking.
Printmaking is essentially drawing, but with the option of mass production. It can be repetitive, and usually involves complicated processes that take several days. In the confines of this routine, I've developed a love for the medium.
What are your creative inspirations?
Drawing is the most traditional and accessible way of making art, but the one I struggle with the most. The really good drawers are my biggest inspiration. There's a drawing by [late German artist] Käthe Kollwitz titled 'Mother and Dead Child' — this drawing continues to inspire me each time I see it. Other important influences are [Mexican painter] Diego Rivera, [South African painter and sculptor] Deborah Bell and [South African artist and printmaker] Diane Victor.
Describe your creative process.
I'm a young artist, so my creative process is by no means perfected. At heart, I'm a storyteller. I base my prints and compositions on interactions I've had or films I've watched. I start by sketching out something, [and] after some experimentation, there are usually one or two images I can't get out of my head. I redraw them, often in a few different mediums, before settling on a composition. This image is then developed into a final image. In the last while, that final version has been in the form of monotype printmaking. This is a painterly and unpredictable form of printmaking.
What are you working on at the moment? What's next for you?
I'm preparing an artwork for an upcoming show that opens in May 2023 at the Oude Leeskamer in Stellenbosch. My big goal for this year is to establish a creative practice away from university. I've spent some time at [Pretoria printmaking studio] Curious Little Press trying to improve my etching skills. I'm working on a series of artworks that will hopefully be completed by the end of this year.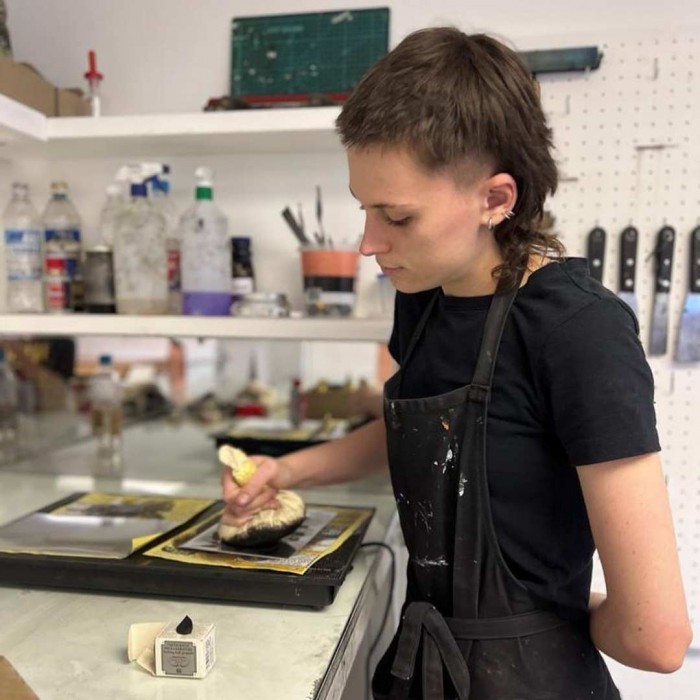 Read more.
Photograph: Mignonne Busser.