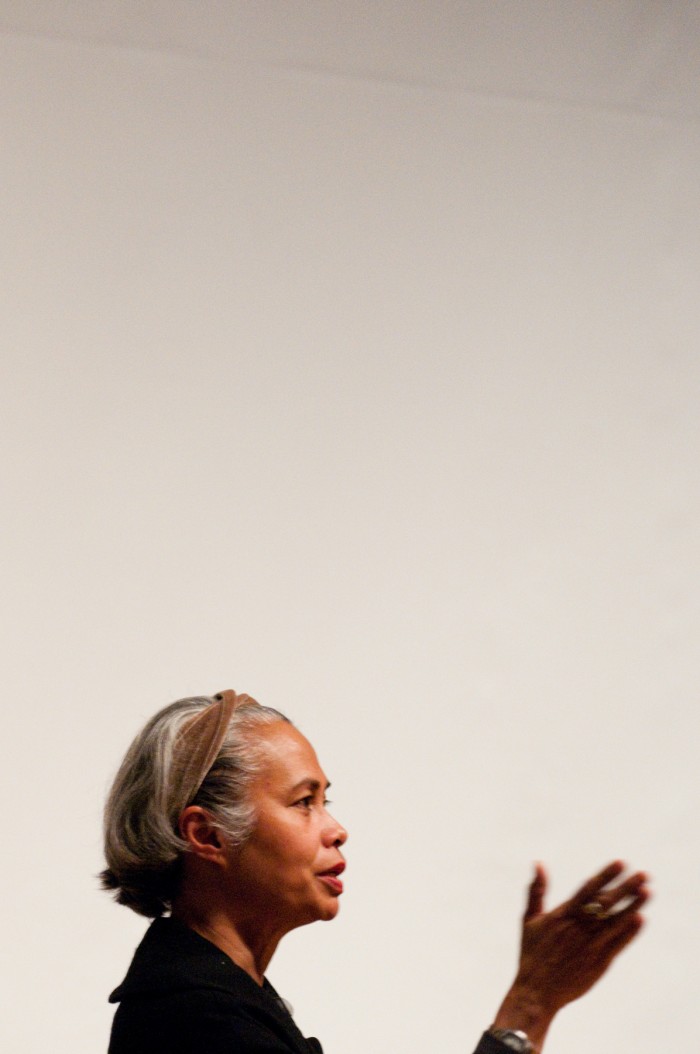 Lucille Tenazas. Image: Denny Henry.
Renowned graphic designer, typographer and design educator Lucille Tenazas tells us about her work, her influences and her approach to creative education.
Lucille Tenazas: I've always been both a designer and an educator. I've been teaching for 30 years while simultaneously running my design studio, Tenazas Design. I came to the United States from Manila, the Philippines in 1979 to go to graduate school, taking courses at California College of Arts and Crafts (CCAC), now known as California College of the Arts (CCA) in San Francisco, and received my Master of Fine Arts in Graphic Design at Cranbrook Academy of Art in Michigan. When I was asked to start a graduate programme at CCA 13 years ago I tried to think about what I would have liked to have learnt as a design student back in the 70s. Eventually, I realised that my own trajectory as a practicing designer had been influencing what I would be interested in teaching, pedagogically.
Teaching at graduate level, my approach evolved to looking at design as a practice where the production of an object or artefact is the concrete by-product of our efforts as designers. In the second instance it was about the fact that not all designers produce things but they may produce ideas or strategies, things that are intangible. Designers are put in situations where they can affect conditions so the process becomes much more interactive. However, we can't always control the situations in which the interaction can happen. I think the role of the designer is to arrive at the condition, assess it and then to ask, what are the possibilities?
As a designer, I know I'm a maker and pay close attention to poetics and aesthetics. I'm very much connected to the way my work looks and feels, specially in thinking about materiality and tactility, not only in the physical sense but in digital ways as well. My connection with my work as a designer is very much tied in with what I am interested in as design educator.
Vital Curriculum
Over many years of teaching, I have developed a teaching methodology refer to as Vital Curriculum. Vital, meaning life and curriculum, meaning structure, so a life system. It emphasizes a process that deals with the issue of personal voice or authorship within the discipline of design. I am interested in developing in my students a point of view shaped by their personal history. I feel that if you are aware of whom you are, then you can ultimately take on the identities and problems a client may pose, yet not lose your own voice. Vital Curriculum is the manifestation of my design thinking, which I turned into a design educator's philosophy… how can I get my students to think like this?
Initially, I gave projects that one might do in a professional studio environment and would tell my students to design a book cover for a novel or rework an existing logo. Over the years, my projects have become much more about discovery, observation and interaction, so that student respond to a project based on their own personal and more importantly, cultural filter. Sometimes the whole issue is about chance. Chance is a tricky word because designers aren't prepared for it. They are not prepared to be thrown off where the conditions are not established. An example of how I get my students to think about chance is with a project that has to do with the designer as a cultural nomad.
The designer as a cultural nomad
I let the students drive to a place that is 10 minutes from where they live. The brief is to simply go in the opposite direction to the one that your normal routine takes you on and drive or walk for 10 minutes, then stop at that juncture and report on what you see here. As a design educator, the thing about this activity that interests me is how the student establishes a connection with that place, to discover something they don't normally see. As a designer you're not just drawing or sketching, you're observing. So you make yourself be porous to the environment around you – you absorb. The project is to produce a visual exploration of this journey, beginning with a state of unfamiliarity since they did not choose this place, and then assessing how they are able to discover aspects to help establish a connection, either through a person they have encountered or through an artefact they have picked up. By creating a visual narrative through their personal experience, they develop knowledge of the location at their own pace.
The design thinking process starts with a journey of self-discovery. The designer has to understand his or her place within the design thinking process because this is the only way you can be empathetic towards others.
Having been born and raised in the Philippines, I am aware of my international perspective and have used this unique vision as a valuable filter in eliciting profound responses from my students. As a teacher, I act as a cultural observer, using the medium of design to address unique cultural situations and conditions, an especially relevant issue in an institution like Parsons with its large percentage of international students.
This journey of self-discovery is really at the crux of what a designer does. As we evolve, we continually assess our role and place in the world and try to apply this to work that is meaningful. With this process, I offer an alternative perspective on the role of design... that it is not merely a way to sell a product, but an opportunity to enlighten, pose questions and interact with, and understand the world.