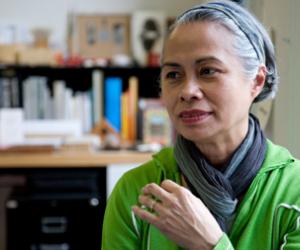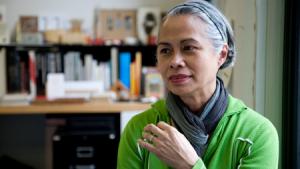 Speaker
Lucille Tenazas is the Associate Dean and Henry Wolf Professor in the School of Art, Media and Technology (AMT) at Parsons School for Design in New York. Her studio, Tenazas Design was based in San Francisco for 20 years but relocated to New York in 2006, returning to the city where she originally began her practice in 1982.
She is the founder and principal of Tenazas Design, a multidisciplinary communications design firm based in San Francisco. Her design reflects an interest in the complexity of language and the overlapping relationship of meaning, form and content. Merging the poetic and the pragmatic, Tenazas achieves a fluid and flexible approach to design, one that is human as well as critical.
Tenazas Design's clients represent a wide range of public, non-profit and private institutions, including the San Francisco International Airport, Rizzoli International, Metro Furniture, Chronicle Books, the Stanford University Art Museum, Henry Art Gallery, Champion Paper Corporation and the San Francisco Museum of Modern Art.
She was the founding chair of the graduate programme in design at California College of the Arts responsible, for shaping its curriculum in the areas of form-giving, teaching and leadership. As an educator for the past 15 years, she has been visiting faculty at the California Institute of the Arts, Rhode Island School of Design, Kingston University (London), Maine Summer Institute for Graphic Design, Ravensbourne School of Design (UK) and Wellington Polytechnic (New Zealand), among others.
In 1995, she was honoured as one of the ID Forty, ID magazine's third annual selection of 40 of America's leading design innovators. Retrospectives of her work have been exhibited at the San Francisco Museum of Modern Art (1996) and most recently at the Ayala Museum in her native Philippines (1998). In 1998, Lucille Tenazas became a member of the Alliance Graphique Internationale, (AGI), joining a select few designers invited to represent the United States.
A highly published and respected design authority, she sits on juries and panels including the National Endowment for the Arts (NEA) Design Arts Panel, DaimlerChrysler Award for Design Innovation and the Cooper-Hewitt National Design Museum's Design Awards.
She is active in the American Institute of Graphic Arts (AIGA), the national organisation of graphic designers in the United States. She served for seven years on the board of the San Francisco chapter chairing its programming committee and sits on the national board. From 1996-1998, she served as the national president of the AIGA, representing the first presidential appointment made outside of New York in the organization's 80-year history.
This year (2013), she is the recipient of the AIGA Medal, in recognition of a lifetime achievement in design.