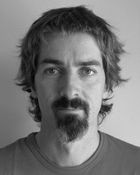 Richard Hart.
In 1997 Richard Hart returned to South Africa after studying abroad and founded Disturbance Design with his sister, Susie, in Durban. They specialise in not specialising at all, which allows them the creative freedom to do whatever they feel satisfies their creative needs. Disturbance Design has won numerous awards but mostly prides itself on being a fun place to work.
1.  What is the purpose of making art/design? Design is made to improve the world for others. Art is made to improve the world for one's self.
2. Do you know where your creative boundaries lie? The words "creative" and "boundaries" don't really belong in the same sentence. Being creative requires that we are oblivious to boundaries.
3. What is the question you ask yourself the most? Where the fuck are my car keys.
4. In your subjective view, what makes a piece of design good? It should make my world a better place somehow. And if it can also make me smile, then it's a real winner.
5. If you were told that you had to live inside a work of art, which would you choose? Wow, good question. Until a few years ago I lived inside Michaelangelo's David... but then I started getting a bit saggy round the waist!  Okay, seriously it would probably be one of Ai Weiwei's sculptures where he reconstructs antique Chinese furniture. The boldness involved in taking something old, beautiful and valuable, and obliterating what it was to create something new, is very inspiring to me... I'd like to live inside that spirit.
6. What would you like to have written in your obituary? I'm not quite ready to tackle that one just yet.
7.  If your house was on fire what is the one thing that you would save? As long as my wife and girls were all safely standing in the garden, I'd happily watch the whole thing burn to the ground. Well, maybe not happily.
8. Have you ever seen insanity where you later saw creativity? I'm sure there is some study that proves the two are more or less interchangeable.
9. What is the thing you would most like to change about the world? It's a biggie, but I'd like to remove the human capacity for cruelty.
10. What's your secret obsession? Women's shoes.
11. If you were to take off a year, on a sabbatical, what would you do? Design women's shoes. Or work as an assistant to Anish Kapoor. Or take my girls to Barcelona and help a friend get his micro-brewery going. Or learn woodcarving.
12. If not design, what would you do? As long as I'm making stuff I'm happy, so anything really, where the outcome is stuff I've had a hand in making.
13. Do you have a creative/business muse? No, do you know anyone who's looking to be one?
14. Do you recycle? Not in a meaningful way I'm ashamed to say. We tried greening our office, but we didn't have anyone with time enough to drive the process and it sort of never really got off the ground. We do try our best to design responsibly though, something I feel graphic designers are often very bad at.
15. Can designers really save the world? It's a tricky question. In the last decade designers have taken the reigns of culture-making in an astounding manner. And so far all we seem to have done with it is turn ourselves into rock stars, which is pretty predictable and pretty sad. I think that if we can rise above our own egos we are remarkably well poised to make a real difference in the world. Oh, and it wouldn't do any harm to recycle too!
16. Which superhero do you most identify with? Probably Batman, he's got that permanent scowl that I also seem to have... The result of unfortunate genes and unfortunate mask making.
17. To what faults do you feel most indulgent? Hmmm, maybe impatience.
18. What is your present state of mind? I'm just back from a two day shoot that involved camping on lumpy ground, so I'm pretty frazzled and a little stressed but overall, not unhappy.
19. How do you define creative success? Doing the work that makes you happy.
20. Are there "golden rules" for good design? I'm sure there are.
Watch the Talk with Richard Hart