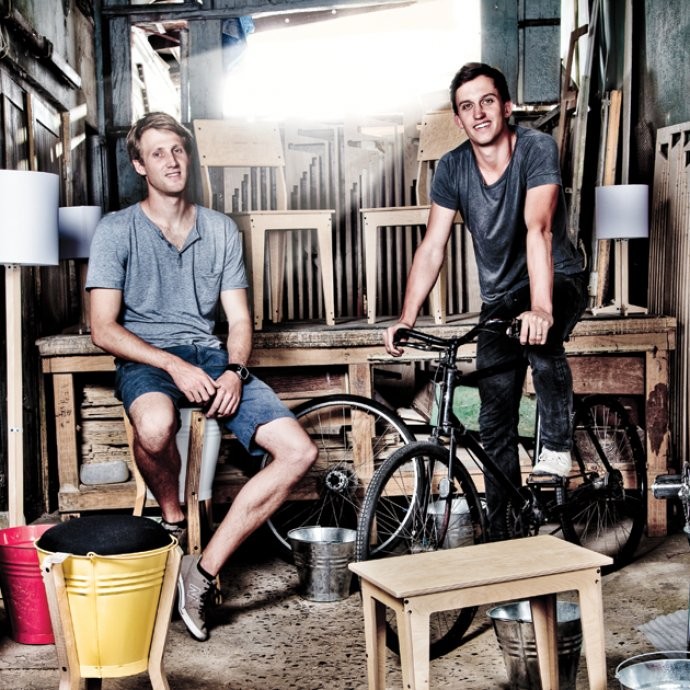 1. What items would you put into a time capsule?  
A Bialetti Espresso Maker, a cockroach, a book by Leon Uris and an LP by Roger Whitaker.
2. If you were told that you had to live inside a work of art, which would you choose?  
One of the strikers from Kevin Brand's foosball soccer players or the leopard by Dylan Lewis at Kirstenbosch - people stroke it a lot.
3. How do you define creative success?
When going to the office doesn't feel like work.
4. What makes you laugh out loud?  
Ben Trovato's Sunday column, good office banter and the guy who ate the talking burger on a Nando's ad.
5. How old were you when you made your first design and what was it? 
A skateboard and a treehouse, too young to remember.
6. Are there certain characteristics that all creatives possess?  
The ability to draw out what is inside and a healthy fear of the process so that it stays fresh.
7. What is the question you ask yourself the most?  
How can we improve this?
8. What is something that you have learnt in the past five years?
Not to take ourselves too seriously and that making is a good way to learn design.
9. In your subjective view, what makes a piece of design good?  
A good place to start is to ask if anyone else likes it and if they do then it must be good in some way. Good design meets a need, brings functional and aesthetic pleasure and is considered from many angles, especially the environment.
10. What do you do on Sundays?
Fine Music Radio nice and early, kitesurf, Millies for a pancake, volleyball on Clifton and picnic in the park in Woodstock.
11. Who in the world, dead or alive, would you most like to have a drink with?
Madiba or if you'll let me go further back then definitely Napoleon as he was young and courageous.
12. Do you have a creative/business muse?
The scrap collectors of Woodstock are enough inspiration!
13. What's the best design advice you've ever received?
The barista at our coffee shop (Field Office) Syd, once told me that tunnels are dark places, that's just one of his pearls.
14. How do you deal with failure?
Usually we'll go sit and let Jerry pour us a cortado until it becomes something to laugh about.
15. Which qualities do you most admire in others?
Integrity and the ability to laugh. A lot.
16. How do you know when a piece of design is complete?
I think that only happens after a very long time when something becomes iconic and shouldn't be tampered with, it moves from being a good design to being something ahead of its time.
17. What is something you know you do differently to most people?
Dream.
18. What has been your favourite project to date?
We enjoyed Old Mac Daddy and would love to do it over again, our current office/studio projects are really fun as people are quite open to quirky solutions and new ideas.
19. Do you recycle?
Yes, except for my food waste because I don't like worm farms and compost is difficult in the inner city.
20. Can design save the world?
If it changes the way people think and relate to each other then yes, but we think that people have a better chance of changing the world than something fashionable.
To view some of the designs by the duo visit the Design Indaba online shop.