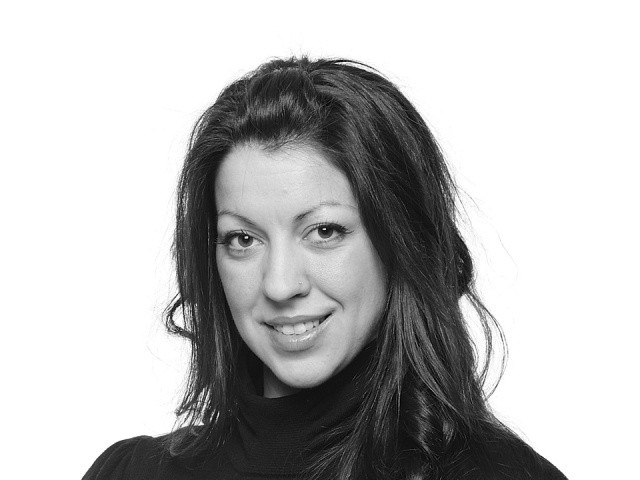 1. What makes you laugh out loud?
Usually unexpected sarcasm or anything by Kristen Wiig (comedian).
2. If you had to live inside a work of art, which would it be and why?
Well, to be quite literal, I would say Antoni Gaudi's Casa Batlló in Barcelona. I find most of Gaudi's architectural work fascinating, but this building in particular captivated me. It's absolutely beyond its time.
3. What is the best piece of design you've seen recently?
Esko Bionics' Human ExoSkeleton. These devices are designed to assist persons with paraplegia to stand and walk. The design inspired me when I saw a woman using one at a recent conference in Vancouver, Canada.
4. What is your favourite book?
I really enjoyed Glimmer by Warren Berger. Something just clicked for me when I read it.
5. To which faults do you feel the most indulgent?
Despite the fact that I try to live in the moment, I have a certain fear of the unknown.
6. What is the question you ask yourself the most?
With the vast amount of research and knowledge about the human body and our built environment, how is it possible that certain products and systems still fail us? How can we change them?
7. Have you ever seen insanity where you later saw creativity?
I once heard someone say that insanity can spawn from repeating the same thing over and over, yet expecting different results. Yet in many creative endeavours, we repeat the same prototyping process countless times in order to evaluate the outcomes and to arrive at a more accurate solution. Perhaps insanity and creativity are distant relatives?
8. What would you save from your burning house?
My Yorkie, "Mister Peanut", my wheelchair seating prototypes, my harddrive, my guitar, and my artwork. In that order.
9. How do you deal with failure?
I learnt somewhere along the way that all great things come from initial failure. I use it as a motivator, encouraging me to try harder and to push myself beyond what I thought was possible. I have always believed that to appreciate success, you must first understand failure.
10. Do you have a creative muse?
Bruce Mau for his visionary approach to design.
11. What's your favourite gadget?
My Swiss Army knife has been an all-time favourite of mine. Its design is timeless.
12. Who in the world, dead or alive, would you most like to have lunch with?
Aimee Mullins. Her TED talks have inspired me endlessly. Her perspective on changing the social narrative connected to disability is inspirational. Not to mention, her twelve pairs of legs are equally as impressive.
13. Which qualities do you most admire in others?
The most admirable people I have met have had an air of humility combined with an incredible creative flair that made them feel larger than life.
14. What's one thing that you haven't done that you would still really like to do?
To hike Machu Picchu, Peru.
15. How do you know when a piece of design is complete?
In my world, a piece of design is never complete. Design is about brainstorming, realisation and revision. For that reason, I believe a design can always be reevaluated and improved.
16. Can creativity save the world?
I think everyone stands to benefit from creative thinking. As a designer, I believe that I won't solve complex problems alone, and that collaboration creates opportunity. From my experience, the best ideas come from knowledge exchange and by starting a dialogue. Creativity may not save the world directly, but it certainty holds potential to improve it.
17. What do you do on Sundays?
My schedule is so random that Sunday is always a wild card. But there are usually a couple of constants – coffee, and the gym.
18. Summer or winter?
Summer seems like the obvious choice, but to me, there's something incredibly peaceful about crisp, cold winter days when the world seems a little more silent.
19. What's the best creative advice you've ever received?
Lose your ego. Don't take anything personally. Learn how to accept both critical and complimentary feedback.
20. How do you feel about answering random questions like these?
I love anything that reminds me of why I do what I do. It's important to remember what inspires me and how design can impact our everyday lives.
Watch the Talk with Christine Goudie