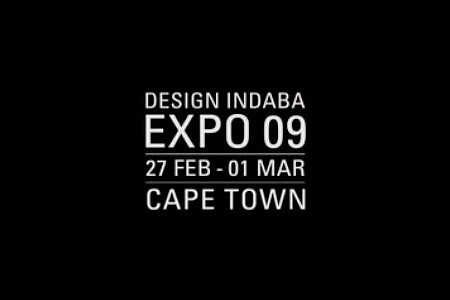 Design Indaba Part I
Sitting in the air-conditioned room, we were sheltered from the oven-hot heat of a Cape Town summer, but found ourselves in the eye of a storm: the Design Indaba Conference and Expo took place this past week on the windy tip of southern Africa.
The 12th annual event came and went like a hurricane – upending old design paradigms; overturning expectations of what we thought we might hear over those three days; and at the end of each of those days, stripping us of traditional ideas and preparing us for new ones.
Imagine a roomful (1,600 or so) of expectant, creative people, many of them anxious (myself included) within the current context of a global economic crisis and impending ecological crisis (was the blast of summer heat simply summer or was this climate change?).
Now imagine a three-day parade of some of the world's leading creative professionals, for an hour each, sharing with us their fears, their passions, and most importantly, their optimism for a new future shaped by design.
At the end of this parade, imagine a showcase of some of the best of South African design in an exposition of craft, communications media, education, fashion, graphic design, photography, advertising, jewellery, and product design.
A week later, I'm still shaken because I can honestly say that week at the Cape Town International Convention Centre was soaked in a feeling in short supply these past few years: hope.
The election of Barack Obama has more recently ushered this word back into our political vocabularies, and even into our daily lives.
Over the three days, Conference host and director Ravi Naidoo (the "Barrack Obama of design" as described by Noreen Morioka, one of the first presenters to go onstage) doused delegates in his own brand of hope and optimism.
A future shaped by design became entirely plausible; solutions to humanity's tremendous challenges must come from one of the few resources in global abundance: creativity. As the speakers in their various styles and forms proved over the three days, as design is now interdisciplinary in approach, it is also embracing an interdisciplinary philosophy.
At the heart of that philosophy is the need for change – the need for a transition to a new paradigm. Surrounding that paradigm – and maybe sitting at the very heart of it – is the creative process itself and its inherent connection to the human soul.
ADVOCATES OF CREATIVITY: DESIGN FOR CHANGE
"A crisis is a terrible thing to waste," quipped designer and writer Bruce Mau at the start of his riveting presentation. Someone who can tie together to David Orr, Marshall McLuhan, E.O. Wilson, and Hannah Arendt in an electrifying hour-long presentation clearly has a new paradigm to offer the world.
Mau's main point hovered on the fact that as designers, we have an incredible capacity to affect the world, not only with the products we feed into the world, but with the manner of communication (television advertising, graphic design, illustration, fashion, animation or even culinary communication.)
Given the state of the world, we can no longer afford to do these without consideration. This is the idea behind Mau's Centers for Massive Change popping up around the globe, thanks to a spreading collective mission.
"So often we get caught up in the brief, in the product, in the messaging, in the branding," said Mau. "What we're doing is pulling back and asking, 'what are we actually committed to in our life, and what are we trying to achieve?'"
Paraphrasing a quote from Hannah Arendt, he said, "There's a moment where we decide we love the world," and in the same breath, said explained there's also a moment when we decide we love our children.
What was driven home from the very start of his presentation was that we could decide to take action; we can decide whether to weep or to laugh.
Quoting one of the most famous scientists in the world, E.O. Wilson, Mau said, "If we simply rolled out the American way of life to six billion people, we would need four additional planet Earths to do it."
To the quietly shocked audience, he continued, "at first you think it's the worst news I've heard this afternoon, but in fact, it's maybe the best because it means that we won't do that. It means we take that off the table as an imaginary possibility."
Mau was thoroughly and compellingly optimistic. In a time when, as Mau pointed out, "we're doubling our technological capacity every twelve months...[T]his means we're cutting in half the time it takes to do things every twelve months,"
We have a new responsibility. Mau profoundly summarized that there's no longer zones or parts of our work that are not design problems; design is no longer only visual: "design is like a still from a movie.
The movie is how does energy and matter come together with intelligence, form this object, provide a certain utility and delight for a certain amount of time.
And when that breaks and we want to get that material and that energy back into the system...[T]hat cycle is actually the design." New design, as he explained, is about getting us to a new state of perpetuity.
As Noreen Morioka described earlier in the day, being creative is essential to our profession, but even more so, we have to be "advocates of creativity."
Seeing how to use creativity to solve problems is inherent in Bruce Mau's work, as well as the work of Luyanda Mpahlwa. In his discussion of building low-cost housing using sandbags and Ecobeam technology, Mpahlwa presented how architecture can have a socially responsible mission.
MMA Architects, of which Luyanda is a principal and director, addressed the social problems of urban decay and congestion in the squatter camps of Cape Town. The 10 x 10 Project, building upon a strong history of architectural and artistic intervention in townships in South Africa, solicited designs from ten architectural firms to build low cost housing in Freedom Park, an impoverished community in Cape Town. MMA's winning design employed the use of sandbags that have been used to build villas for the rich for a long time.
Since sand is plentiful in the wind-swept communities on Cape Town's outskirts, it was a clever and sustainable solution, utilizing local resources. Mpahlwa commented, "It's important that as a designer, you don't necessarily create other things or discover stuff; you should be able to identify the potential that a particular material has."
In the rural areas of the Transkei (the Eastern Cape province in South Africa) and other parts of Africa, sand has been used for ages as it's a readily available material that is a natural insulator in both hot and cool weather.
The team gave 112 km2 house a clear sense of style with a minimal spatial footprint: "When you design any house for anybody," Mpahlwa described, "those basic requirements – safety and maximizing the use of the land and giving people a dignified house – all of those things need to be considered whether you're building a low-cost house or a villa."
The ripple effects of this project have reached distant shores; MMA have received global attention for the work, appearing in European exhibitions, and winning several globally recognized awards.
In a clear and concise presentation, Dwayne Spradlin of InnoCentive Inc. furthered the case for harnessing the problem-solving capabilities of designers and other creatives to address social dilemmas. Calling InnoCentive the "eBay of innovation", Spradlin revealed how most innovation occurs on the boundary: "it happens when backgrounds and experiences and things intersect in areas we don't anticipate."
What he dubbed the "long tail of innovation" suggests that if companies and organizations can gain access to everyone in the world that might be able to work on their problems, they can actually locate solutions that make a significant impact.
By interconnectedness in a global network, innovators can work on projects that matter and could significantly change the world.
To a hushed and impressed audience, Spradlin showed how easy it could be to start a problem-solving revolution through online communication.
As essential as connectivity in present day times, collaboration and multicultural cross-pollination are equally critical to contemporary and responsive design. Mohit Jayal and V Sunil of W + K Delhi creative agency in Delhi, India proved in a lively presentation how adaptable design is necessary to change the marketplace to meet real social needs.
After an overview of the key problems in Indian society today as shaped by history and culture, they discussed how design might step in to assist.
"Right now, it's an intensely selfish era we're living in," said Mohit Jayal, managing director of the company, describing how the elitist era in India began with Nehru, and how this, "broke the back largely of any civic duty by just being terribly elitist and centralized."
However, much like the larger global context, within the problems faced by India, there is hope; Jayal described the I Am An Idiot website their agency created in response to the recent terrorist attacks in Bombay that spawned a sudden surge of collective introspection.
"Instead of blaming other people...we said, 'it's us, we created this situation so we shouldn't be surprised by it.'"
He continued, "What we had within a couple of days...was a massive outpouring of reaction, the numbers just going up. And people saying, 'Yes! I shouldn't have let this happen.' And we started seeing some very scary confessions."
"But it shows you that there's a real reason to hope." He described how now, brands are starting to become activists. "It's still fairly superficial and marketing-driven," Jayal added, "but they try to instill messages of democracy, activism and involvement, and we think that's a great sign."
In India, an impact in the marketplace through advertising can be felt in three months, due to the nature of their society and attitude towards consumption.
The schism between what marketers develop and what a society actually needs can be wide, as Jayal pointed out, showing a Nokia marketing campaign that sought to authentically address an Indian audience; the presentation was well-received by the Conference audience, as well, for we experienced a taste of Indian life in conjunction with the point they were trying to make.
Trend forecaster Li Edelkoort succinctly summed up the main themes of the Indaba Conference during the last day of the Conference.
Offering us her projects (none of them too mind-boggling or surprising, but poignantly described, nonetheless), Edelkoort presented the well-rehearsed slide show of images (it's easy to see why she's a favorite among as well as disliked by so many designers) reminiscent of what we had seen over the three days, offering us thoughtful, if not amusing, sound bites to consider in light of with the theme of 'design as change'.
After sharing a thank you email from the recently elected President Obama, she commented, "I think that he is going to bring grey to our future in the sense that he is going to bring nuance and shadow and possibility.
And it's not going to be black-and-white at all about situation in the world, other than maybe our climate." In discussing the 'farm of the future' and an upcoming 'unplugged' lifestyle, Edelkoort's neatly packaged visuals offered tangible, feel-good products that exemplify the new ethos in design ("hanging on to the value of good design as a message of sustainability") that appeal to an increasingly widening audience.
CREATIVITY AND SOUL: THE PROCESS OF DESIGN
"Soul" was a word that surfaced time and time again over the three days of the Conference; "love", "passion", and "ambition" were close runners-up.
Like waves of an incoming tide, these words drenched us all with the underlying notion that the only good design is honest design.
And this honesty only comes from an authentic connection to the soul. As Sean Adams, part of the first presentation team of AdamsMorioka, said in his description of developing the Sundance Film Festival advertising campaign, "in the end, it was simply trusting ourselves, and going back to who we were and what we believe in, and trusting our gut."
Graphic designer Rick Valicenti echoed this sentiment in presenting his career-spanning search for a meaningful existence in the design field, saying, "I've learned that when it feels right, the 'rightness' gets embodied in whatever is crafted; whether it's a one-off or a multiple, it is through creation that we pass on the good spirit, the 'buzz'."
Though perhaps not as cohesive as other presentations (and unfortunately plagued with technical difficulties at the start) Valicenti eloquently conveyed what he described as a discovery of 'real human presence' in design (early motion capture recordings of bodies responding to Herman Miller's market messages transferred into imagery) and its impact on his own work.
His tips for designers at the end of the presentation revealed his inspiring, 'teacherly' side: practice seduction; represent presence; indulge knowingly; serve happiness; and finally, master humility ("so I'm a genius but it doesn't make me special.")
What can get in the way of this direct line to the soul? Fear of expressing ourselves or realizing our unique vision.
Every designer, artist and creative person at some point has to deal with fear, which as Sean Adams of AdamsMorioka described "[i]n the end, it boils down to that you are trying to protect something." He went on to show a tongue-in-cheek slide of a trailer park, describing that this was his deepest fear, based on the fact that at some point, "we're pretty sure that all of our friends in the design world will think we suck."
His humor as well as that of his partner Noreen Morioka was well received. "You have to trust yourself. You really have to believe that what you believe is right," commented Dutch designer Marcel Wanders on the second day, picking up on the them of combating fear.
"You cannot doubt it, you really have to follow it," and his voice dropped to a whisper, "and that's really fucking dangerous because you'll be completely alone."
With his multi-media visuals, his obvious ease on stage, and his "performative" nature, it was easy to see why Wanders is a favorite at conferences worldwide.
His exaggerated design forms, intricate patterns dialoguing between metaphors of the old and the new, and an imaginative approach to solving design problems have won him worldwide fame; from his stage mannerism alone, Wanders proved that having a healthy sense confidence is equally if not more important to achieve success in the global design arena.
What I found more inspiring than his design sensibility was his commentary about the process of design, about not only about fending off fear, but celebrating fantasy, archetypes and a connection to the past.
One of his parting comments underscored part of the emerging ethos in design: "A good gift (and that is also what design is, of course) says something about the person you make it for...and at the same time, a good gift says something about the person who made it...[T]herefore a good design has a very personal side and it has a meaning for a larger side, for a lot of people."
Similarly unorthodox in approach to the process of design, Keith Helfet's discussion of his work in designing the Joule, South Africa's first locally produced and designed electrical car, was concisely couched in a bit of history of industrial design in South Africa.
His unusual methods (as he described) reiterated the importance of adhering to good product design fundamentals: "if the proportions of something aren't right, it'll never be right."
Through physical model making (Helfet described himself as a "frustrated sculptor") based on an electronic model, he and his team of craftsmen fabricated a mock car from foam and fiberglass to check the proportion in a real life size.
Helfet's presentation demonstrated how intellectual legacy and ambition can combine to make real a seemingly implausible project: the first electrical cars will be available to the local Cape Town market next year.
Designer Patricia Urquiola was anything but orthodox, and in fact, was the embodiment of passion in design. In all aspects of her presentation – from the pace at which she spoke in an intermingling of Spanish, Italian and English, to the inventive, colorful work shown, to her constant referencing of inspiration.
She received a standing ovation (the first so far given at the Conference) at the end of her talk, for the audience responded to her approach to design as much as they responded to her inventive creations.
The connection to her own soul and to a passionate curiosity was at the heart of her presentation, and clearly a part of the work itself.
"At the end, you're working for hands," said Urquiola, "whether you're speaking with a big or little company or group of artisans, it's important that there's dialogue."
She maintains a clear artisan sense that pays homage to craft, integrity and layers of texture as well as meaning.
A fellow Spaniard who happened to speak directly after Urquiola was world famous chef Ferran Adrià. He also brought the house down (the second standing ovation) with his spellbinding presentation of his deconstructivist approach to cooking at elBulli restaurant in Spain (otherwise known as the world's best restaurant.)
In slide after slide of stunning food prepared as art, Adrià emphasized in his own profound, simple statements that design must be honest. Speaking through an interpreter, he said, "many youngsters today feel like their reinventing the wheel.
And many people think the past is not important. For me," he continued, "it's very, very important. In our case, the past is important for a matter of honesty.
You can't be creative if you're not honest." The poetic, aesthetically orchestrated slides of his culinary creations cast a hush over the audience.
Adrià reminded us that the most difficult thing to do is be honest, to get up each day and do the creative work that reflects our influences, speaks of our integrity, and demonstrates what we hold as important.
In his work at elBulli, Adrià channels his passion through the medium of food, "the most transversal subject" that symbolizes everything from health, economics, pleasure, happiness, design, science, psychology and education.
It is the truly cross-disciplinary medium and the only one that we clearly cannot live without. His was perhaps the presentation most emblematic of design as the entire process, not only an end product.
As one of a cluster of talented and recognized television and video-based creatives, Keith Rose showed how maintaining an honesty in one's designing life means keeping in touch with your own soul.
"Life needs a balance. It's probably one of the most important things we can try do with our lives," said Keith Rose about the year he took off after nearly twenty years without a break from his successful advertising career.
He sought to find himself. He noted, "sometimes it's a lot easier said than done." He said the year flew by; it was one of the best things he did.
Not only did it allow him time with his family, but also it recharged his creativity.
In describing the fundamentals of animation, Craig Wessels of Wicked Pixels (the first boutique animation studio in South Africa as well as the studio hired to carry out the Indaba's advertising campaign) asked similar questions about creativity: "what is that creative process of getting from A to Z?"
He made clear that nothing happens in a vacuum, "no end product is the result of one individual," alluding to a point made in earlier presentations that good design requires a good team.
Showing the various forms of illustration (including an entertaining look at South Africa's own history of animation stemming from low-budget entertainment in the townships), Wessels pointed out the imagination and creativity that animation can inspire from both the creator and the viewer.
Roger Smythe of Masters & Savant design house further exemplified the compelling dedication to the creative process required by animation.
In a beautifully designed, quirky presentation featuring various animation techniques, Smythe provided the chance to "see" into the heads of the creatives at his design studio, and hear in their own words the challenges and solutions they find within their creative work.
Jannes Hendrikz of the Blackheart Gang / Shy the Sun expanded further our opportunity to see the behind-the-scenes of animation with a brilliantly eerie reel of Blackheart Gang's personal artistic work and Shy the Sun's commercial work.
In a charming overview of his own experience as an animator, he relayed both the failures and successes in the process of finding the balance between satisfying commercial and personal demands.
"The secret lies in collaboration. With collaboration, you learn to mature in what you do. It's difficult to collaborate when you're not comfortable with what you do and how you do it."
"It's a great medium to also explore yourself and what you want do."
Stay tuned for Design Indaba Part II
Watch the Talk with Jannes Hendrikz