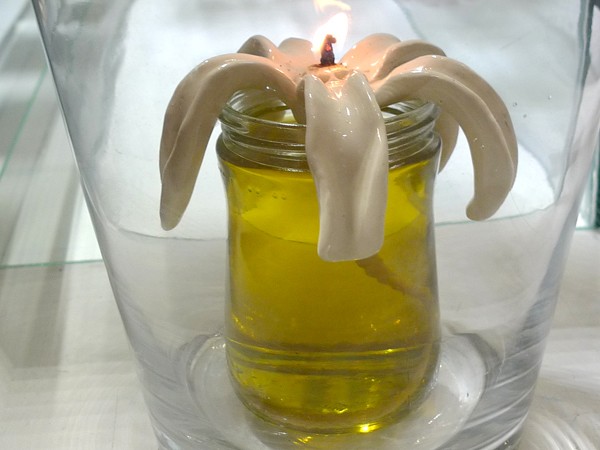 The Upcycle Flower Lamp by the Botany Project at Design Indaba 2012
Design Indaba, the conference-cum-expo which is held annually in Cape Town to celebrate innovation and creativity both in South Africa and around the world, was this year bursting with fresh ideas. Here, WGSN-homebuildlife presents the top three trends and exhibits from the show, while subscribers can stay tuned for a host of reports inspired by the event.
The Consol Solar Jar at Design Indaba 2012
Sustainable innovation: Designers and manufacturers are applying innovative design interventions to create viable sustainable solutions. Consol, the biggest manufacturer of glass containers in South Africa, partnered with designers Ockert van Heerden and John Bexley to create a lamp housed in a 1 litre preserve jar. LED lights are powered by sunlight, harnessed through a solar fitting on the lid. The Consol solar jar was a finalist in Design Indaba's Most Beautiful Object in South Africa.
The Curious Room Project at Design Indaba 2012
Tactility: Surfaces are richly textured with burnt, etched, knitted, crocheted, embroidered, beaded and woven finishes. Crafted products using traditional methodologies like beading and embroidery evolve their finishes into a sophisticated play on texture and colour. Surfaces ripple with 3D elements that bring the products to life, and layers of materials create a play on light.
Zenzulu wirework basket at Design Indaba 2012
Black and white geometrics: From wirework, textile prints and illustrations to jewellery, the recurrence of black and white, or contrasting graphic elements, is evident. Op art graphics, meticulous pen and ink illustrations, etching work on ceramics and jewellery, dramatic public art reminiscent of classic John Muafangejo woodcuts, the colour and graphics in basketry, and bold textile prints all showcase this theme.
Top three exhibitors
John Bauer Ceramic Art at Design Indaba 2012
Using an innovative casting technique, ceramic artist John Bauer encases knitted fabric in clay to create tactile and evocative ceramic pieces.
John Bauer Ceramic Art at Design Indaba 2012
Some of Bauer's pieces are knitted by people with mental disabilities, where the knitter cannot create a full circle. The resulting chunky seams add to the character and story of the finished product. Other work explores the translucency of porcelain, again evoking an encased fossil treasure with imprints of leaves and flowers within the material.
Mohair SA with Lidewij Edelkoort at Design Indaba 2012
Another highlight is the powerful collaboration between Mohair SA, a local organisation representing South African mohair growers and manufacturers, andLidewij Edelkoort of Trend Union, where Edelkoort has used the material to showcase her creative trends for 2012 – 2013.
Mohair SA with Lidewij Edelkoort at Design Indaba 2012
The exhibition, tilted D.I.Y.Y (Do It Yourself Yourself), shows pieces created from mohair by designers from Collectif France Tricot in Paris and Studio Chevalier-Massonin Belgium.
The Botany Project at Design Indaba 2012
The Botany Project has a simple approach to sustainability – that uses multiple ways to achieve its end. The Upcycle Flower Lamp is created by local potters as part of an employment program and is one part of a beautiful lamp that encourages consumers to recycle their used glass bottles and jars and use olive oil at home to create a simple, sustainable plant oil lamp.
The Botany Project at Design Indaba 2012
The funds of the project also contribute to raising awareness around, and supporting, the biodiversity of Cape flora.