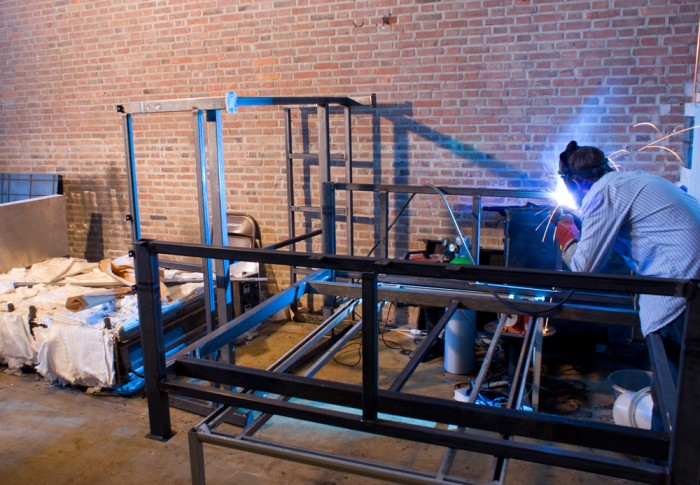 Dutch designer Dirk van der Kooij is obsessed with rapid prototyping. Best known for his Endless Chair, made from a continuous string of recycled plastic using a 3D printer, the design has grown into a range of products all with the goal of making the production process more visible. Speaking at Design Indaba recently, van der Kooij explained, "the best thing about recycled plastic is it has history."
The tinkerer's focus is on the evolution of his designs, continuously rebuilding his "robot" as a way of advancing his work. This relentless dedication to perfecting the machine's output reflects his progressive approach and commitment to adding to the design conversation.
We caught up with van der Kooij as he prepares for his exhibition at Milan's Salone del Mobile—where he will recreate his workshop with live demonstrations alongside showing his newest project, the Gispen.
What was the initial thought behind your material-based experiments?
I wanted to find a production process that gave me the chance to adapt and change a small series of product without complicated moulds. With this robot, I can build up a chair out of one plastic string and refine it endlessly.
I wanted to use plastic because it has a lot of opportunities as a material and I wanted to show a different approach, and perhaps a sort of unorthodox approach of plastic. By using recycled plastic the history of the material becomes visible. The colors will have shades and thereby every chair is unique.
The Endless chair is made from recycled refrigerators, what happens at the end of its life?
The chairs are indeed made up out of one material. So no screws, demounting of parts, etc. So at the end of its life, the only thing that is left is this material, which can easily be shredded again until the plastic is at the end of its life. In fact, we shred the prototypes we don't like and use the material to make new ones.
Is sustainability a key factor in your designs?
No, but filling up the machine with recycled plastic gives me a better feeling. It is a challenge to be sustainable and it was even more of a challenge to use recycled plastic. I like these challenges in the design process, because it gives me some boundaries.
What do you consider the end purpose of these experiments?
I like to make honest designs, where the design itself tells people the tale of its own development. For me this is an integral part of designing. People should be able to understand a product. In the Endless chairs you can see that the chairs are built up out of one plastic string, without these complicated moulds. So this was in fact my main goal.
Do you see your furniture being mass produced in the future?
This is in fact one of my dreams to have a small factory and continue with these kind of projects. With this robot-project I want to go on until I find the borders of its production. Perhaps it will become a mass-production robot in the future.