Despite its inherently sustainable nature, wool has rarely been utilised as a chief material in the production of footwear. Synthetic materials are used to manufacture most major brands' sneakers but, having grown up surrounded by his country's trademark material, Native New Zealander Tim Brown knew that there was a viable alternative to this. He teamed up with renewable materials expert Joey Zwillinger to revolutionise the footwear market with their wool-based Allbirds Runner.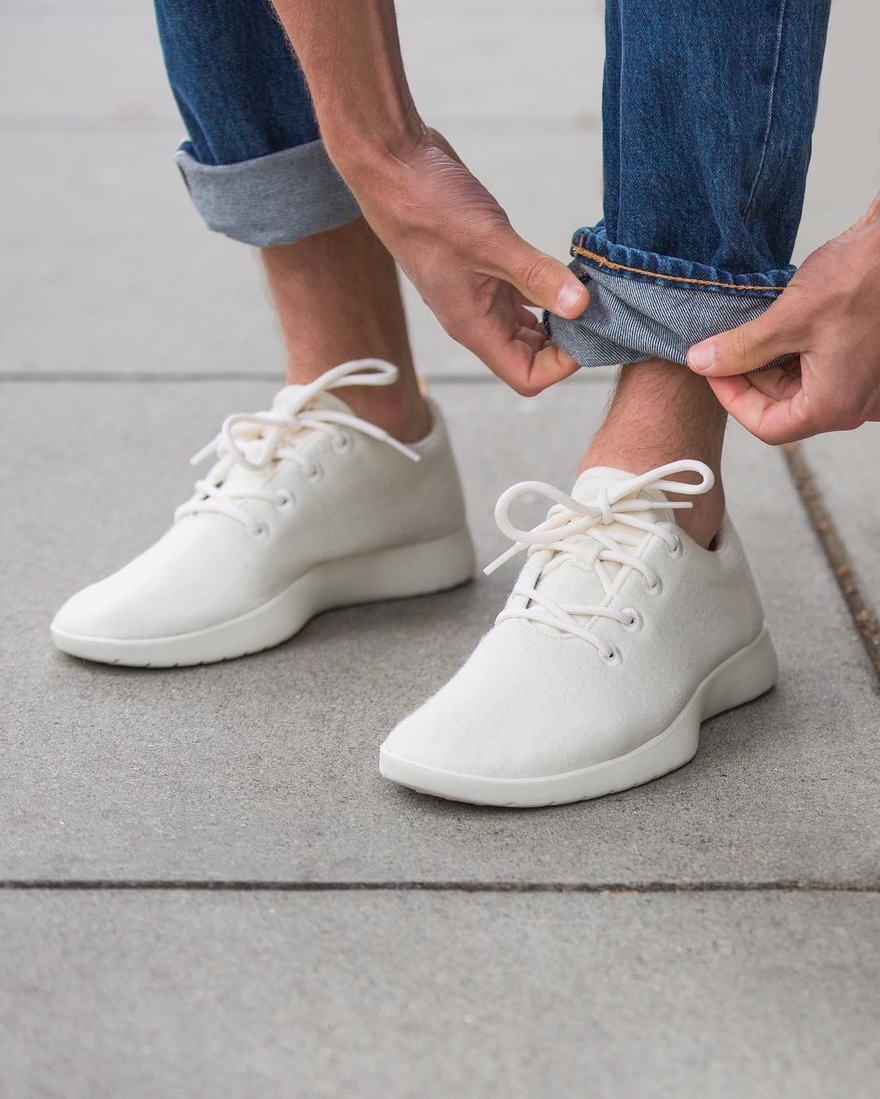 "The idea for Allbirds came from a burst of curiosity," Brown explained in an interview with Impakt. "While I was playing soccer professionally, I had a growing sense there was a need for a design aesthetic in casual footwear that avoided loud colours, huge logos and synthetic materials. To fill that need, I decided to create something simple, and anti-design — more utilitarian than anything, that used mindful materials. That last bit was the most critical and set me on the path to creating a woolen fabric suitable for use in footwear."
Made from ZQ Certified Merino wool – the production of which meets stringent standards of sustainable farming and animal welfare – the Allbirds Runner also makes use of castor bean oil, a natural substitute for materials like rubber or plastic, for the polyurethane used in their insoles. The company's carbon footprint is kept as minimal as possible, right down to the box. Each single shoe is contained in its own separate compartment, allowing for the use of far less cardboard – 40% less than standard shoe boxes.
Boasting a sleek, understated silhouette evocative of traditional dress shoes, the Allbirds can be worn with or without socks. The materials used in its production regulate temperatures to prevent sweating, and because it's made from merino wool – which is slow to produce odours – wearers can avoid the smelly feet that often accompany sneakers worn without socks.
As far as comfort goes, the Allbirds have been getting vastly enthusiastic reviews across the board. Breathable, flexible and lightweight, they've been touted by many as the "most comfortable sneaker ever". In a recent product review for Wired, Molly McHugh praised the product, writing: "I can't say enough about how comfortable these shoes are. They make Nike's Free line feel constricting."
Completely machine-washable and almost 100% unbranded (except for a slight, white logo placed discreetly above the heel), the Allbirds are being sold online for the considerably reasonable price of $95 each. Having already generated $2.2 Million in seed money, the San Francisco-based company hopes to eventually bring new sustainable fabrics into the mix, creating more styles and version of the shoe.