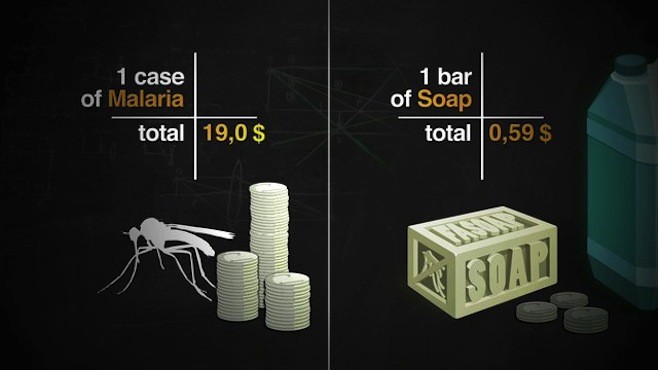 Faso Soap by Moctar Dembele and Gérard Niyondiko.
"The action of a group, the future of an entire nation" was an idea that led to the creation of the Faso Soap.
Moctar Dembele and Gérard Niyondiko, two students from 2iE Foundation worked together to find an innovative solution for reducing the amount of deaths caused by malaria. They solution came in the form of a soap, an antibacterial and anti-mosquito soap made from 100% local resources. Faso Soap is made from a variety of ingredients that react and set off a repellent to mosquitos. Ingredients include herbs, shea butter, essential oils of lemongrass as well as one or two secret ingredients.
According to the World Health Organisation, about half of the world's population is still at risk of contracting malaria. In a recent study it was discovered that over 6 million deaths occurred in Africa per annum due to malaria infections.
Faso Soap want to tacle this problem through providing an innovative solution for the prevention of malaria, which further takes into account the financial constraints and cultural habits of African families.
Dembele and Niyondiko's soap was featured in Design Indaba Expo's groundbreaking exhibition Africa is Now at this year's event. Faso Soap was showcased under the theme "Africa is Resourceful", which looked at various African designers who are coming up with ingenious contextual solutions drawn from the wisdom of local expertise to address social, economic and political problems on the continent.