The country was left reeling after a group of men raped and murdered 16-year-old Franziska Blöchliger in Tokai Forest, a popular hiking destination, earlier in March. Her murder came alongside that of another teenager, Sinoxolo Mafevuka, whose half-naked body was found in a communal toilet in Khayelitsha, an informal settlement. This, as a man was arrested for the rape of several UCT students who were all attacked while running or walking at Rhodes Memorial. Fearing for the safety of UCT students and vulnerable people all over the country, Rowan Spazzoli, Tshakane Ngoepe, and Louis Buys launched a crowdfunding campaign for The Guardian, a personal safety device that sends out an alert to the nearest security personnel when the wearer is in danger.
The team envisions a device that can be worn on the user's wrist and linked to a smartphone. While other personal safety devices work within the framework provided by existing smartphone technologies, making them clunky and irrelevant in truly threatening situations, the Guardian would be triggered instantly and inconspicuously without notifying the attacker.
By triangulating the user's location, the Guardian would send an emergency alert to people who are in a position to act on the threat. Other safety devices on the market send an alert to a pre-defined set of contacts and as the team points out, these people are almost never in a position to immediately act on an alert. "The Guardian improves on this by dynamically deciding who to alert based on your location and the time of day," reads the campaign.
To make this possible, the device and its accompanying app would be linked to existing security stakeholders in a given area and the greater community, making it possible for the community to assist authorities where possible. "An example of this would be to unlock a gate to an apartment block or keep an eye out for suspicious activity," say the team.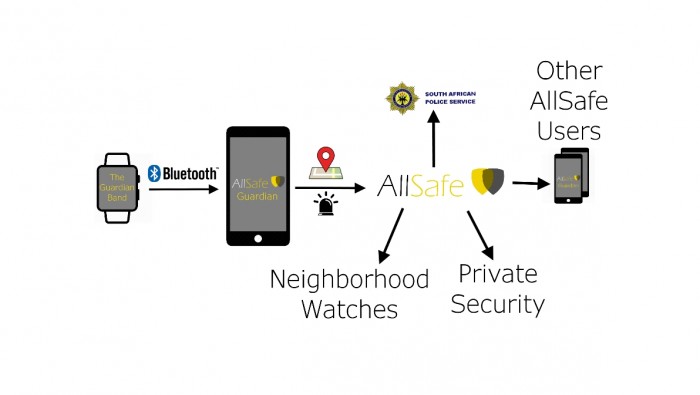 "With these two major improvements on the standard alert applications, The Guardian is poised to make a real difference in the life of ordinary South Africans."
To make the device accessible to all South Africans, regardless of their economic standing, the Guardian will be subsidised through the campaign and sold below cost price in disadvantaged areas. "Everyone's safety is important, not just those who have the financial resources to make it possible," adds the team.