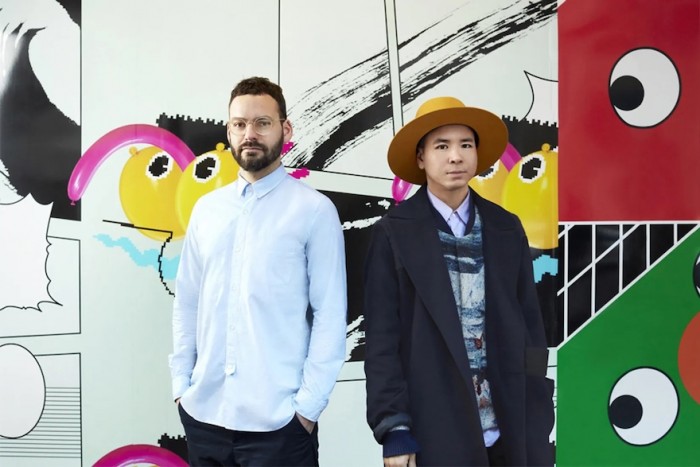 The work of Australian collective Tin & Ed (Tin Nguyen and Edward Cutting) is bright, engaging and playful. Speakers at the 2019 Design Indaba Conference, they delighted the audience with their trippy experiential approach that toys with the boundaries between the physical and the digital, art and science, human and non-human.
With curiosity and connection the bedrock of their design philosophy, their work is driven by a deep curiosity for the natural world and the intricate ways we are connected to it.
"We believe in the interconnectivity of everything; where it's art, design, nature, technology, work, play, the universe, everything," they explain.
Teaming up with the iconic Rockefeller Center in New York City, the duo now presents a new interactive digital art installation, entitled Life Forces. The 2021 installation provides a portal to nature, taking audiences on a vivid journey through the natural world. The exhibit makes use of cutting-edge technology, such as 3D-scanning and human body tracking, to immerse the public in an alternate universe that they're a part of but also not.
Applying technologies similar to those used in modern gaming, audiences will be able to move through interactive environments via giant screens. The audience's behaviour will mimic different forces that affect the natural world, allowing them to role-play as pollen and spores, embody slime mould and mushrooms, and even dance as swaying rock formations.
"Life Forces is our urgent, joyful reminder of the interconnectedness of every living thing, and the fragile, complex bonds linking our every action to natural systems, like a network of invisible veins," say Tin & Ed.
Opening on 26 April 2021 and running till 30 June 2021, the immersive dioramas will be displayed on three giant screens, each 15 feet wide. The experience, located at the Rockefeller Center, is free to the public.
Image courtesy of Tin & Ed
Learn more:
Check out more of Tin & Ed's work on our YouTube channel: https://www.youtube.com/watch?v=C7Ah4WLQl0A
Our profile on Tin & Ed: https://www.designindaba.com/profiles/tined
More on Tin & Ed's work and background: https://www.designindaba.com/articles/creative-work/dynamic-graphic-design-duo-tined-are-set-speak-design-indaba-2019