We look at three smart designs that look to protect the most vulnerable of the population in disaster zones, developing nations and war-torn countries.
Connect
Students at Dalian Minzu University in Dalian, China, conceptualised a design that connects a parent to their baby during the chaos that is a shipwreck or plane crash. Called Connect, the individual life jackets worn by a parent and a child are connected together using a special structure. The tether prevents the family from being separated during a disaster situation.
Suncubator
Developing nations suffer some of the harshest climates. As a result of the inequality and poverty left behind by colonisation, many of these countries do not have the infrastructure to protect the poorest of its population. The Suncubator hopes to make life under these circumstances a little bit easier.
Created by South Korean designers Joon Kwon, Jihye Hong, Insup Yun, Minha Kwon, Keunhee Kim, Usuk Lee & Jihoon Park, the device allows babies to have a warm bed to sleep in at night by harvesting heat during the day.
It is lined with a soft-foam outer layer, allowing the baby to sleep comfortably. Underneath the top layer, a layer of polymer gel radiates the heat collected during the day. The cot also features a little sun icon that changes colour once the Suncubator is warm enough to sleep in.
The Suncubator is a winner of an IDSA Award in the Social Impact Design category for the year 2016.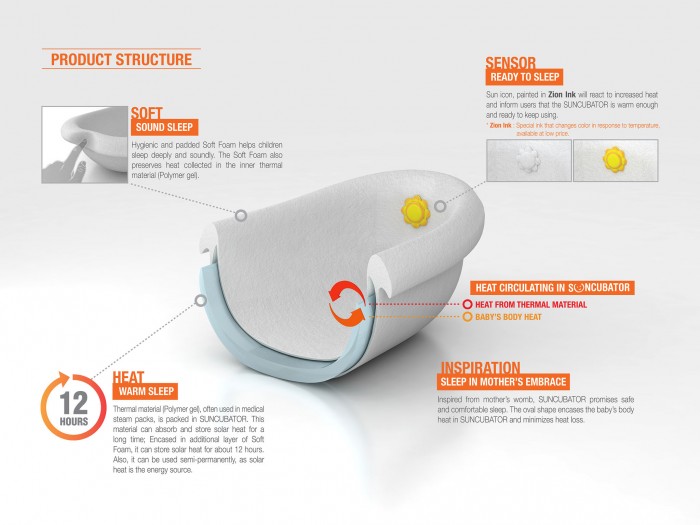 Safe Ground
Some children grow up in a war zone under constant threat of attack. Safe Ground by Snir Gedasi in Eindhoven, Netherlands allows kids to play outside in these violent areas. The park is made up of reinforced concrete modules that offer a strong shelter and adventurous playground.
Fitted with climbing holds, slides, holes, a sand pit and a race track, the modular system of tubes allows NGOs to invest in the mental and physical wellbeing of children at war.