The recently completed Refinery at Domino office space on the Brooklyn waterfront in New York, designed by Practice for Architecture and Urbanism (PAU), was once a 19th-century industrial sugar factory. Built in 1884 by Henry Havemeyer, the Domino Sugar Refinery was at one time the biggest sugar manufacturer in the world. It closed in 2004 after 120 years of operation, and was declared a landmark site by the New York Landmarks Preservation Commission in 2007.
In 2017, PAU began designing the adaptive-reuse project for the refinery. Tasked with creating 'open architecture' that seamlessly connects the existing neighbourhood with the waterfront, founder Vishaan Chakrabarti conceived a mix of creative office space, market-rate and affordable housing, neighbourhood retail, and community facilities.
'The structure was [originally] built to consolidate three functions inside three conjoined buildings – the filtering, panning and finishing of sugar – that required the use of enormous equipment housed in cavernous multi-storey spaces purposefully obscured by the repetitive punched arch windows in the masonry,' writes PAU. 'Though these windows were misaligned across the four facades, together they give the entire structure a singular, monumental appearance, crowned by the muscular smokestack on the west elevation built out of radial brick.'
Rather than trying to fit new windows into the misaligned openings, PAU removed the existing interior structure and built a new glass office building inside. The space between the new and old buildings acts as an intermediary, inviting in sunlight and housing a biophilic space planted with trees, shrubs and hanging vines. On the ground floor, the windows have been transformed into an array of doors that allow pedestrians to pass through, while seven additional floors have been added to the top of the old refinery building, creating an additional glass commercial space with a barrel-vaulted roof.
The Refinery at Domino has impressive sustainability credentials. It is one of a few net-zero large buildings recently built in New York, featuring a private water-reuse system that diverts polluted water from city outfalls, reducing stress on the city's infrastructure.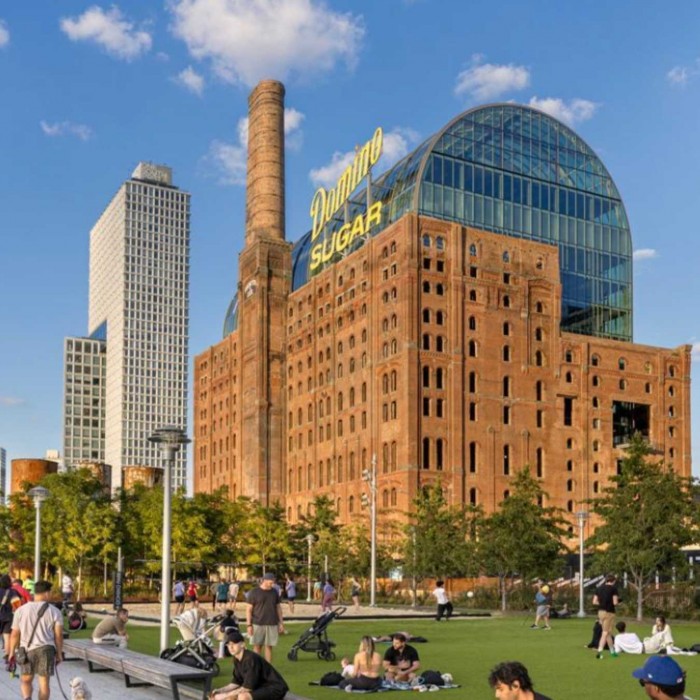 Read more
Photographs: Refinery at Domino, Max Touhey.