The Serpentine Bookhouse, located along the Dasha River Ecological Corridor in Shenzhen, China, is the latest building to emerge as a result of an urban revitalisation strategy pursued by Shenzhen over recent years, with the goal of adding small-scale civic and cultural buildings to serve public life in parks and public spaces.
Designed by Chinese architectural firm Atelier XI, it houses a children's reading room, reading spaces, exhibition areas and a public restroom. Surrounding the building is the 13-kilometre scenic riverside ecological corridor, a children's park and a collection of residential communities.
Inspired by the traditions and folklore of fishermen along the Dasha River, lead architect Chen Xi created a conch concept that snakes its way upwards, leading locals to call it the Serpentine Bookhouse. The building spirals up into the trees, hosting various public spaces, and is topped with an open balcony that offers views of the riverside park.
In the atrium, a sequence of stepped reading areas is located around trees, the various height differences of which, says Chen Xi, 'provide an opportunity for children to explore and satisfy their natural curiosity and cultivate their interest in independent learning'. The floor-to-ceiling windows of the façade, meanwhile, offer breathtaking views of the surrounds.
In response to the hot climate of Shenzhen, the Serpentine Bookhouse is equipped with continuous vertical grilles on the façade that act as sunshades, and which also enable ever-changing interior light-and-shadow experiences. Each reading step is equipped with openable windows, while the second-floor balcony features sliding doors, facilitating natural ventilation and providing a comfortable environment without the need for air conditioning.
A favourite spot for urban dwellers and especially families to escape from the stresses of city life and to commune with nature and fellow cultural communities, the Serpentine Bookhouse regularly hosts art exhibitions and reading clubs.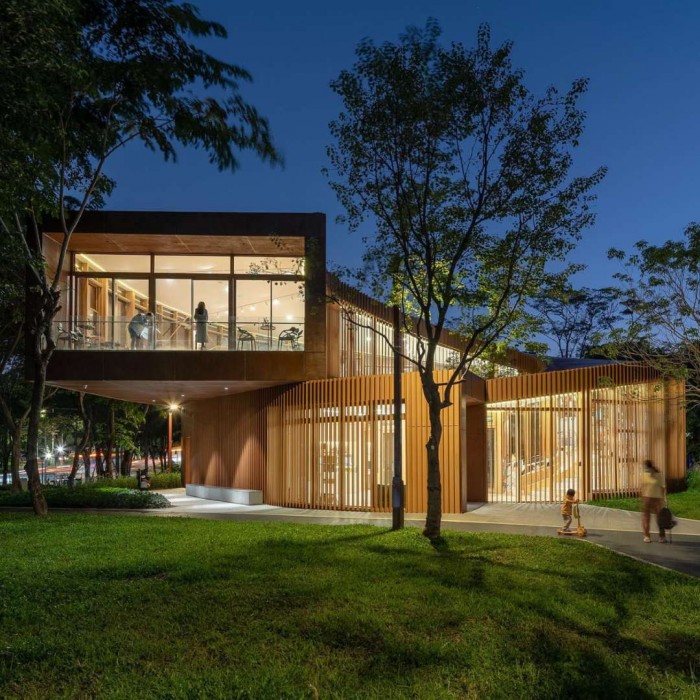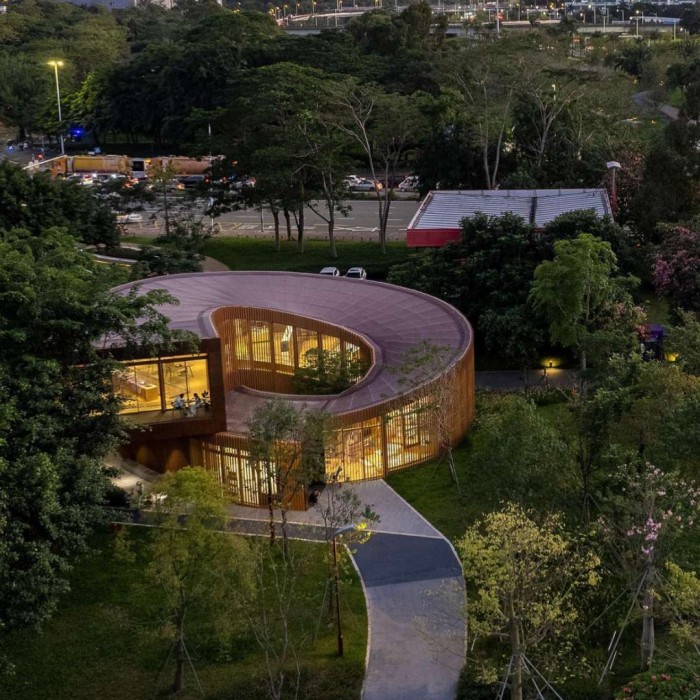 Read more
Photographs: Atelier XI.