How do you transform a car park into a social space that celebrates the symmetrical design of its complementary art-deco building, instils a sense of belonging and acts as a space for relaxation?
If you're the architecture firm behind educational projects like the University of Birmingham Teaching and Learning Building, City College Norwich and St John Bosco Art College, you create a stepped pavilion that acts as both a symbol of academic potential and a space for social gatherings.
Senate House, a monumental art deco tower in the heart of London, was designed in 1929 by Charles Holden to be the flagship building and home of the University of London. The west side of this iconic building has a horseshoe layout which housed the car park, now dominated by a 7,3-metre-tall standalone staircase that offers dual gathering space both above and below the steps. A stage set for students to sit, lie, talk and connect, the Senate House Steps will stay in the shadow of Senate House for a minimum of three years.
Naomi Shewa, an architect at BDP, an international interdisciplinary practice of architects, designers, engineers and urbanists, explains, 'The Senate House Steps are fundamentally about possibilities, demonstrating the platform the university provides for students to rise to challenges and to explore and contribute to the world around them.'
Shewa, the lead architect of the Senate House project, says people's reactions to the spatial journey of a staircase with no specific end destination is often 'What is it?' 'The question often comes with moments of reflection, delight and, most significantly, opportunities to bond students with one another as they continue on their life journeys.'
The materials used for the steps were chosen with sustainability in mind – it was made using C24 softwood and European whitewood timber, with concrete blocks planting the pavilion in place. Steel beams provide a base, and steel plates were used for easy disassembly, while steel mesh screens and handrails were incorporated for safety and accessibility. Orange was chosen as the primary colour for the pavilion due to its association with feelings of opportunity, optimism and energy.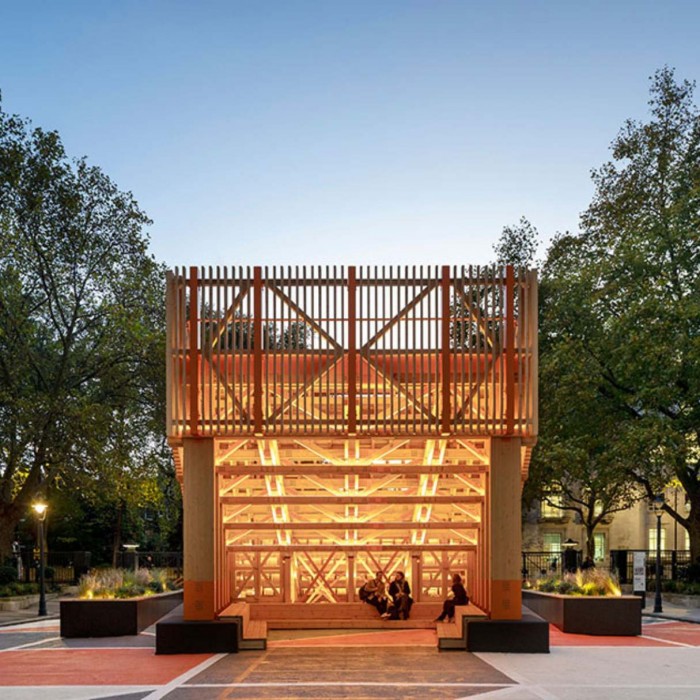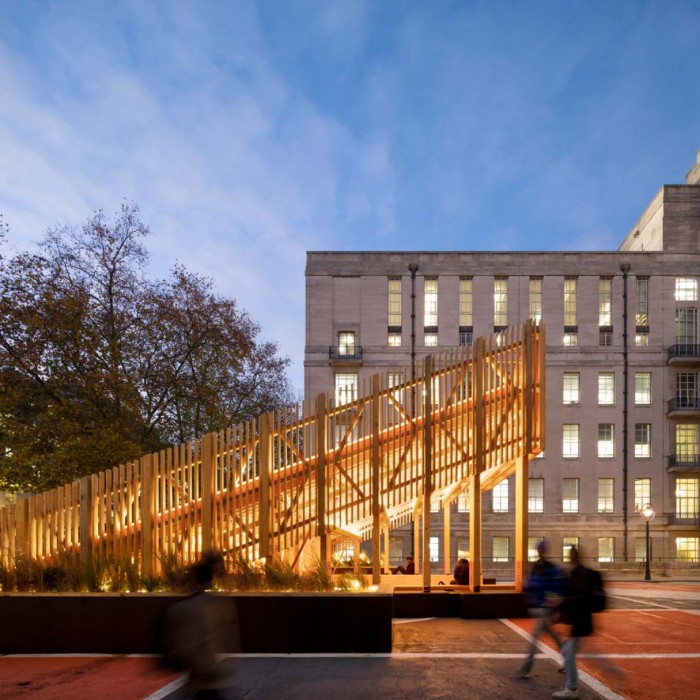 Read more
Celebrating fifteen years of Serpentine Pavilions
Photographs: BDP and University of London.