There is often a heartfelt story behind an architectural design, especially when its creator reaches the second half of life. The Zanzibar Domino, or Domino Tower – a skyscraper that will be built on a man-made island off the west coast of Tanzania – was first sketched by Jean-Paul Cassia, the founder and design director of architectural firm xCassia, following a game of dominoes with his two sons and his late father.
Cassia had been toying with the concept for some time, but after the auspicious game – which took place in Paris in 2009 – he found he simply had to sketch out his idea on a napkin. This was the genesis of the 70-floor spiral structure that will be the second tallest building in Africa. It is expected to be completed by early 2025 if all goes according to plan.
This plan hinges on economic growth in the region, which predictably suffered a drop in tourists during the pandemic (only 260 000 visited Zanzibar in 2020 – a drop from 540 000 in 2019). The new archipelago would, of course, draw visitors from all over the world, as much for its amenities, like hotels, apartments, a wedding chapel, a golf course and a marina, as for its striking design.
The tower was initially planned for Ha Long Bay in Vietnam, but the plan fell away during the early stages of the pandemic. With a budget of $1.3 billion, the skyscraper will be built on a 20-hectare site on the artificial island, not far from the mainland capital of Dar es Salaam, and seems set to evolve into an entertainment and conferencing mecca.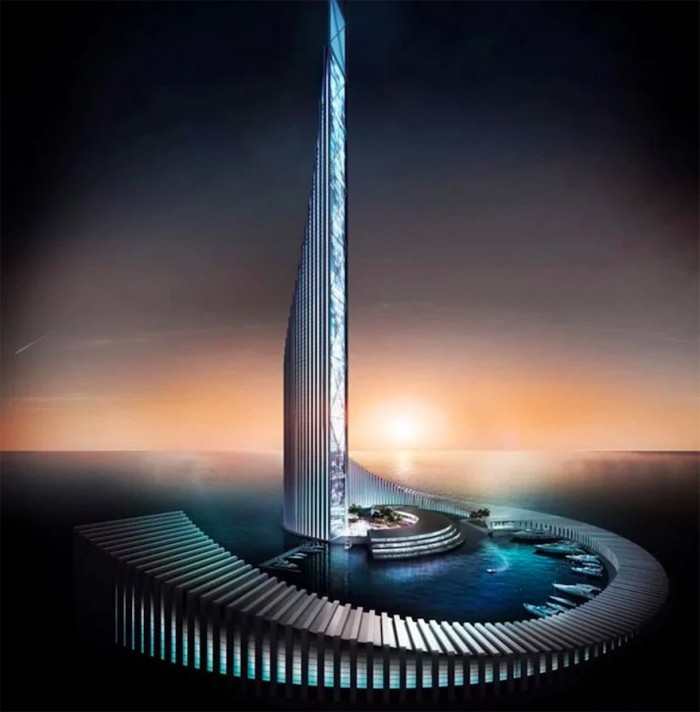 In line with the UN Sustainable Development Goals, Cassia's team – which includes construction and marine geology specialists – has committed to a range of sustainable practices that include regular environmental impact assessments to identify, mitigate and manage any threats the resort may pose to the surrounding ecosystem.

Taking the form of a sweeping descent from top to bottom, all units – both hotel and residential – will feature outer terraces offering dreamy views of Stone Town, the coast and the very best in Zanzibar sunsets.

Guests can expect everything from world-class spas and an aquarium to dedicated concierge kiosks, helipads and panoramic lifts, emphasising the fact that the sky really is the limit. One wonders if this is Cassia's way of bringing a taste of Dubai – in which one of his two head offices is based – to Zanzibar; and whether this move will help to put Zanzibar firmly on global bucket-lists once the pandemic is behind us.

Read more:
Pavilions on a pedestal.
Mi casa es su casa.
Archi's latest: BIG's news, Sir Adjaye sculpts, Serpentine launches & Snøhetta redesigns cement.
Credits: xCassia