Santiago-based architecture firm Guillermo Acuña Arquitectos Asociados (GAAA), the eponymous firm of Chilean architect Guillermo Acuña, has taken to recreating traditional Chilean architectural styles in their modern designs.
In 2021, GAAA built Punta Chilen – a red-tinted cabin overlooking the sea on the island of Chiloé – above the high-tide mark using overlapping stilts inspired by traditional woven baskets used to collect shellfish and raised palafitos (lake dwellings)found throughout Chile.
Their latest project that follows this design ethos is Casa Detif, another contemporary cabin built with red-painted pine and stilts, this time in the town of Detif, also on Chiloé Island. Instead of brushing the seaside like Punta Chilen, Casa Detif sits higher on the island in a natural clearing in the middle of a forest of myrtle trees. The house does, however, still boast magnificent ocean views and sightings of whales and dolphins, thanks to the uneven topography that elevates it into a clearing.
Although the bright-red pine stands in stark contrast to its natural green surroundings, the design of the house and its wooden components allow for the space to become a 'forest within a forest', according to one of GAAA's architects Blanca Valdes. The first floor ('ground' floor), which is aligned with the tree trunks, houses an open-plan living room and kitchen, while the second floor houses bedrooms and bathrooms in alignment with the forest foliage. The house is also surrounded by a wraparound patio.
Construction of Casa Detif was one of the project's main challenges. Due to the remote setting on Chiloé Island, there was not only limited road access, but the rainy weather in southern Chile meant there was only a small window to build in. To aid construction, GAAA pre-created panels of pine that could be transported and assembled on site.
GAAA also joined forces with Fundación Reforestemos for the Casa Detif project. The foundation, which is working to reduce deforestation in Chile, encourages individuals and companies to plant trees throughout the country. "With every project we build with wood, we will calculate how many trees were used for the project and, on the same site as the house, we plan on planting the same [number of] native trees," says Valdes.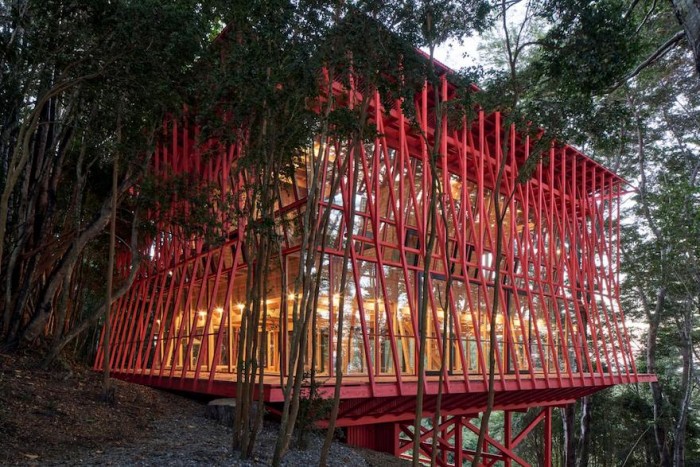 Read more:
Ensamble Studio on building flexible, stackable spaces and working with nature.
Architect Natalie Dionne's Forest House.
EFFEKT Designs a community where trees and houses live in harmony.
Credits: Guillermo Acuña Arquitectos Asociados (GAAA)