The Vineyard Theatre opened in 1982 in New York City's Union Square neighbourhood. In celebration of its 40th anniversary, London-based branding and communication agency and Design Indaba alum NB Studio was commissioned to design a new brand identity.
The off-Broadway company's ethos of 'changing theatre with every production' inspired NB Studio to create a brand that mirrored this adaptable philosophy. The end result is a brand identity that, while coherent, is ever-changing: the typeface of the word 'Vineyard' stays consistent, while that of 'Theatre' is new for every show.
NB Studio invited New Yorkers to submit typefaces that would be used for the changeable word, and in this way drew on the talent of the city's independent designers and artists. The current collection of unique logos features 25 typefaces by type foundries Sharp Type, P22 and General Type Studio, type designers Tobias Frere-Jones and Nick Sherman, and graphic designer Brandon Nickerson (among others), as well as three typefaces by members of the Vineyard Theatre team. As more productions join the theatre pipeline, NB Studio will continue to take submissions from local artists and designers to contribute to the logo collection.
The Vineyard Theatre non-profit company - which is off-Broadway, meaning that it's smaller than Broadway theatres, which tend to stage more expensive commercial shows - has a mission to provide a supportive environment for writers and performers to explore new forms of theatre and push artistic boundaries, and has gained a reputation for producing bold and innovative works by emerging and established artists. NB Studio director Nick Finney, reflecting on the rationale behind his company's bold approach to the new branding, says, 'Just as Vineyard pushes the boundaries of theatre, their new ever-evolving logo defies traditional design conventions.'
Endlessly flexible yet instantly recognisable, the new identity system affords individual productions, artists and partners space to shine while highlighting the Vineyard Theatre company as the people who make it all happen. 'Our design ensures that everyone who sees a production knows who's behind it and that there's no mistaking them for anyone else,' Finney notes.
NB Studio, established in 1997 and led by Finney and co-director Alan Dye, has created brand identities for companies such as the Birmingham Royal Ballet, Mindshare media agency network, Pernod Ricard, and marketing and media publisher The Drum.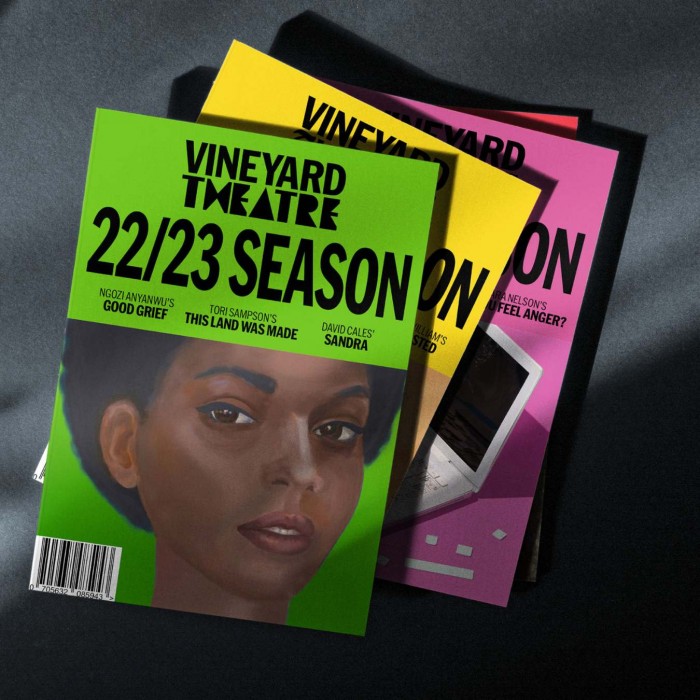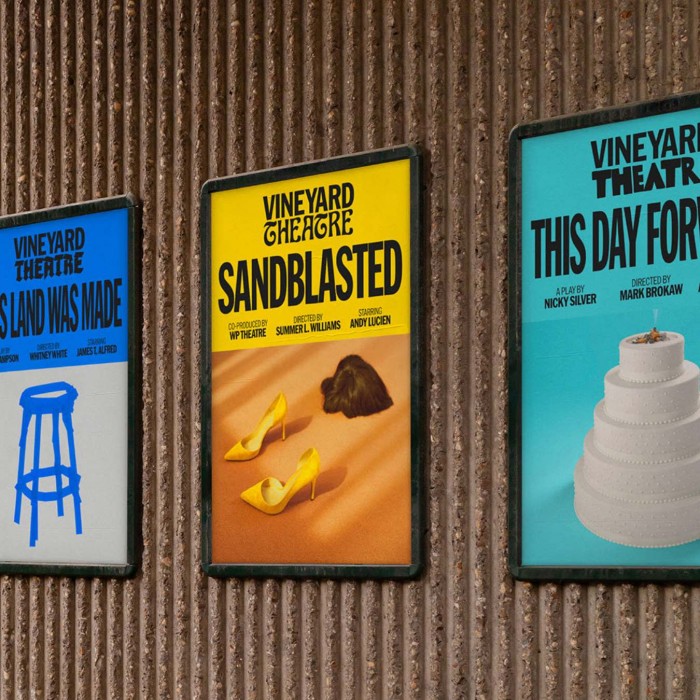 Read more.
Photographs: NB Studio, Vineyard Theatre.