Award-winning media agency Mindshare is one of the most recognisable brands in the industry. It serves a huge client base of multinationals from 116 offices in 86 countries. But aligning its identity with the new direction it was taking meant a brand refresh – no easy task for a legacy brand to undertake.
Mindshare approached UK-based branding and communication agency NB Studio, which is owned and led by creative directors Nick Finney and Alan Dye. The brief was to forge a new identity reflecting its transition to a digital-first, direct-to-consumer world.
"The new identity system had to reflect contemporary marketing, which demands a more bespoke approach for each client," Finney says. "It had to be simple enough to implement and flexible enough for marketing teams around the world to build upon."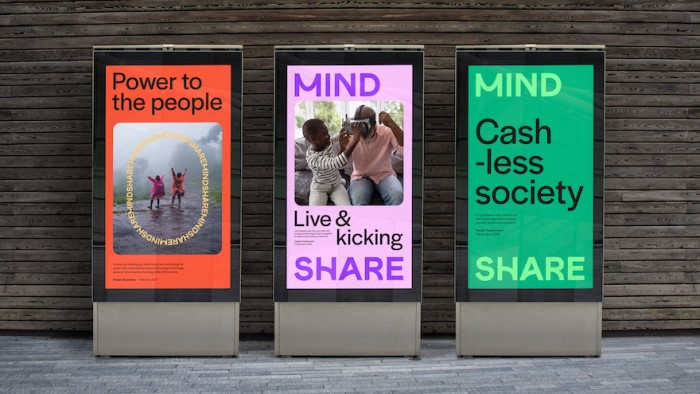 The team created a fluid, dynamic system that activates the wordmark, enabling the brand name to open up by splitting 'Mind' and 'Share' to literally share. Described by NB Studio's design director Jamie Breach as being "as agile as Mindshare's ways of working with its clients", the new branding activated Mindshare's name as a story in itself, leveraging its power to form a dynamic frame around content.
NB Studio had to adapt the purple colour synonymous with the Mindshare brand to the new design approach. The design team recognised the preciousness of purple in the media industry and applied it in moderation, using it less, but allowing it to stand out more. The team also introduced two new palettes – brights and pastels – which provide Mindshare with the flexibility to align with client partners. "The previous logo was inert – the whole system needed activating," Finney says.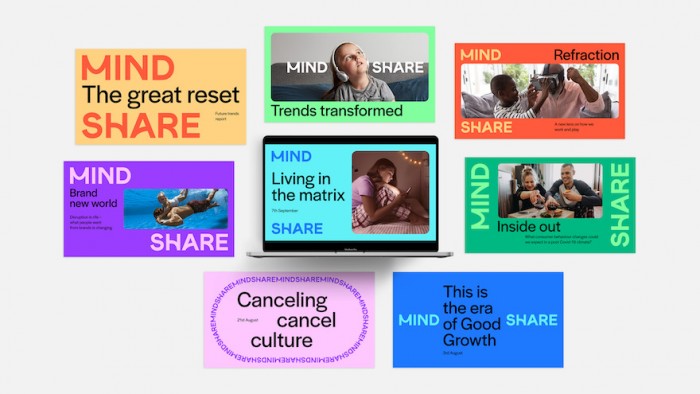 Greg Brooks, global chief marketing and culture officer at Mindshare, loves the new identity. "It means we can connect more easily and more authentically with every client, person or topic in different and unique ways, enabling us to better communicate our approach to media services," he says. The new identity was launched on 15 December 2021 and has been applied across the entire Mindshare global network.
Design Indaba veterans will remember NB Studio's memorable conference performance in 2016, when Finney and Dye wrote an extraordinary play based on the underlying emotions of the client pitch. "Become your customer" was one of the 'rules' in their nine-point manifesto (they love breaking rules) – and they've given a fresh, youthful, agile twist to a brand keen to modernise and insert itself into the heart of conversations.
Read more:
NB Studio on being brave, bold and creatively courageous.
Snask on the power of provocative branding.
Generative design creates new ways to form a brand's identity.
Credits: NB Studio + Mindshare