Download
options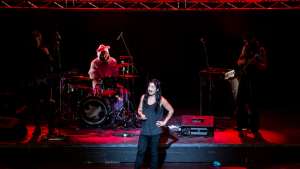 Download: Snask on the power of provocative branding
Click on a link to download the video file
In another Design Indaba first, Snask's creative director Fredrik Öst was driven onto the 2016 Conference stage as the agency's band VAG made their introductions through signature guitar riffs and drum beats. The Swedish agency used their 35 minutes to remind the audience to push the boundaries of creativity while kicking down doors and breaking all the rules.
Öst and Magnus Berg formed Snask in 2007, partner Erik Kockum joined shortly after. Central to the agency's success is their ability to make both enemies and fans. Clad in leather, the group is the visual depiction of an anti-agency.
Despite their aversion to black suits and their reputation for partying, Snask is internationally renowned for their work on brands like H&M, Samsung and Microsoft, as well as rebranding an island in the Maldives. They've also held lectures at both Google and Stanford University.
Their approach to the world of branding and design is fun, unconventional and provocative. By combining music, typography, branding and film, the agency has managed to create a new kind of professional.
To read more, check out our Q&A with Öst.