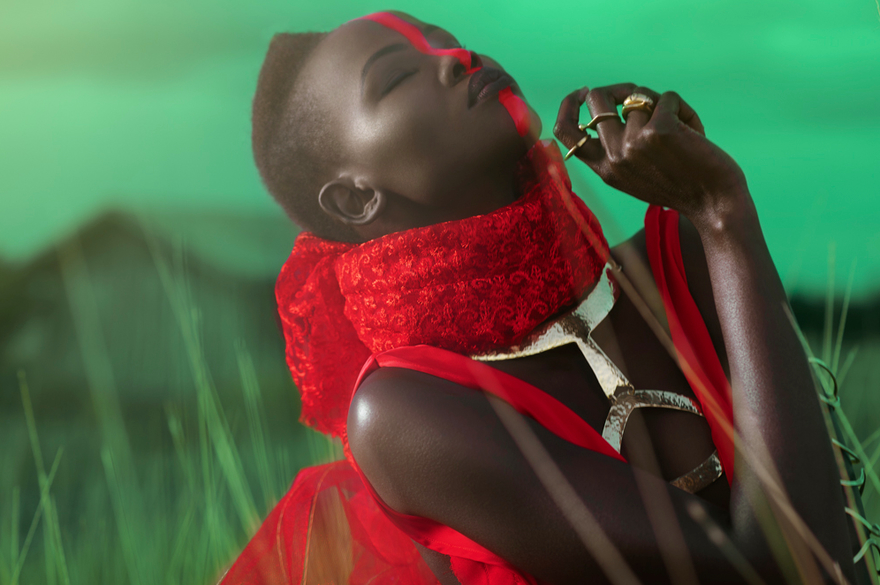 Yvonne Lyra Aoko Were is the 24-year-old photographer, videographer and lifestyle blogger behind Kenyan Lifestyle Website, The Lyra Aoko Edit. In one of her more recent bodies of work, RED, she makes use of the bold colour in a distinctive visual exploration of the vulnerabilities that accompany womanhood. Through the constant presence of the colour and the inclusion of powerful prose from women like Riot Grrl icon Kathleen Hanna and poet Dominique Christina, RED provides a striking look at the complexities and global commonalities found in the experience of womanhood – from menstruation and anger to gender and love. We asked Aoko to tell us more about her work and the RED project.
Tell us about your photography background - what led you to this line of work?
My interest in photography did not stem from my childhood. As a matter of fact I had always preferred to be in front of the camera rather than behind it, but all that changed during my third year in university as a journalism student. I developed a keen interest in photography, and the experience not only made me able to express myself in a more creative way but it also helped me in my interaction with a variety of people from different backgrounds. I am self-taught and I have been shooting for close to two years.
What inspires you and your work?
I love capturing beauty, emotions and people, and the fact that I have the power to steal a priceless moment in time with my camera and keep it with me forever constantly fuels my love for the art.
Tell us about the RED, project; what does it mean to you and what do you hope the series communicates to those who see it?
The colour red had been attracting my eye more than usual one week and thoughts of the RED project kept popping up in my mind at the time until I finally gave in and set the ball rolling. Red is a very bold colour. The colour of energy, passion and action and it has so many positive and negative meanings associated with it. Off the top of my head, it signifies danger, love, anger, warning, beauty on luscious lips, death. It is the most intriguing colour of all and I chose to explore it through a set of visuals that I could relate to as a woman.
Why did you choose to make Womanhood the subject of the series? How did you make the connection between this concept and the colour red?
Women have inspired my photography since I first picked up my camera. Women are beautiful beyond measure and the strongest species on this planet. We birth nations, raise generations through thick and thin, and we do it with such grace it's wonderful to capture. Red has more personal associations than any other colour. The colour red is complex and so are women and it was exciting exploring the colour through the many ways it features in a woman's life.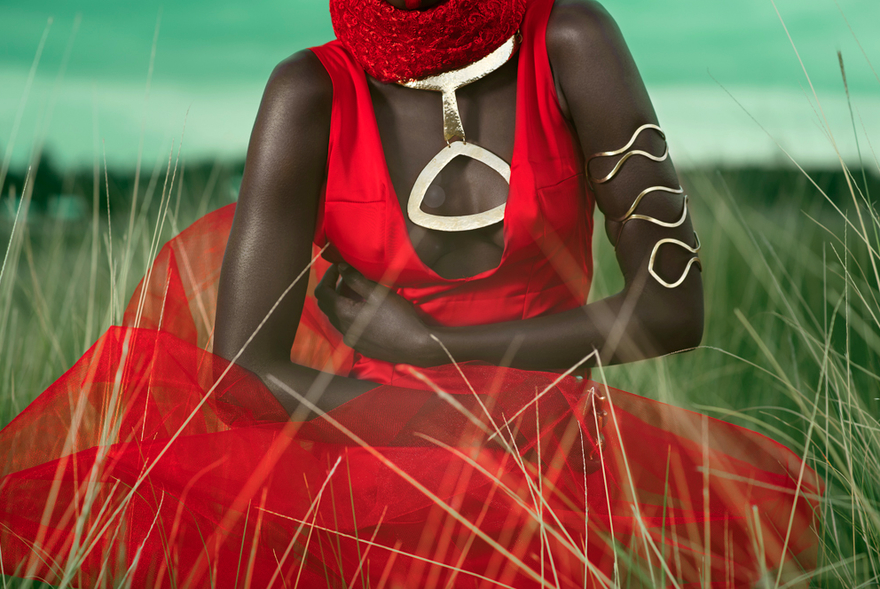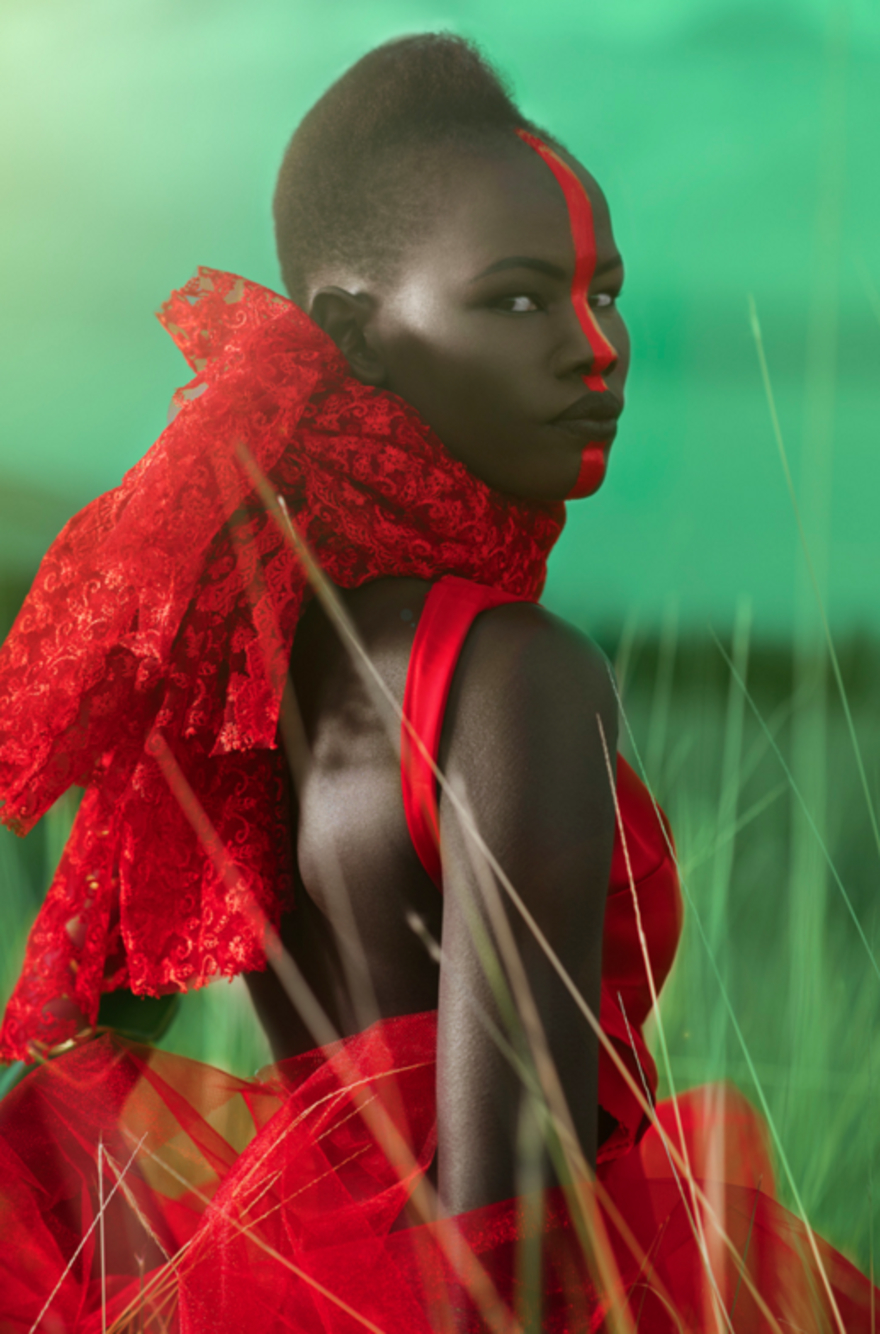 The series incorporates poignant words from women like Kathleen Hanna, Dominique Christina and Nikki Ursula on Womanhood; what do you feel this inclusion accomplishes?
It was after I created the first set of images for the RED project that I started reading up on the many women that have explored some of the topics raised in the project in detail. My work as a photographer is to create stunning images that raise questions and make you think more about the subject matter. My approach in this particular instance was more of a textual and visual marriage. It was not only about the images but more about raising awareness on the various vulnerabilities women face as signified by the colour red. I chose to feature words by the women mentioned because it felt as though they had taken the words right out of my mouth as I did my research. I could not have said it better myself.
Tell us about your creative process; where do you begin – with a theme or a colour? Or how does it work for you?
I often explore the theme first, create the guiding mood board, assemble the team that will bring the visuals to life and create. The project RED is the first of its kind for me. I had never worked with a colour as a major guideline for any of my projects before. The colour inspired my entire thought process and planning leading up to the shoot. I think I wore more red lipstick that necessary that week. Proper planning before my shoots definitely makes the creation process more manageable, the steady flow gives a calm environment and finally seeing things come together gives the project a life of its own while on set.
Working on RED seems like it was a largely collaborative process. Who were the other creative contributors to the project and what do you feel the process of collaboration gives to the project?
I see collaboration as a great way to grow photography. Working alone definitely has its perks because you create your vision and bring it to life as you would like it to be, but at the end of the day what will you have learnt? Collaboration brings together different creative minds and the mix of ideas and processes is a learning curve that is very enjoyable. Selecting the right people for collaborative efforts is a major element to the success of a project.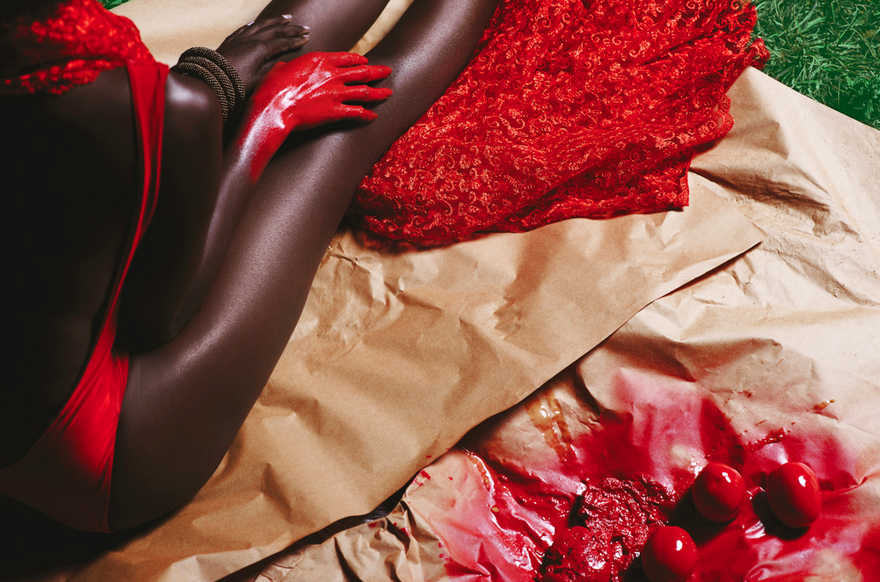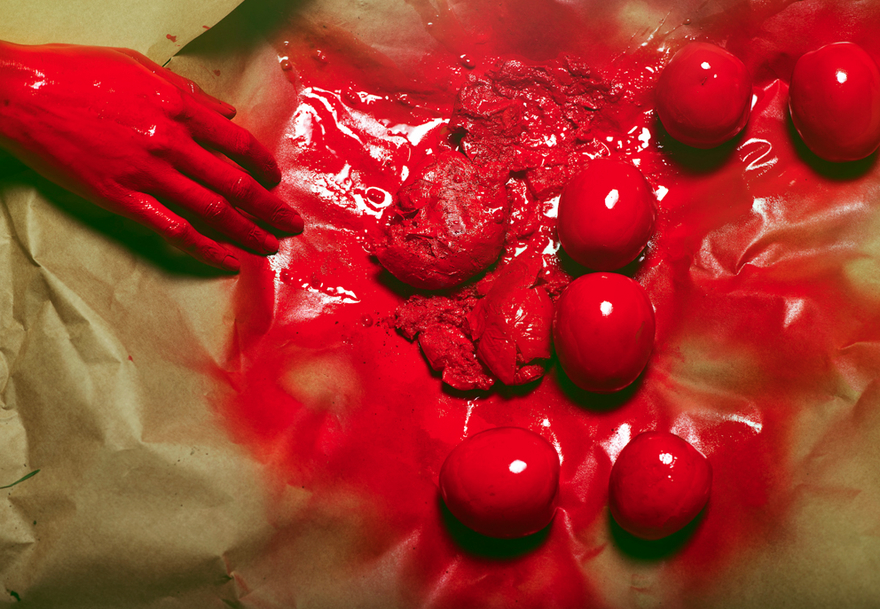 I chose to work with Jamie Kimani, a fashion designer and stylist based in Nairobi, Kenya. Jamie went all out for this project by creating a one of a kind haute couture silk dress which photographed so beautifully in all the images we shot. The model for the RED project Shanelle Siase is one of the most beautiful women I have ever seen. Her innocent yet deeply fierce face was all the inspiration I needed to select her for this project. She is a supermodel who has walked major runways across Africa and her effortless grace and charm were perfect for portraying the underlying messages for the project.
Talk to us about the power of photography – why do you think it is such an effective medium?
Photography has allowed and given me a platform to share my unique story as an African woman and capture real images that would be lost in the clutter of everyday life. I have been able to make special moments permanent and it has also given me a new perspective on life and everything around me in such a beautiful way. Photography is a powerful means of communication and it has allowed me to share my unique narrative as an artist living, working and building creative Africa, something I cherish and will never forsake.
What is next for Lyra Aoko?
I am focusing on changing the narrative of Africa. My life's mission is to showcase all the beauty and the wonders that our continent holds and my plan is to capture it all over the next few years. I am working on a few photography projects that will hopefully see the light of day in the new year. I am excited about everything my hands will touch and my camera will see over the next few years. It will be an explosion of goodness I promise you. In the meantime, I will keep creating every day.