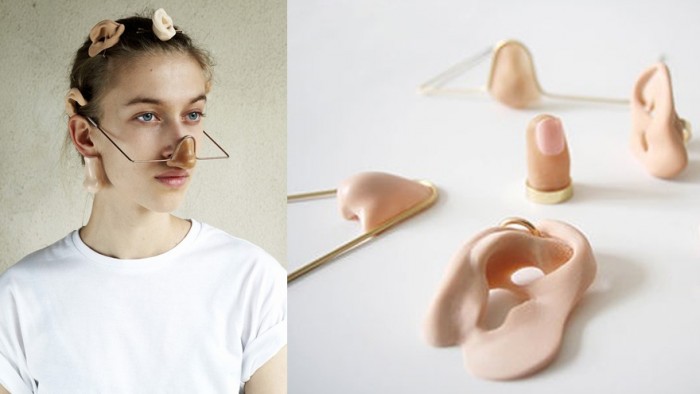 "Tricking Biometrics" by Alix Gallet (Portrait picture: Femke Rijerman. Model: Julia Bocanet).
In an age when our online privacy is constantly being eroded, Alix Gallet challenges the status quo with an unusual approach: humour. "Tricking Biometrics", her graduation project from Design Academy Eindhoven, includes a series of fake noses and ears resembling a set of old-school magician's disguises but they are one element is her intriguing conceptual project.
The increasing use of software with the ability to recognise and analyse the unique physical traits of humans – such as fingerprints, retina or facial structure – is introducing a record of our bodies to the internet.
This ever-evolving technology, known as biometrics, continues to improve in accuracy as fast as our means of data replication. However, as Gallet points out, we don't have any guarantees regarding if and how this data may be used.
Our digital and physical identity are merging, she says.
Her project is a comment on the normalisation of biometric recognition for security or commercial purposes. "I tried to show the absurdity of these developments by creating ways to trick those technologies in order to protect your physical identity," she says. "The idea was to replace, misplace, and multiply your biometrics in order to be recognised as another person, several people or nobody."
The result is a collection of jewellery that uses fake body parts to trick machines searching for biometric markers, but it is the connotations of the work that are particularly resonant.
Are we destined for a world where anonymity is a thing of the past? If so Gallet's devices are far from conceptual – they may be entirely necessary. "I tried to provoke mixed feelings between beautiful and absurd, funny and scary," she explains. "I don't like to be too dramatic, but humour is very important to me."
She describes her approach as "design fiction", creating work that belongs to a theoretical, exaggerated reality. Her process often starts with a "what if" and generates a narrative that she hopes will translate to a specific concern in the minds of those who are "practically making the future".
"For me it is what I have to say that is important, I don't care about the final outcome," she adds.
Born in a little town in the west of France called Le Mans, Gallet knew she would follow her creativity from a young age. "I think experimenting with various ways of expression from an early age conditioned my practice of design," she says.
She has a multidisciplinary approach to creativity as she doesn't like to be limited to one specific medium. "In France there is very little space for cross-disciplinary approaches. I first studied fashion because I thought it could bring together products and messages quite well, then left for Holland to follow a more global design education," she explains.
She chose to study communication at the Design Academy because she wanted to be able to translate messages through a multitude of applications.
I think design can be very totalitarian. I'm trying to create awareness about how things are designed and what ideas they convey.
During her studies Gallet worked for Paris-based artists Société Réaliste. She was drawn to their genre-defying approach: they make "political design" but belong to the contemporary art scene. Social engagement was instilled in her from a young age: "I've always had the feeling that I can contribute to something, and this comes from my family background. My parents are very involved in politics and social life, and we are all very devoted to others."
Gallet displayed her "Tricking Biometrics" project during the 2014 Dutch Design Week. She says people's responses validated her premise. "At first, they were curious about the purpose of the objects and most of the time thought they were pretty and funny things. When I explained it in more detail or they read about the project, it becomes a totally different story; they start thinking about the negative side of things. One funny outcome is that a facial recognition app developer has approached me to promote their company."
How does she plan to channel her graduate work into the professional world? Since graduating she has started a trend forecasting and design fiction project called ASAP-UFO with Danish designer Sidsel Sogard, focussed on media and technology. She is also working as a designer for a new experimental architecture and design bureau in Paris, called Naudin & Naudy.